The Wayne County Health Department has been notified of one additional positive case of COVID-19 in the last 24 hours in Wayne County residents. The individual is a male in his teens. That brings the total up to 16 lab-confirmed positive cases of COVID-19 in Wayne County, with 12 having recovered. The Edwards County Health Department has announced that four individuals have tested positive for COVID-19, which brings their total number of cases up to six in the county. The four individuals are isolated at home and are not allowed to leave their home until they can no longer transmit the disease. Public health officials continue to investigate each case ensuring the isolation of the positive patients. If you are contacted by public health officials, please respond promptly.
Due to a potential COVID-19 cross contamination situation with one of their athlete's family members, FCHS will be temporarily suspending ALL athletic workouts until Monday, July 13th. No FCHS athletes have tested positive for COVID-19, but the school wants to err on the side of caution to help better preserve our athletes' health until further information on the validity of the situation is available.
The Richland County Health Department, in Olney, was notified Monday of a known COVID-19 exposure related to the Musgrove Aquatic Center, in Olney. Any visitors to the public swimming pool between Saturday, June 27th and Friday, July 3rd, may have been exposed to the novel coronavirus. If you visited the Musgrove Aquatic Center during the time frame, please contact the Carle Richland Memorial Hospital Respiratory Evaluation Center at 618-392-1700 for symptom evaluation and COVID-19 testing.
On 07/08/2020, at approximately 10:30 PM, officers investigated a domestic battery incident that occurred in the 200 block of SW 12th Street. Jonathan E. Swan, 38 of Fairfield was arrested for battering a 43 year old female. The female subject sought treatment at Fairfield Memorial Hospital. Swan was arrested for domestic battery and lodged in the Wayne County Jail.
On 07/08/2020, at approximately 8:50 AM, officers responded to Mach 1 to investigate the report of a subject refusing to pay for items. Upon arrival, the male subject had departed. A short time later, officers located Andy L. Grove, 41 of Fairfield in the 300 block of E. Court Street. Grove was arrested for burglary, as he entered Mach 1 with no money and took a sandwich and cigarettes. Grove was lodged in the Wayne County Jail.
The City of Fairfield has been notified that citizens are continuing to get scam calls concerning utilities. As a reminder, the City will contact you via telephone if there is an issue with utilities, but we will not ask for personal information over the phone. It has been reported that a number representing the City is calling residents   concerning a rebate from the City. This is also a scam. Please do not give out personal information and terminate the call.
Beginning today Fairfield Public School District 112 guardians will be able to log onto their Skyward account and register their student. There will be a new tile on the Skyward homepage that says On-Line Registration Form. Once clicked, there are five steps to navigate through to change or confirm student's information. Families who are new to the district will need to register in person on either Tuesday, July 14 from 10 a.m. – 6 p.m. or Wednesday, July 15 from 8 a.m. – 1 p.m.
The Wayne County Board will meet tonight in regular session. The meeting will be at 7:00 p.m. in the upstairs courtroom in order to comply with required social distancing.
The Flora School Board will be meeting in Special Session tonight, at 5:30 pm, at the Unit Office, in Flora. The purpose of the meeting is to discuss and possibly approve joining the Black Diamond Conference.
The Illinois Department of Public Health (IDPH) has announced 587 new cases of coronavirus (COVID-19) in Illinois, including 37 additional deaths. Currently, IDPH is reporting a total of 148,452 cases, including 7,063 deaths, in 101 counties in Illinois.
Illinois State Police say that deaths and traffic crashes are down as the season enters the middle of the 100 deadliest days on the road. The period of time between Memorial Day and Labor Day typically have the highest rate of deaths from car crashes. This year, ISP officials say crashes and deaths are down because of COVID-19.
The McLeansboro Kiwanis announced the cancellation of the 2020 McLeansboro Fall Festival due to COVID-19 and the regulations issued by the State of Illinois involving ride certification and crowd sizes
The Kiwanis look forward to next year's festival when Hamilton County will celebrate its Bi-Centennial Celebration. Due to COVID-19 the annual Parkersburg Chowder has been cancelled for this year. They are hopeful to continue the tradition in 2021.
The Parkersburg Oak Hill Cemetery is accepting donations for maintenance and upkeep. Donations can be made to the Parkersburg Oak Hill Cemetery and can be mailed to the Cemetery.
The First Christian Church of Wayne City is hosting a Blood Drive on Monday July 27th from 2-6 pm in the Fellowship Hall located at 201 North Main Street in Wayne City.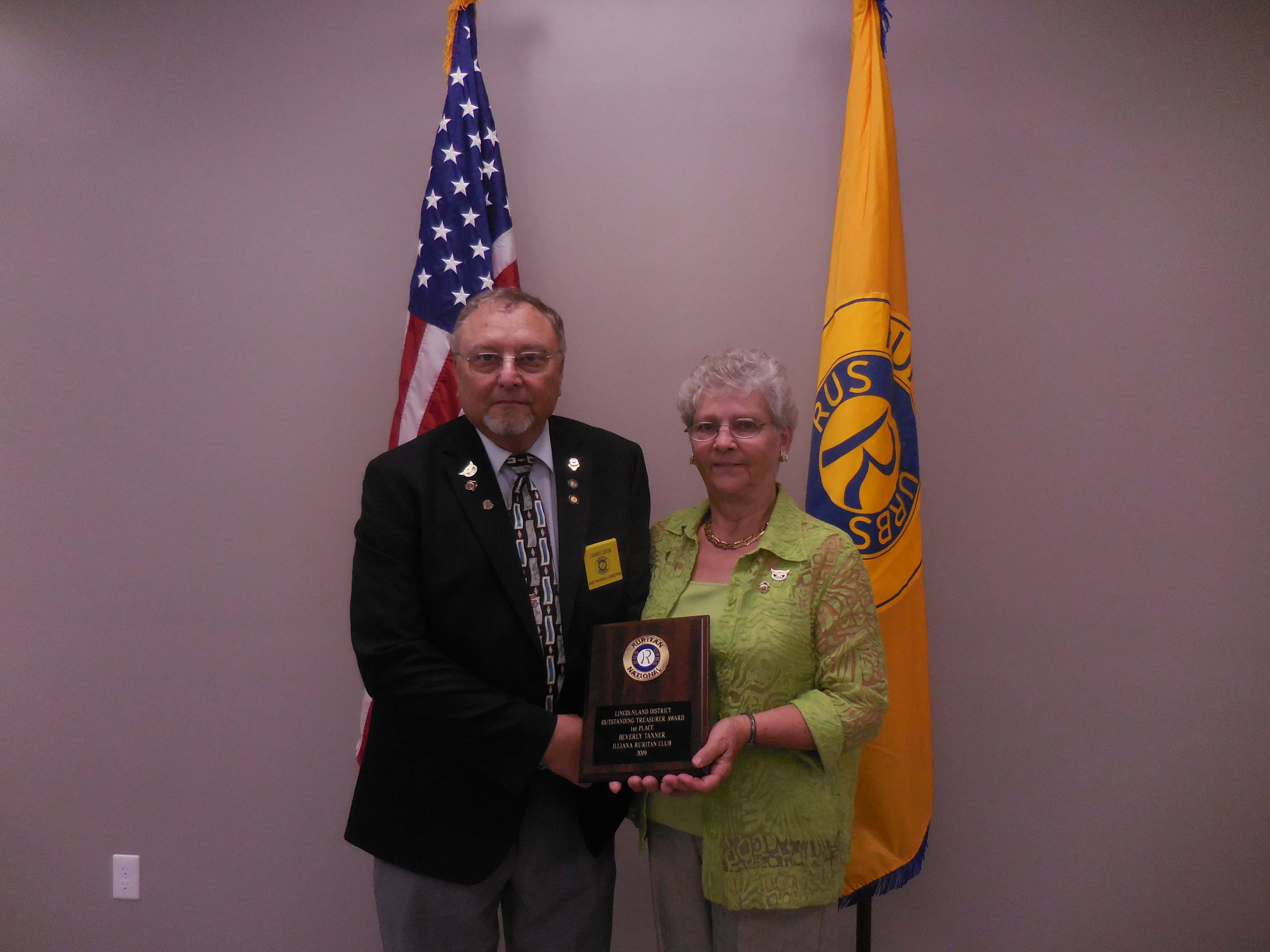 The Lincolnland District Ruritan Spring Awards Banquet was held at the Dubois Ruritan Building on June 27 in Dubois, IN. The 2019 District Governor James Zehr presented awards to: Sherry Jungwirth (Geff Club) for Outstanding President Award 1st Place. Receiving the award for Outstanding President 2nd place was Rita Woods (Illiana Club). Secretary 1st place went to Pauline Volk of the Dundas Club. Secretary 2nd place was James Barger of Allendale, with Kathy Strahle of the Hymera club took Secretary 3rd. Outstanding Treasurer 1st and 2nd place awards went to Beverly Tanner of the Illiana Club and Britt McNeely of Geff respectively. And the award for Outstanding Cabinet Member was awarded to Michel Zehr of Illiana. The Highest gain in 2019 club members was from the Dubois club, 20%; and the Geff Club had the highest percentage of members present. Jayla Pendleton of the Wayne City Club, Kaleb McFarland of the Illiana Club, as-well-as Austin Garbe and Molly Niemerg both of Dieterich; received Scholarships for $300 each.
The Illinois Department of Public Health is warning about the dangers of extreme heat. The best way to protect yourself is to: stay hydrated and take frequent breaks when working outside. Symptoms of heat exhaustion include dizziness, headache, and cool/clammy skin; and should be treated by moving to a cool spot and drinking fluids. Heat stroke is the most serious risk; symptoms of heat stroke is a high fever. In that case, seek immediate medical attention; do not give a person having a possible heat stroke fluids.
Illinois Secretary of State Jesse White announced that expiration dates for driver's licenses/ID cards and license plate stickers have been extended an additional month, from Oct 1 to Nov 1. This new Nov. 1 extension also includes those who have July, August and September expiration dates. As a result, expired documents will remain valid until Nov. 1.
A new report from the state legislature says Illinois' pension payment will jump by half-a-billion dollars this year. The report says Illinois' unfunded pension liability will jump from 133 billion-dollars last year to 137-billion this year. The report also says Illinois has only about 40-percent of the money promised for pensions for state workers, teachers, judges, lawmakers, and university workers.
River stages as of this morning:  the Little Wabash east of Fairfield stands at 5.69 feet, below the 17 ft. flood stage. Meanwhile, the Skillet Fork at Wayne City has a reading of 5.25 feet (flood stage is 15 ft.). The Little Wabash below Clay City is at 5.34 feet (flood stage is 18 ft.). Bonpas Creek at Browns reads 2.47 feet, and the Little Wabash at Main Street in Carmi reads 4.89 feet. The Wabash River at Mt. Carmel sits at 5.19 feet.
Today's crude oil price is $33.90, up $0.28 from yesterday. The August crude oil price is $40.77, up $0.24 from yesterday morning.