New Hope School registration is scheduled for 11 a.m. to 6 p.m. on Thursday in the school cafeteria. Parents of kindergarten and new district students should bring a certified copy of their child's birth certificate and a copy of current immunization records, as well as proof of residency. New Hope's first day of school will be August 10th.
The Edwards County 4-H recently released the results of several virtual shows. Each participant in the Equine, Small Pets, Dog, and Rabbit shows received a blue ribbon, and 25 exhibitors participated in the four shows. The largest was the Rabbit Show, which boasted 13 exhibitors and 56 total entries.
40-year-old Jennifer K. Arnold and 18-year-old David K. Porter were booked in the Wayne County Jail on Saturday. Arnold was held on a Wayne County warrant for arson, pending the posting of $5,020 bond; Porter was charged with theft over $500 and possession of a stolen firearm, and he was held, pending the setting of bond.
Former Frontier Community College president Dr. Tim Taylor is one of eight candidates for the vacant College President position at Shawnee Community College. Replaced at FCC by Dr. Jay Edgren in 2014, Dr. Taylor has most recently served as Campus President at Oakland Community College.
The Wayne County Health Department announced one additional case of COVID-19 yesterday- a male in his 70s. The county has now reported 30 total cases; 23 people have recovered, and six are in isolation at home. One person with the virus has passed away. The state announced 1,541 new cases of COVID-19 yesterday afternoon and one additional death. Statewide totals sat at 171,254 cases and 7,398 deaths.
FCHS will hold registration this week. The process will run from 1 to 6, and each class will have a designated day, with seniors set for tomorrow and freshmen for Friday. An online option is also expected to be available. Mule Mania for incoming freshmen is scheduled for August 5th, and an online option will also be available for families not comfortable attending in person.
The Fairfield City Council will meet tomorrow at 6 at City Hall. The meeting will also be held via phone conference, and those wishing to join should call (844)854-2222 shortly before 6, enter access code 767116#, and state their name when prompted. Aldermen are scheduled to act on amendments to ordinances reflecting residency and the utility rate ordinance to include effective dates in its five-year plan.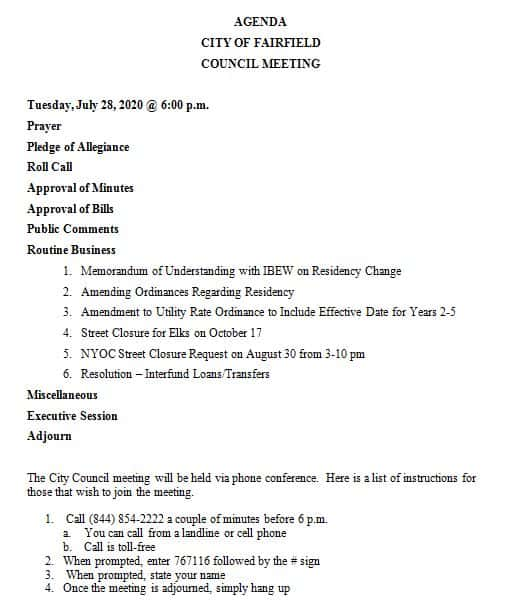 Wayne County's unemployment rate fell from 15.7 percent in May to 10.6 percent in June, according to recent statistics from the Illinois Department of Employment Security. Edwards County had its rate drop from 13 to 9.3 percent. Their respective unemployment rates in June 2019 were 4.5 and 3.6 percent.
Governor J.B. Pritzker has extended the state's ban on evictions through August 22nd after starting the moratorium in March. The state is also launching two grant programs, one for renters and one for struggling homeowners. Applications can be submitted in a few weeks, and more information may be found at ihda.org.
Recent rains have been beneficial to Illinois farmers, particularly in the north and central portions of the state, according to DTN Chief Agriculture Meteorologist Bryce Anderson. He says parts of Indiana and Ohio are still dry, and Iowa has been varied. Last week's Illinois crop report had 92 percent of the state's corn crop and 93 percent of the state's soybean crop in fair-to-excellent condition.
The recent investigation into utility giant ComEd and alleged bribes involving Illinois House Speaker Michael Madigan has reignited calls for term limit reform. Advocates say limits could help prevent the entrenchment that could aid potential bribes, but others say corruption reform needs a broader approach, as term limits alone won't change anything.
River stages as of this morning:  the Little Wabash east of Fairfield stands at 23.14 feet, above the 17 ft. flood stage. Meanwhile, the Skillet Fork at Wayne City has a reading of 5.45 feet (flood stage is 15 ft.). The Little Wabash below Clay City is at 19.83 feet (flood stage is 18 ft.). Bonpas Creek at Browns reads 1.44 feet, and the Little Wabash at Main Street in Carmi reads 15.97 feet. The Wabash River at Mt. Carmel sits at 6.96 feet.
Today's crude oil price is $34.25, up $0.25 from Friday. The September crude oil price is $41.22, up $0.03 from Friday morning.