The Illinois High School Association held a meeting today, regarding its sports plan. The IHSA has announced that sports will be played in shortened seasons. Among the notable changes is that football, girls volleyball and boys soccer has been moved to the spring 2021 season. The fall sports season will be held August 10 – October 24. Winter season will be November 16 – February 13. Spring season is February 15 – May 1, and summer season will be conducted on May 3 – June 26. Details can be found by clicking/tapping the image below.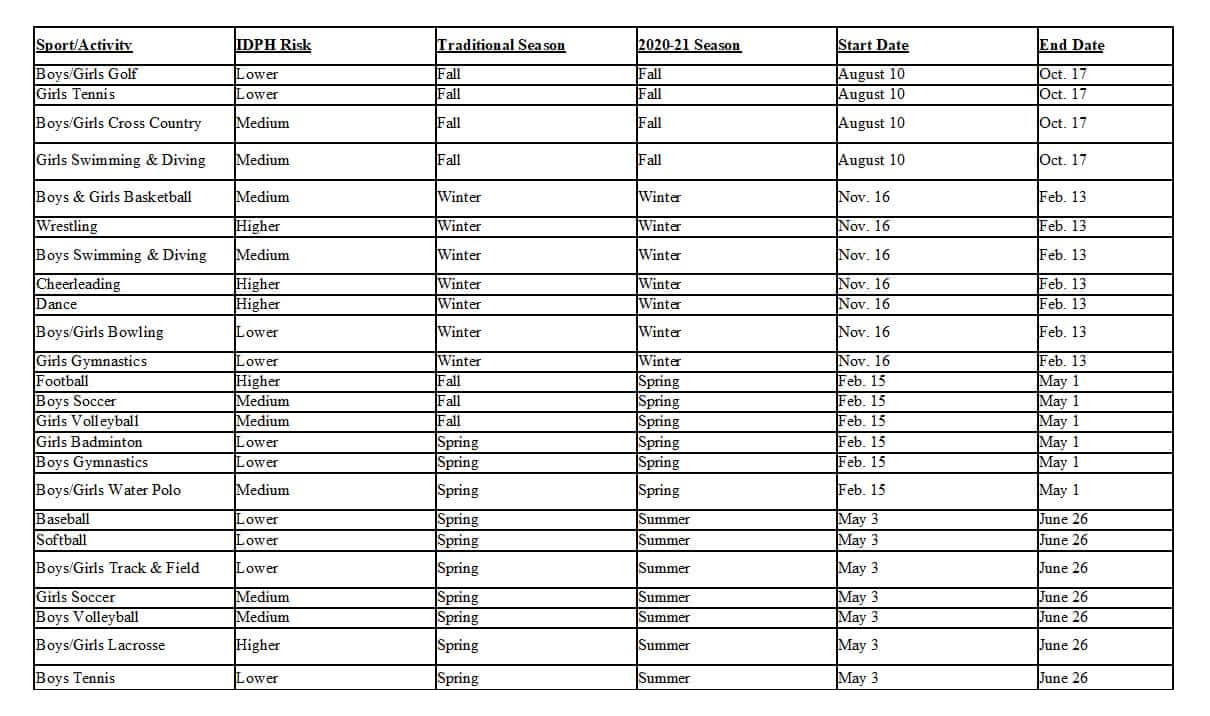 In a press conference held this afternoon, Governor JB Pritzker has announced that he was instituting stricter guidelines for both youth and high school sports. The stricter guidelines does not apply to collegiate and professional sports. The guidelines places sports in three different contact risk categories with four different levels of play allowed. Beginning Saturday August 15th, low risk sports can be played at levels 1, 2, and 3. Medium risk sports can be played at levels 1 and 2, and high-risk sports can be played at level 1. The link to the guidelines can be found here, along with our WFIW Radio Facebook page: https://coronavirus.illinois.gov/sfc/servlet.shepherd/document/download/069t000000Cy7VKAAZ?operationContext=S1&fbclid=IwAR2LbSY41vUj517bRHW2UhprtndUQBxquB9gpkuF0KfgqB3A4avyAU803dg
32-year-old Jesse R. Sexton was sentenced in Wayne County Circuit Court yesterday. He pleaded guilty to a count of criminal trespass to a motor vehicle and was sentenced to one year probation. A separate count and case were dismissed per his plea, and Sexton was also ordered to pay $440 in fines and court costs.
Three people were booked in the Wayne County Jail recently on Wayne County warrants. 26-year-old Krista N. Asher was arrested on a warrant for battery and a new charge of possession of controlled or counterfeit substances. 49-year-old Christopher L. Melton was arrested on a warrant for theft, and 32-year-old Anthony J. Incaprera was arrested on a warrant for possession of cannabis. All were held, pending the posting of bond.
11 entries were judged in the recent Edwards County 4H Goat Show, and all received a blue ribbon. Exhibitors included Kaylie Vallete, Brayden Childers, Riley Delancy, Maverick Moore, Hayley Buerster, Jaycey Buerster, and J.W. Simms-Reisner. The biggest class was Market Goats, which featured six of the seven exhibitors.
The Wayne City Community Building will host a drive-through fish fry fundraiser from 5 to 7 this Friday. The meal will cost $10, and the menu includes fish, fries, baked beans, slaw, and dessert. Vehicles should form a line heading south on the west side of the building; proceeds from the event will go toward roof repair at the Sims Community Center.
The Wayne County Health Department announced one additional positive case of COVID-19 yesterday afternoon- a female in her 60s. It also announced a male in his 20s tested positive yesterday morning, bringing its total to 33 cases. Edward County announced one positive test, bringing its total to 12. The state announced 1,076 new cases yesterday afternoon and 30 additional deaths. Statewide totals sat at 173,371 cases and 7,446 deaths.
The Fairfield City Council met last night and approved a memorandum of understanding with the IBEW on residency change and an ordinance amendment regarding residency. Aldermen also established May 1st as the effective date for utility rate changes under the city's new utility ordinance for the next four years. Street closing requests from NYOC for August 30th from 3 to 10 p.m. and the Fairfield Elks from noon to midnight on October 17th were approved, as well, with the NYOC closure requiring a tie-breaking vote from Mayor Brent Maguire.
The Kiddie Kollege Early Childhood Center has been awarded a $440,000 contract from the Illinois Department of Human Services. The funds will be used to help parents pay for child care; parents must be working and meet the newly increased eligibility guidelines, and they will pay a small co-pay based on their income.
Frontier Community College and Wabash Valley College will hold virtual commencement ceremonies on Friday. The decisions were made in an effort to maintain the safety of students, staff, families, and the community. Diplomas will be mailed to students, and FCC's ceremony may be viewed at iecc.edu/fcc.
Village of Springerton water customers are under a boil order until further notice. Customers should be sure to boil all water to be used for human consumption.
Due to COVID-19 restrictions, the Wayne County Retired Teachers Association will not meet in August. Members will be notified at a later date about plans for the October meeting.
Crop conditions continue to improve, according to the latest statewide weekly crop report. 22 percent of corn was in the dough stage, and 74 percent of the crop was in good-to-excellent condition. 67 percent of soybeans were blooming, 36 percent were setting pods, and 76 percent of the crop was in good-to-excellent condition. Average statewide topsoil moisture sat at one percent very short, 11 percent short, 79 percent adequate, and nine percent surplus.
The Illinois Secretary of State's office continues to promote cyberdriveillinois.com as a way to avoid long lines at driver's services facilities. People can apply for vehicle registration stickers online, as well as duplicate licenses and safe driver renewal. Fairfield and McLeansboro Driver Services facilities have been closed until August 5th and 6th as a precaution after an employee's positive test for COVID-19.
The Illinois State Museum is reopening with safety precautions in place after being closed for four months due to the pandemic. The systems flagship site in Springfield opened Saturday, and the Dickson Mounds site in Lewiston opened earlier last week. The ISM Lockport Gallery will remain closed until further notice.
River stages as of this morning:  the Little Wabash east of Fairfield stands at 23.35 feet, above the 17 ft. flood stage. Meanwhile, the Skillet Fork at Wayne City has a reading of 5.31 feet (flood stage is 15 ft.). The Little Wabash below Clay City is at 13.46 feet (flood stage is 18 ft.). Bonpas Creek at Browns reads 1.19 feet, and the Little Wabash at Main Street in Carmi reads 16.44 feet. The Wabash River at Mt. Carmel sits at 5.34 feet.
Today's crude oil price is $34.00, down $0.50 from yesterday. The September crude oil price is $41.35, down $0.11 from yesterday morning.