The Wayne County Health Department was notified Friday afternoon of three additional positive cases of COVID-19 in the past 24 hours in Wayne County residents. The individuals are a male in his teens,  a female in her 50s and a male in his 70s. The Hamilton County Health Department was notified Friday afternoon of five additional positive cases of COVID-19. The individuals are a male child, female in her 20s, female in her 60s, female in her 70s and a female in her 80s. Both health departments continue to investigate the cases. If you are contacted by public health officials, please respond promptly.
The Illinois Department of Public Health announced that 11 counties in the state are considered to be at a warning level for COVID-19. A county enters a warning level when it experiences an increase in two or more COVID-19 risk factors from the state's COVID-19 Resurgence Mitigation plan. Counties in our listening area that are currently at a warning level include White, Saline and Gallatin. Other counties that are currently under the warning level are Cass, Jackson, Jo Daviess, Johnson, Perry, Randolph, Sangamon, and St. Clair.
Johnsonville Community Days will run tonight through Sunday at the Ruritan Building. Racks of ribs and pork loins that had been previously ordered can be picked up today from 4 to 7. A fish and chicken dinner will be held at 5 p.m. tomorrow, and Sunday will feature a church service at 11 a.m., followed by a chicken dinner. Recommended guidelines for COVID-19 will be followed as best as the Ruritan Club is able, and tomorrow and Sunday will have both dine-in and carry-out options for their meals.
According to twitter reports from Jon Heyman with the MLB Network and Derrick Goold with the St. Louis Post-Dispatch, today's Cardinals-Brewers game has been postponed due to at least one positive COVID-19 test within the Cardinals organization. Goold says the Cardinals are remaining in their hotel rooms, as they have been instructed to self-isolate
The boil order that had been in effect in Springerton has been lifted. Water customers no longer need to boil water to be used for human consumption.
The Grayville First Christian Church has cancelled its on-site services for the first two Sundays in August.
No injuries were reported in a single-vehicle crash near Geff yesterday morning. Police say 36-year-old Justin D. Webb was southbound on Highway 45 when he hit running water due to heavy rain and spun into two-to-three feet of water in a ditch. A tow truck was called to the scene, and his vehicle sustained over $1,500 damage.
43-year-old Jack J. Myer was sentenced to nine months conditional discharge yesterday in Wayne County Circuit Court. He pleaded guilty to a count of disorderly conduct, a Class C misdemeanor. A separate case and several tickets were dismissed per his plea.
45-year-old Christopher M. Black was arrested last night by Fairfield police on a charge of violating an order of protection. He was taken to the Wayne County Jail and held, pending an appearance before a judge to set bond. On Tuesday, Fairfield police arrested 28-year-old Annastasia K. Brown after a vehicle stop. She was wanted on a Wayne County warrant for failure to appear in court on a charge of driving with a suspended license. Brown was processed at the Wayne County Jail and released with a Notice to Appear due to Jail conditions.
Beginning tomorrow, the Wayne County Sheriff's Office will require all persons visiting inmates to wear masks in an effort to prevent the spread of COVID-19, and they must be worn at all times while inside the building. The department does not have the capability to provide everyone with a mask, so visitors will need to provide their own.
The Wayne County 4-H has released the results of its virtual Rabbit and Poultry shows. Trophy winners in the Rabbit Show included Grace Milligan, Macie Edwards, Kacie Kinsolving, and Kendall Barnfield. Poultry Show trophy winners were Kalleigh Winesburgh, Jakeb Paul, Zack Paul, and Paige Farmer. Full results may be found below.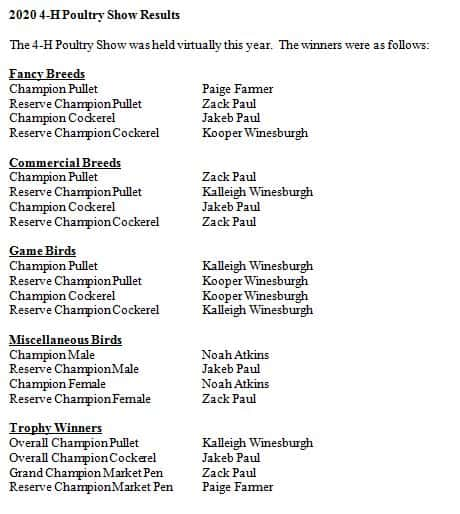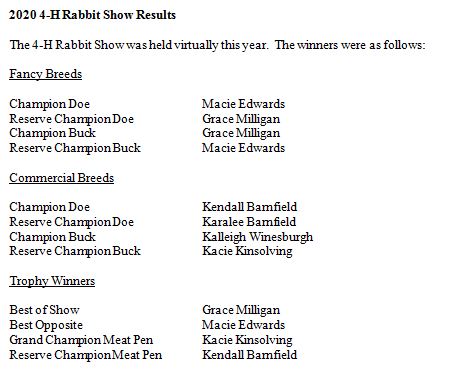 FCHS Athletic Director Bobby Wells says the sports plan released by the IHSA hasn't been formally approved by the IDPH, though he does anticipate it to happen soon. One thing not specifically addressed in the plan is fan attendance, but Wells says distinct guidance on that is a distant worry at this point in time for the state and most schools. While the plan isn't perfect, he says it is a big benefit to have some sort of framework in place for athletic directors and schools to work within.
The West Salem Fire Department was called to a report of a hay fire at the Bonnie Greathouse farm west of West Salem yesterday afternoon. West Salem Fire called for tank trucks from the Bone Gap Fire Department to help extinguish the blaze. An undisclosed amount of hay was destroyed in the incident, but a nearby barn and cows were safe.
Program Coordinator Jennifer England says the new Frontier Community College Medical Lab Technician Program will lead to a good job markets for graduates. Through lab tests, MLTs provide information for doctors, who then use it in the diagnosis and treatment of patients. FCC's new program debuts on August 20th. In an unrelated matter, the college has announced it will close today at noon.
As of Tuesday, Wayne County had a self-response rate of 63.2 percent for the 2020 Census, compared to Illinois' rate of 66.7 percent. The county's final 2010 rate was 71.9 percent. The Census timeline shows non-response follow-up, where Census workers go door-to-door to addresses that haven't responded yet, will begin August 11th.
A class-action lawsuit seeks $150 million in refunds from ComEd for customer rate increases and other benefits the company received from Illinois as part of an alleged bribery scheme. ComEd agreed to pay $200 million to resolve a criminal investigation that also implicated Illinois House Speaker Michael Madigan, though he has not been charged with wrongdoing. ComEd said its lobbying practices have been reformed, but the improper conduct described in the investigation doesn't mean consumers were harmed by the laws passed in Illinois.
River stages as of this morning:  the Little Wabash east of Fairfield stands at 23.65 feet, above the 17 ft. flood stage. Meanwhile, the Skillet Fork at Wayne City has a reading of 6.94 feet (flood stage is 15 ft.). The Little Wabash below Clay City is at 17.53 feet (flood stage is 18 ft.). Bonpas Creek at Browns reads 10.85 feet, and the Little Wabash at Main Street in Carmi reads 19.63 feet. The Wabash River at Mt. Carmel sits at 7.70 feet.
Today's crude oil price is $33.00, down $1.25 from yesterday. The September crude oil price is $40.21, down $0.77 from yesterday morning.