Frontier Community College has announced its academic honor recipients for the Spring 2020 Semester. 18 students made the Dean's List with a GPA of 3.5 to 3.74, 20 made the President's List with a GPA of 3.75 to 3.89, and 71 made the CEO/Chancellor's List with a GPA of 3.9 or higher. A full listing of the students may be found below.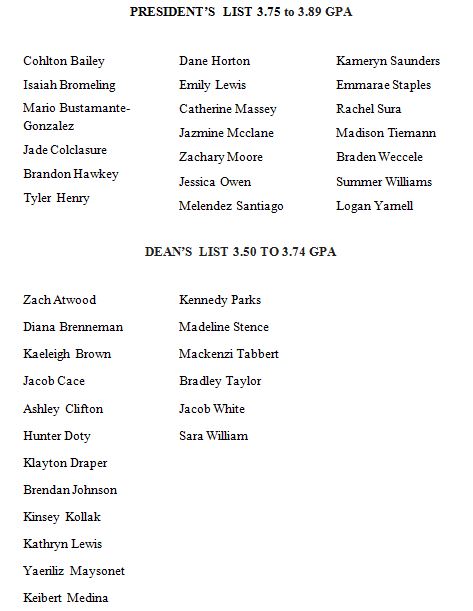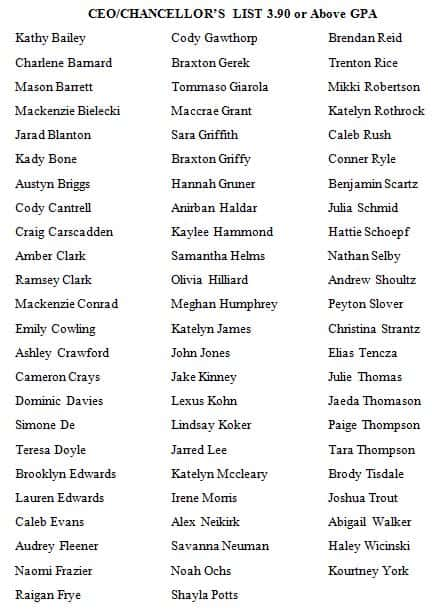 41-year-old Andy L. Grove was sentenced to nine year in prison yesterday in Wayne County Circuit Court. He pleaded guilty in March to a Class 1 Felony of criminal sexual assault. Grove was credited with 113 days served in jail, and two other cases against him were dismissed per his plea. He was also ordered to pay $540 in fines and court costs.
34-year-old Nathan M. Emerson was sentenced to five years in prison yesterday in Wayne County Circuit Court. He pleaded guilty to a Class 2 Felony of aggravated criminal sexual abuse in February. A separate count against Emerson was dismissed per his plea, and he was credited with 24 days served in jail. He was also ordered to pay $2,064 in fines and court costs.
Wayne County Crime Stoppers is offering a reward for information leading to the arrest of the person or persons who recently burglarized a residence belonging to Daryl and Mary Hargrave. Checkbooks, a double barrel shotgun, and a slide projector were reported missing. Anyone with information on the incident should call or text Crime Stoppers at 842-9777.
According to a post on the Wayne City Kissner Public Library Facebook page, the library will open again on Tuesday. It said it could open this week, but with the rise in coronavirus cases in southern Illinois in recent weeks, it wants to take precautions to better prevent the spread of the virus. More information on the summer reading program will be posted on its group page throughout the week.
As a tropical storm bears down on the Eastern Canada, DTN Chief Ag Meteorologist Bryce Anderson says the Midwest will face a favorable stretch of weather for crops. He says tropical storms serve as a magnet for available water in the Atlantic Ocean and Gulf of Mexico, leaving little water free to move inland.
The Wayne County Health Department announced one additional positive case of COVID-19 yesterday afternoon- a male in his 30s. The department says the county had 52 total cases and 17 active cases, with one person hospitalized. Edwards County announced two new cases to bring its total to 19, and one person was hospitalized. Hamilton County announced three new cases; 16 cases were active, and no hospitalizations were reported. The state Department of Public Health announced 1,471 new cases of COVID-19 yesterday afternoon and 19 additional deaths. The positivity rate for the Southern Region of the state was 7.3 percent on August 1st.
Several state agencies are investigating a break-in and theft at the Ataraxia Cultivation Plant in Albion. State Police say cannabis plants were taken after a suspect entered through an exterior door in the early morning hours on Sunday. Anyone with information regarding the case should contact State Police investigators at 382-4606, Extension 235.
Wayne County Farm Bureau Manager Doug Anderson says he has heard from several local people that they received unsolicited seeds as early as May. He says anyone that receives such seeds should contact the Farm Bureau office, USDA, or the Department of Agriculture, as they don't know what effect the seeds could have on ecosystems.
Fairfield Memorial Hospital's Horizon Healthcare has expanded its Behavioral Health Counseling Services with the addition of Behavioral Health Counselor Michaela Harrison. Harrison is from McLeansboro, graduated with a Masters of Professional Counseling from Lindenwood University, and was recently Board Certified as a Licensed Clinical Practice Counselor.
Illinois crops are about on pace with their five-year averages, according to the latest statewide weekly crop report. 96 percent of corn is silking compared to 92 percent normally, and 43 percent is in the dough stage. 78 percent of soybeans are blooming compared to 84 percent normally, and 52 percent of the crop is setting pods. 76 percent of both corn and soybeans were rated in good-to-excellent condition. Average statewide topsoil moisture was rated at one percent very short, nine percent short, 68 percent adequate, and 22 percent surplus.
Governor J.B. Pritzker has launched a new mask awareness campaign to help reduce the spread of COVID-19. The $5 million "It Only Works If You Wear It" campaign aims to remind people about the importance of covering their noses and mouths. State Public Health Director Dr. Ngozi Ezike says a mask is like any other safety measure- people have to actually use it for it to be effective. Illinois has had a mask mandate since May, but no statewide fine structure. Officials say local law enforcement should remind those not wearing a mask of the requirement.
Illinois State University says it will rename floors in a residence hall that were named for Thomas Jefferson, James Madison, and James Monroe, all of whom had slaves. The university says it can be traumatic for students to live in a dorm with the names of people who represent "centuries of oppression and systemic injustice." In a similar move, the City of Chicago has taken down three statues of Christopher Columbus in the past month after they drew criticism from those who say the explorer didn't deserve veneration because of his treatment of indigenous peoples.
River stages as of this morning:  the Little Wabash east of Fairfield stands at 23.69 feet, above the 17 ft. flood stage. Meanwhile, the Skillet Fork at Wayne City has a reading of 7.86 feet (flood stage is 15 ft.). The Little Wabash below Clay City is at 19.89 feet (flood stage is 18 ft.). Bonpas Creek at Browns reads 2.88 feet, and the Little Wabash at Main Street in Carmi reads 21.47 feet. The Wabash River at Mt. Carmel sits at 14.29 feet.
Today's crude oil price is $34.75, up $0.75 from yesterday. The September crude oil price is $42.13, up $1.56 from yesterday morning.