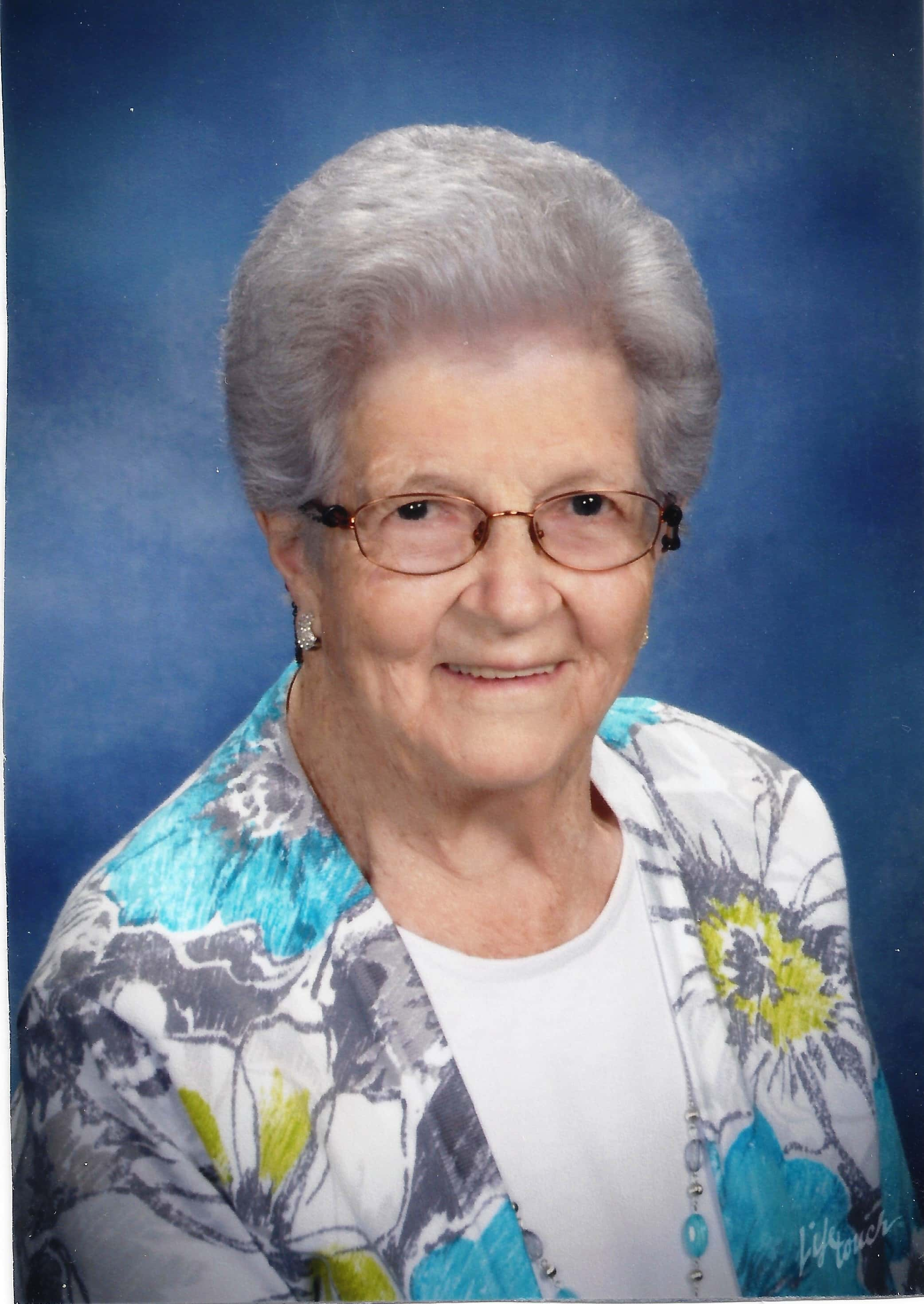 90-year-old Eileen Hopfinger, a resident of Dahlgren, died at 7:40 p.m. Thursday, August 6 at her home. Eileen was a homemaker and a member of St. John the Baptist Catholic Church in Piopolis and a member of St. Elizabeth's Alter Sodality. She loved to sew, do crafts, cook and garden — she enjoyed singing in the church and loved being involved in many church activities, including cooking at many church functions. She enjoyed her membership in Home Extension. During her last years, her beloved dog, Oreo, was always by her side. Her greatest joy was her family, she never tired of letting everyone know the number of her children, grand, great-grand and great-great-grand.
Eileen was born on April 20, 1930 in Piopolis to Theodore Frank Reyling and Lena Marie (Heil) Reyling. She married Francis Joseph "Hop" Hopfinger on August 24, 1949 in Piopolis. He preceded her in death on February 3, 2013.
Survivors include six daughters: Cathy Anselment & husband Ed of Dahlgren, Nancy Crossman and Terry Patient of Atwood, IL, Louann Talbert and husband Tony of Charlotte, North Carolina, Linda Becker and husband Steve of McLeansboro, Brenda Thomas of McLeansboro, and Lori Hopfinger of McLeansboro; two sons: Melvin Hopfinger and wife Denise of Dahlgren, Dale Hopfinger and wife Mary Anne of Dahlgren; one sister-in-law: Helen Wellen and husband Paul; 19 grandchildren, 35 great-grandchildren, and 2 great-great grandchildren also survive. She was preceded in death by her parents, husband Francis "Hop" Hopfinger, brother Eugene Reyling, sister Bernadine, and son-in-law Tim Thomas.
A private family mass of Christian burial will be held on Tuesday, August 11 for the family at St. John Baptist Catholic Church in Piopolis with Father Slawomir Ptak officiating. Visitation will be held on Monday, August 10 from 5 – 8 p.m. at Harre Funeral Home in McLeansboro. Burial will be in St. John the Baptist Catholic Church in Piopolis. Social distancing guidelines will be observed and face coverings are required. Harre Funeral Home wants to thank those for their cooperation.
Memorials can be made to St. John the Baptist Catholic Cemetery in Piopolis. Arrangements for Eileen Hopfinger are under the direction of Harre Funeral Home in McLeansboro.