Wayne County EMS responded to a two-vehicle crash northeast of Fairfield on Saturday. Police say 18-year-old Sydney M. Starks and 65-year-old Norman L. Schell, Jr., collided in the center of a roadway on a hill crest. Schell was taken to Fairfield Memorial Hospital, and Starks refused transport. The vehicles sustained over $1,500 damage, and a tow truck was called to the scene.
35-year-old Timothy W. Crundwell was arrested for DUI last night by Fairfield police after a crash in the 1000 block of West Main Street. Police say Crundwell struck the side of a parked car, and he then tested twice the legal limit for alcohol at the Wayne County Jail. He was also charged with driving with a suspended license and was released after posting bond.
Several others were booked in the Wayne County Jail over the weekend. 25-year-old Eric A. Shelby was arrested Saturday on charges of driving with a revoked or suspended license and meth, meth precursor, or anhydrous ammonia trafficking. Shelby was also wanted on warrants from Edwards and Clay counties, and he was held, pending the posting of bond.
The State of Illinois will invest more than $103.5 million to expand existing facilities and construct new buildings at 15 community colleges. Lincoln Trail College will receive $8.37 million to construct a new Technology Center in the move, and Olney Central College will receive roughly $2.3 million for a new Applied Technology Center.
The Edwards County Health Office announced one new case of COVID-19 yesterday, bringing the county's total to 21. The office had announced its 21st case last week, but one case has since been transferred to another county. The Wayne County Health Department announced no new cases of the virus yesterday afternoon. The state Department of Public Health announced 1,382 cases of COVID-19 yesterday afternoon and five additional deaths. Statewide totals sat at 194,080 cases and 7,636 deaths. The latest positivity rate for the Southern Region of the state was 6.9 percent on August 6th. Medical Surgical and ICU Bed availability sat at 53 and 58 percent, respectively, for their three-day rolling averages, well above the warning level of 20 percent.
Frontier Community College President Dr. Jay Edgren says the Frontier Perks Coffee Shop, Bobcat Den, and Learning Resource Center will remain closed to the public for at least a few more weeks. He says they may open more to the community by mid-September if the campus remains healthy, but building rentals may be slower in coming back, as FCC has converted some of its excess space into classrooms to allow for social distancing.
The Fairfield City Council will meet tomorrow at City Hall. A call-in-option will also be available, and people should call (844)854-2222 shortly before the meeting begins and enter access code 767116#. Action will begin at 5:30 with a pair of rezoning requests, and the council will work on a resolution to confirm the election of an alderman to acting mayor in its regularly scheduled meeting.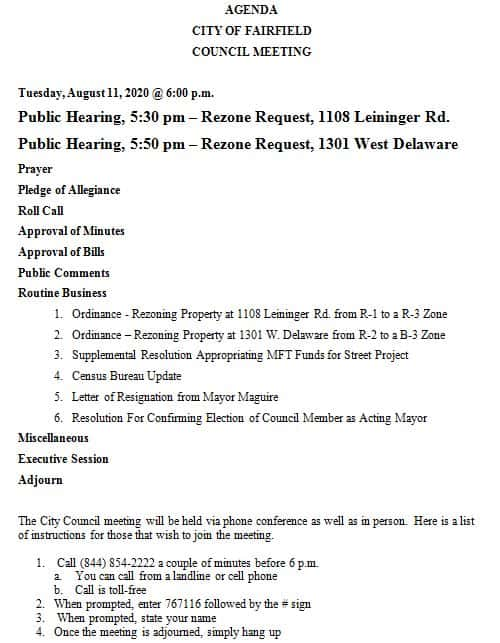 The Greater Fairfield Area Chamber of Commerce will hold its annual golf scramble on September 25th. Teams of four players are $250, and the deadline to register is this Friday. A lunch will be served at 11, and the shotgun start will be at noon. Anyone with questions should call the Chamber office at 842-6116.
A legislative oversight committee meets tomorrow to consider mask enforcement rules, and Governor J.B. Pritzker is asking members to leave politics out of their decision. Some on the Joint Committee on Administrative Rules have already expressed opposition to the rules, which apply to business and schools and not individuals, but the governor says they should focus on the health of Illinoisans.
Illinois Secretary of State Jesse White is encouraging organ and tissue donations for Virtual Minority Donor Awareness Month. White says minorities are in great need of transplants, yet they donate at a lower rate. Nationally, 59 percent of the waiting list for organ transplants is composed of people of color, but they have accounted for only 38 percent of those who donated organs last year, according to the Organ Procurement and Transplantation Network.
River stages as of this morning:  the Little Wabash east of Fairfield stands at 23.71 feet, above the 17 ft. flood stage. Meanwhile, the Skillet Fork at Wayne City has a reading of 5.35 feet (flood stage is 15 ft.). The Little Wabash below Clay City is at 20.00 feet (flood stage is 18 ft.). Bonpas Creek at Browns reads 1.49 feet, and the Little Wabash at Main Street in Carmi reads 19.88 feet. The Wabash River at Mt. Carmel sits at 6.39 feet.
Today's crude oil price is $34.25, down $0.75 from Friday. The September crude oil price is $41.81, down $0.02 from Friday morning.