Fairfield Public School District 112 Superintendent Dr. England says students who change from remote or in-person by tomorrow's deadline will begin in their new location on Monday. He also says pre-school screenings are still scheduled for September 22nd, 23rd, and 24th, so parents must call North Side School to make an appointment.
The Wayne County Health Department announced five new cases of COVID-19 yesterday, bringing the county's total to 140. 41 cases were active, including two hospitalizations. The state Department of Public Health announced 1,403 new cases of COVID-19 yesterday and five additional deaths; statewide totals sat at 249,580 cases and 8,171 deaths. Lawrence County has seen its number increase substantially in the past few days, as it had 52 new cases reported Friday and Saturday. Two new cases were reported in White County yesterday, and Hamilton County reported no new cases. The positivity rate for the Southern Region of the state sat at 6.7 percent on September 3rd, down from seven percent on the 2nd.
Last month was far drier than one year ago, as we recorded just over three inches of rainfall here at the radio station. The lion's share of that total came in the month's first half, and we had a stretch of 12 straight days without rainfall from the 15th through the 26th. Last August, we recorded nearly eight-and-one-third inches of rainfall at the station.
The Fairfield City Council will meet tomorrow at 6 at City Hall. Aldermen are scheduled to work through a FuelMaster Maintenance Agreement for the airport, as well as committee appointments. The council will also hear a street closing request for the Veteran's Parade on November 7th. The meeting will also be held by phone, and anyone wishing to join should call (844)854-2222 shortly before 6 and enter access code 767116#.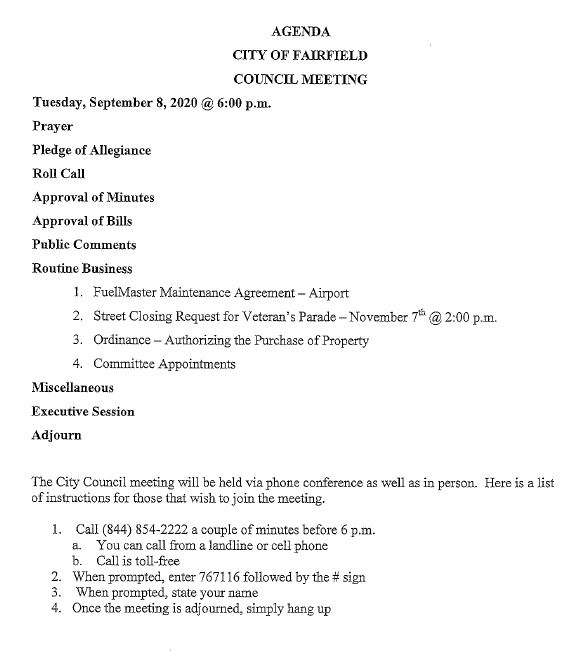 Doctors are reminding the public that dining out and socially drinking are high-risk activities during the pandemic. They say getting together to share a meal is an important part of our culture, but the situations can be problematic. People are urged to be very careful in public settings, and they suggest people carry-out when able, wear a mask when able, wash hands frequently, and sit at tables at least six feet apart from others.
U.S. Senator Dick Durbin says people need to be prepared to wait a bit for a final result for the November Election. One million mail-in ballots have been requested in Illinois, and the trends are pointing to the greatest number of such ballots ever for the vast majority of the country. He says the numbers could lead to bottlenecks, as there is a lot of work to be done to ensure ballots arrive, not to mention actually counting them.
The Illinois Legislative Black Caucus announced an agenda last week calling for action in several areas it identified as important to its members. Committee hearings began Tuesday on issues like criminal justice reform, violence reduction, and police accountability. Other hearings are set leading up to the Fall Veto Session of the General Assembly for issues like education and workforce development, economic access and equity, and health care and human services.
River stages as of this morning:  the Little Wabash east of Fairfield stands at 4.70 feet, below the 17 ft. flood stage. Meanwhile, the Skillet Fork at Wayne City has a reading of 4.97 feet (flood stage is 15 ft.). The Little Wabash below Clay City is at 4.46 feet (flood stage is 18 ft.). Bonpas Creek at Browns reads 0.78 feet, and the Little Wabash at Main Street in Carmi reads 3.56 feet. The Wabash River at Mt. Carmel sits at 3.07 feet.
Today's crude oil price is $32.75, down $1.50 from Friday. The October crude oil price is $39.36, down $2.07 from Friday morning.