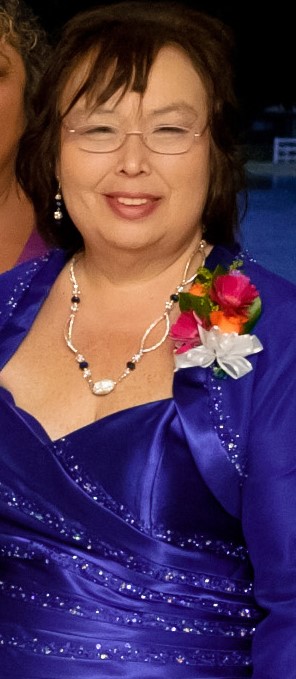 Patricia Ann Shapiro (nee Gilbert) wife, mother, grandmother, sister, and prolific Registered Nurse was called to Heaven on Monday, August 31, 2020. She was 66. Pat was born on June 3, 1954 in Colorado Springs, Co to Allen and Yoshiko Gilbert, and was raised in Fairfield.
As an R.N. she served the communities of Evansille, Indiana, Mt. Vernon, Illinois and Porterville, California with patience, and a positive attitude in a variety of nursing roles including E.R, surgical, cardiac cath. lab, chemotherapy, and home health.
On November 21, 1981 she married Steve Earl Shapiro of Festus, Mo. and they raised their four children in Mt. Vernon. She was beloved by all who met and worked with her, and her patients are grateful for her service. Her hobbies included sewing, crafting, and spending time with her six grandchildren.
Mom was appreciative of the people in her life and displayed her gratitude daily. One of her favorite sayings was that "God would never give us more than we could handle." Each day she lived on Earth was spent helping others whether by counsel or action. Though she is gone her memory and spirit will live on in her descendants and friends.
She is survived by her husband Steve Earl of Springville, Ca; son Steve Michael, daughter-in-law Charity, and grandsons Alexander and Owen of Belleville, Il; daughter Sarah Isch, son-in-law Jacob, and grandchildren Madalyn and Brody of Porterville, Ca; daughter Emily of Porterville, Ca; and daughter Rachael and grandchildren Abigail and Alexis of Porterville, Ca. Additionally, she is survived by her brother Fred Gilbert, (Dana), sons Wyatt and Holt, daughter Samantha Smith, ( K.D.) and daughter Carmon; sister Janet Bryan, (Brad) and son Hunter; of Fairfield; and brother-in-law Louis Courtright and Vicki Mix, son Curtis, (Heather), Iris and Briar of Cisne. Sister Sandra Courtright and her parents Allen and Yoshiko Gilbert preceded her in death.
On Thursday, Sept. 17 we will have a wake at the Rolland Lewis Building from 3 to 7 p.m. It is located at 
800 S. 27th Street, Mt. Vernon, Illinois
. On Friday, Sept. 18 a grave side service will be conducted at 3 p.m. at Koontz Cemetery, a mile and half south of Fairfield. All are welcome to attend. Following the service we will have a meal at The Journey Church located at 
900 Leininger Rd, Fairfield, IL 62837
.
Flowers, cards, and donations may be sent to Steve Shapiro in care of Janet Bryan at 1402 West Delaware, Fairfield, Illinois 62837.