The Albion City Council will meet tonight at 7 in the Edwards County Senior Citizens Center. The council is scheduled to vote on a new sidewalk ordinance, and it will also hold a discussion on cemetery fence repairs. After executive session to discuss employment, the council could vote on the hiring and training of a police officer for the city.
Several people were booked in the Wayne County Jail over the weekend. 43-year-old Lance M. Joslin was arrested on several charges, including aggravated assault and reckless conduct. He was held, pending the setting of bond. 43-year-old Kevin A. Gill was arrested on a charge of resisting or obstructing a peace officer, and he was held, pending the posting of bond.
Fairfield Community High School says it will return to in-person learning on Wednesday next week. Students will attend all classes on Wednesdays, but they will dismiss at 1:30 to allow teachers to work with quarantined students. In addition, next Wednesday, October 14th, will also be the day for seniors to take the SAT that had been scheduled for last spring.
Wayne County Clerk Liz Ann Woodrow says several people had taken out petitions for the upcoming Consolidated Election as of Friday. Nate Carter and Jeremy Gray had taken out petitions for the New Hope School Board, Kathy Stich for the Wayne City Board, and Terry Hall and Lee Ann Samford for the North Wayne Board. Dennis Smith took out a petition for Four Mile Township Road Commissioner. The filing dates for the election are December 14th through the 21st.
Today's winning Fall Fun Fest Button numbers are 514, 100, 203, and 80. Winners will receive $25 in Chamber Bucks, sponsored by McDowell, Kenshalo & Jesop, and people can take their buttons to McDowell, Kenshalo & Jesop to claim their prize.
Sales were slightly off, but organizers of the Fairfield PaintOut had a good feeling about the alterations to the traditional format this year. Sales totaled $11,535, and Vicki Gifford won Best of Show for her painting entitled "Wayne County USA." 20 artists submitted 86 pieces for this year's event.
The Wayne County Health Department announced seven new cases of COVID-19 yesterday, bringing the county's total to 318; 63 cases were active, including nine hospitalizations. Wayne County's positivity rate from September 14th through October 1st was six percent, per dph.illinois.gov; Edwards County's was 4.3 percent. The state Department of Public Health announced 1,453 new cases of COVID-19 yesterday and 17 additional deaths. Statewide totals sat at 301,541 cases and 8,791 deaths. The positivity rate for the Southern Region of the state was 5.7 percent on October 1st, down from 5.8 percent on September 30th.
River McCune was named 2020 Little Miss Geff Frontier Days over the weekend. The Retiring Queen was Emersyn Barbre. 1st Runner-Up this year was Shaelynn Hall, 2nd Runner-Up was Kyah Curry, and the 3rd Runner-Up was Tinley Burris.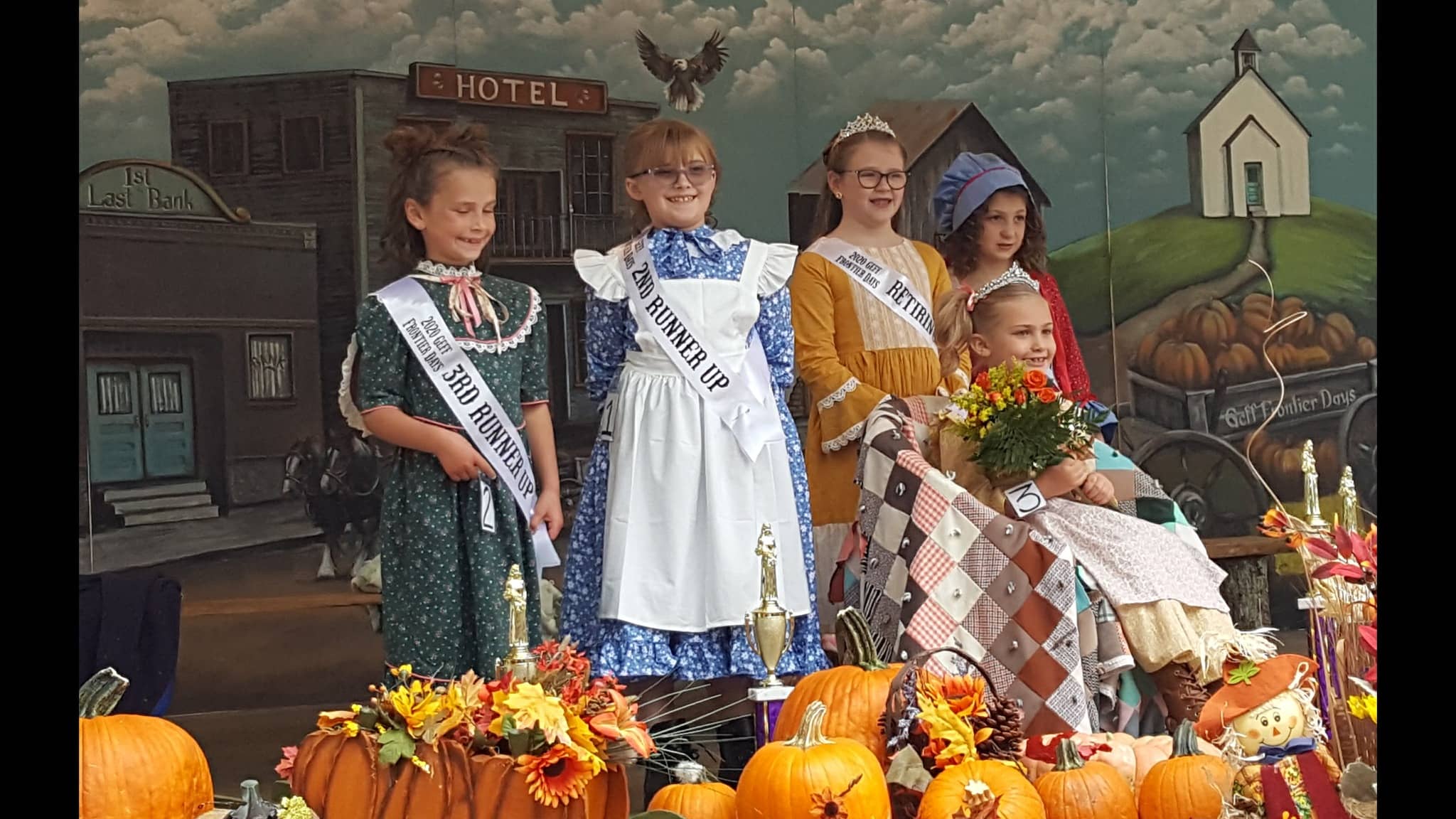 The Illinois Eastern Community College District is encouraging prospective students to apply to any of its four colleges before October 30th in order to be first in line for scholarships offered. The IECC is also planning a series of virtual FAFSA nights this month from 5 to 7 p.m. on the 8th, 15th, 22nd, and 29th. Attendees who send FAFSA information and apply for admission will be entered to win a cash prize.
The TIF Committee of the Fairfield City Council will meet this afternoon at 5:15 in City Hall. The committee is scheduled to hear a request from Bullard's Farm Market & Bakery for moving a greenhouse out of a flood area. The agenda also leaves room for an additional request and for public comments, and no date has been set for the next TIF Committee meeting.
Jack Myers, with Social Security, says people who have business with the agency shouldn't put it off because of the pandemic. He says Social Security is still operating, but it is mostly remote, so agents may be contacted by email, phone, or online. Information on contacting local Social Security offices can be found at ssa.gov/locator.
The Illinois Department of Labor is launching free COVID-19 safety training for the state's small businesses. The "Back to Business Illinois" program is for businesses with up to 250 employees, and consultants will advise on protecting workers and customers during the pandemic. Consultations are available online or in person, and people can sign up for the program at illinois.gov/worksafe.
River stages as of this morning:  the Little Wabash east of Fairfield stands at 4.10 feet, below the 17 ft. flood stage. Meanwhile, the Skillet Fork at Wayne City has a reading of 4.87 feet (flood stage is 15 ft.). The Little Wabash below Clay City is at 3.91 feet (flood stage is 18 ft.). Bonpas Creek at Browns reads 0.65 feet, and the Little Wabash at Main Street in Carmi reads 3.25 feet. The Wabash River at Mt. Carmel sits at 2.46 feet.
Today's crude oil price is $30.00, down $1.75 from Friday. The November crude oil price is $37.99, up $0.41 from Friday morning.