24-year-old Brodey I. Murbarger was booked in the Wayne County Jail Friday afternoon; he was transported from Vanderburgh County, Indiana, where he was arrested Wednesday morning in connection with the death and disappearance of Megan Nichols. His bond was set at $300,000 cash, and his first court appearance is expected later this week.
Wayne County Crime Stoppers is offering a reward for information leading to the arrest of the person or persons who recently entered a storage building owned by Gilardo Magana. A 2001 Honda Rancher was reported stolen. Anyone with information on the incident should call or text Crime Stoppers at 842-9777.
The Wayne County Health Department has expanded its drive-through flu-shot clinic today to include both children and adults. The clinic will run through 5 this afternoon at the department on North Basin Road; the department says, for those who can't attend today, it has several other off-site clinics scheduled, and walk-in shots are available Mondays through Thursdays.
The USDA will begin accepting applications for the Dairy Margin Coverage program tomorrow for 2021 enrollment. Signup runs through December 11th. DMC is a voluntary program offering protection to dairy producers when the difference between the all-milk price and average feed price falls below a certain dollar amount, selected by the producers. DMH payments triggered for seven months in 2019 and three months thus far in 2020.
Mitigations in the state's Metro-East Region were lifted Friday, returning the area to Phase Four of the state's reopening plan. The seven-county region had been under enhanced mitigation efforts since August 18th, and additional mitigations, such as a full ban on indoor dining, took effect September 2nd. The restrictions were relaxed to normal Phase Four levels after the region's positivity rate dropped below 6.5 percent for three consecutive days.
The Wayne County Health Department announced seven new cases of COVID-19 yesterday, bringing the county's total to 380; 85 cases were active, including seven hospitalizations. No new cases were announced yesterday in Edwards County, though one was announced Saturday on the state site to bring its total to 80. The state Department of Public Health announced 2,727 new cases of COVID-19 yesterday and nine additional deaths. Statewide totals sat at 319,150 cases and 8,984 deaths. The Southern Region's positivity rate was 7.3 percent on October 8th, up from 7.1 percent on the 7th. Wayne County's positivity rate was three percent from October 1st through the 8th, per dph.illinois.gov, and Edwards County's was 11.9 percent in the same span.
32-year-old Olney resident Dale Boatman, Jr., has been booked in the Richland County Jail in connection with the September murder of 19-year-old Kyle Johnson. He was charged with three counts of first-degree murder by accountability and one count of conspiracy to commit first-degree murder, and his bond was set at one million dollars. Boatman is the fourth person to be arrested in the case, joining 18-year-old Rick Meador, 33-year-old Tara Haws, and a 16-year-old.
The Fairfield City Council will meet tomorrow at City Hall. The night will begin with a series of Public Hearings, with the first beginning at 5:40. Aldermen are also expected to approve a number of ordinances, including one amending the Class C Liquor License and establishing a Class V License. The full agenda may be found below.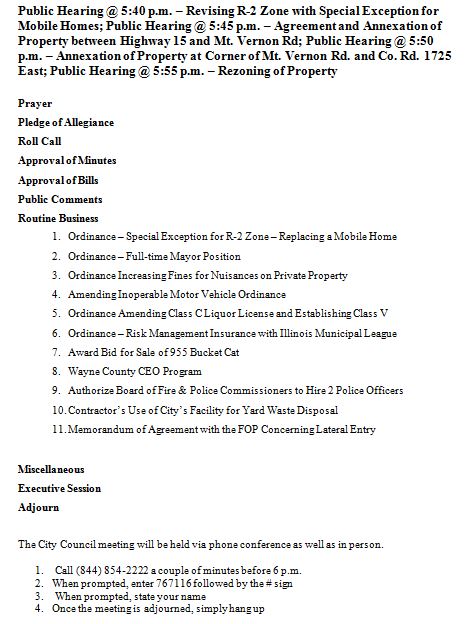 Longtime broadcaster Kirk Wallace died on Saturday. He had worked for WFIW for over four decades, following in his father Gill's footsteps on the microphone. Former Wayne County Broadcasting General Manager Dave Land says he was an outstanding personality that entertained thousands over the years.
The state Board of Elections says people who requested a mail-in ballot but have changed their minds and would like to vote in person may do so. Board Spokesperson Matt Dietrich says people who haven't received a mail-in ballot yet can sign an affidavit at a polling place and vote in person, and those who have received the ballot can take it with them to the polls and exchange it for a regular ballot.
The Illinois Emergency Management Agency is urging the public to participate in the world's largest earthquake drill this Thursday. The annual Shakeout event will be held at 10:15 a.m., and IEMA officials encourage people to sign up and learn how to drop, cover, and hold on in the event of an earthquake. Illinois sits between two seismic zones, and officials remind people earthquakes don't only happen in California.
Governor J.B. Pritzker has outlined proposals for improving the criminal justice system, including the elimination of cash bail and the determination of detention based on a defendant's threat to public safety. The recommendations stemmed from a commission headed by Lt. Governor Juliana Stratton, which has been at work since January.
River stages as of this morning:  the Little Wabash east of Fairfield stands at 4.07 feet, below the 17 ft. flood stage. Meanwhile, the Skillet Fork at Wayne City has a reading of 4.87 feet (flood stage is 15 ft.). The Little Wabash below Clay City is at 3.88 feet (flood stage is 18 ft.). Bonpas Creek at Browns reads 0.65 feet, and the Little Wabash at Main Street in Carmi reads 3.21 feet. The Wabash River at Mt. Carmel sits at 2.44 feet.
Today's crude oil price is $33.50, down $0.75 from Friday. The November crude oil price is $39.99, down $1.21 from Friday morning.