No injuries were reported in a head-on crash just south of Merriam early yesterday morning. County deputies say 26-year-old Benjamine S. Wilson struck 64-year-old Stanley V. Doty, and he was cited for several offenses. Wilson was also booked in the Wayne County Jail on a charge of DUI alcohol, and he was released after posting bond.
Several other were booked in the Wayne County Jail over the weekend. 63-year-old Phillip D. Brown was arrested Saturday afternoon on a charge of aggravated DUI. 18-year-old Steven A. Smith, Jr., was arrested Saturday on a charge of possession of over 100 grams of cannabis. Both were held in the jail, pending the setting of their respective bonds.
32-year-old Brittany Howder was found guilty at the conclusion of a jury trial in September in Edwards County Circuit Court. Judge Michael Valentine sentenced her to five years in prison on Friday for a count of aggravated fleeing or attempting to elude a police officer. She was also sentenced to concurrent jail time for driving with a revoked license and resisting a peace officer.
Feed My Sheep Soup Kitchen announced on Facebook over the weekend that one of its volunteers had been exposed to a positive COVID-19 case. It said it will be closed for two weeks, with a targeted reopening date of November 23rd. The Wayne County Health Department says the county remains under the IDPH warning level for the reporting week of October 25th through the 31st.
The Fairfield City Council will meet tomorrow night at City Hall. Action will begin at 5:50 with a public hearing regarding the rezoning of property at 1227 South First, and alderman could act on the matter once the meeting proper begins. The council will also hear an audit report from Kemper CPA. The meeting will be held via phone, as well, and anyone wishing to join should call (844)854-2222 shortly before 5:50, enter access code 767116#, and state their name when prompted.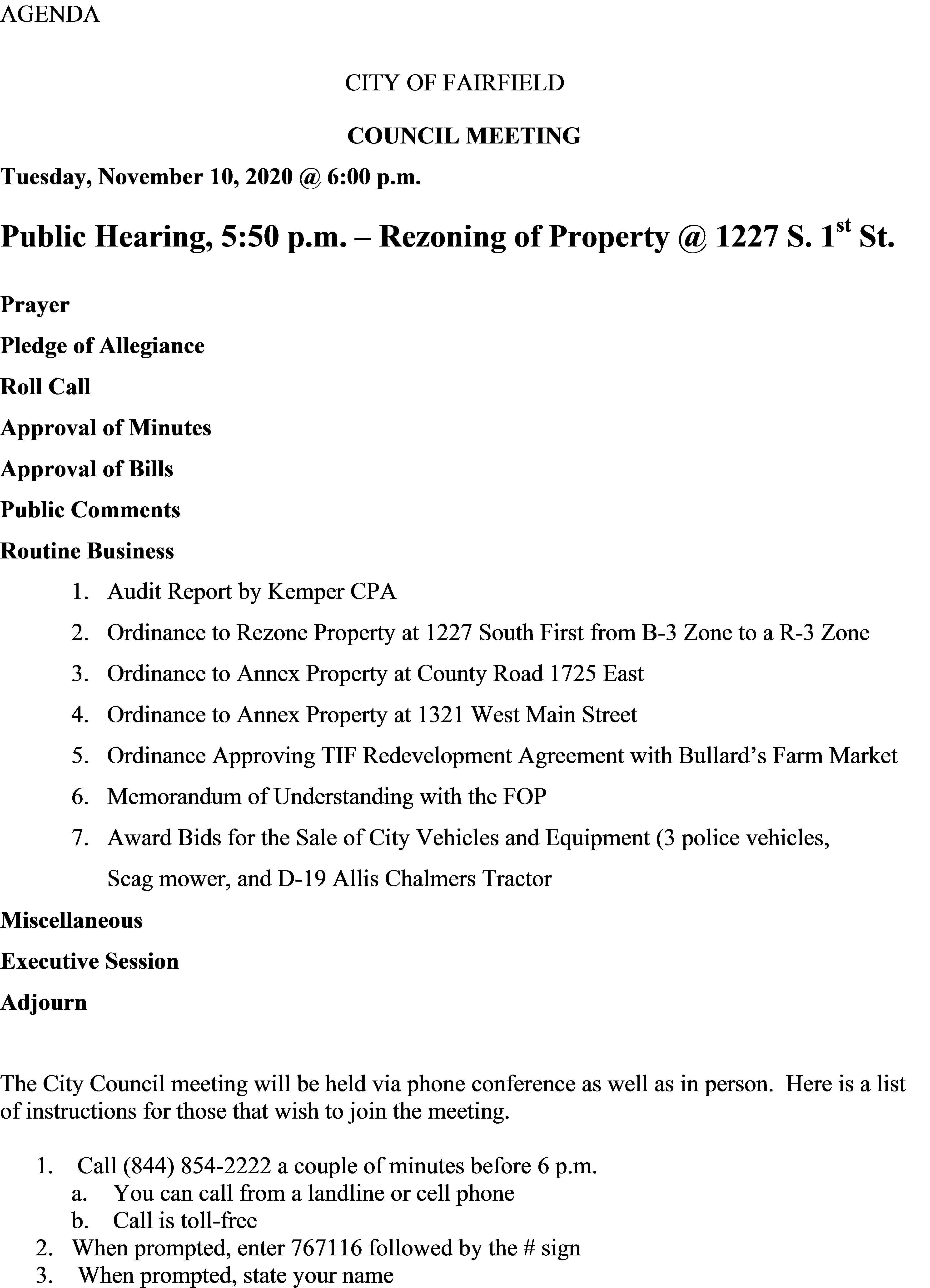 Fairfield Police Chief Keith Colclasure says online shopping will likely be huge this year, and, even though Fairfield is a relatively safe community, packages have been stolen off porches in the past. He says packages should be delivered to a workplace if possible; not every employer allows that, however, so people should try to get packages inside as quickly as possible.
The Wayne County Health Department announced six new cases of COVID-19 yesterday, bringing its total to 605; 128 cases were active, including three hospitalizations. Edwards County reported no new cases. Wayne County had a positivity rate of 8.1 percent from November 1st through the 5th, and Edwards County sat at 11.5 percent, per dph.illinois.gov. The state Department of Public Health announced 10,009 new cases of COVID-19 yesterday and 42 additional deaths; statewide totals sat at 487,987 cases and 10,196 deaths. Unlike reports from local health departments, as of Friday, the IDPH case totals now include both confirmed and probable cases. The state says if a probable case is later confirmed, it will be deduplicated from the totals so as to only be counted once. The Southern Region's positivity rate was 11.2 percent on November 5th, up from 10.6 percent on the 4th.
The Marion County Sheriff's Department and Canadian National Railroad Police are reportedly investigating why a 28-year-old man from the Wayne City area was clipped by a train late Friday night. The man's name was not released, but he was airlifted to a St. Louis hospital after first being taken to Centralia by ambulance.
The Fairfield Retail Merchants will hold their three-day Christmas Open House event from November 20th through the 22nd. Hours will be from 9 a.m. to 5 p.m. on the 20th and 21st and from noon to 5 on the 22nd. 19 area businesses are scheduled to participate with daily giveaways and sales. Participating merchants include Barb Wire Grill, Black's Fashion Flowers, B-Way Design and Decorating LLC, Carnaby Square, Classic Pizza and Pasta, Farmer's Daughter, Gottman's Jewelry, La Fuente, Mama Bear's 4 Seasons and More, Mindy's Sew Shop, Pizza Hut, Simply Enough, The Corner, The Willow Tree, Uniquely Rustique, and Your Flower Shop. Rush Appliance and Furniture, The Clothes Line, and The Green Pig will also participate during regular business hours.
Reports from Chicago last week indicated more than 150 schools across the state had announced they would not play basketball in the IHSA's winter season, which is set to begin with games on November 30th. The same reports said only five schools in the state- Lewiston, Lena-Winslow, Peoria Christian, Sherrard, and Yorkville Christian- had formally announced a plan to play this month. FCHS and ECHS have not announced their official plans.
A group of lawsuits challenging Governor J.B. Pritzker's coronavirus orders were dismissed in Sangamon County last week. The suits alleged a public health emergency did not exist in their plaintiff's counties of Edgar, Sangamon, Bond, Richland, Clinton, and Adams counties, but plaintiffs were given until Thanksgiving to refile. State Representative Darren Bailey also plans to amend his complaint against the governor's continued use of executive authority in the pandemic, and he was given the same requirements for his amended filing.
The enrollment period for health care coverage under the Affordable Care Act is open, and state Department of Insurance Director Robert Muriel says there are 179 different plans offered through the marketplace for those in need of health insurance. Three different levels of coverage are available, and a tax credit for premium costs may be obtained by those who qualify. More information may be found at getcoveredillinois.gov.
River stages as of this morning:  the Little Wabash east of Fairfield stands at 5.50 feet, below the 17 ft. flood stage. Meanwhile, the Skillet Fork at Wayne City has a reading of 4.92 feet (flood stage is 15 ft.). The Little Wabash below Clay City is at 4.64 feet (flood stage is 18 ft.). Bonpas Creek at Browns reads 1.19 feet, and the Little Wabash at Main Street in Carmi reads 4.01 feet. The Wabash River at Mt. Carmel sits at 4.89 feet.
Today's crude oil price is $30.25, down $1.50 from Friday. The December crude oil price is $38.07, up $0.01 from Friday morning.