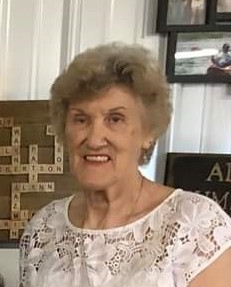 83-year-old Betty Warren of Wayne City, died at 2 AM, Wednesday, November 18th at her home.  Born on March 21, 1937 in Keenes to Clyde and Dorothy (Shaw) Keen, she had owned Betty's Buffet and the Little Red Barn in Wayne City among several other businesses.  She was also a member of Ten Post Oak Baptist Church.
Betty is survived by her sons Terry (Rogena) Moyer of Fairfield and Keith Moyer of Sims, stepsons Kevin Warren of Cisne and Kent Warren of Geff, stepdaughters Kimberly Warren of Fairfield, Mary (Charles) Johnston of Cisne, and Jessica Warren of Fairfield, 5 grandchildren, 11 great grandchildren, several step grand and great grandchildren, a brother Roger (Carolyn) Keen of Keenes, and sisters Judy (John) Gabbard of Sims, Vera Rawls of Mayberry, Patty (Wayne) Robertson of Wayne City, and Rita (Tom) Sager of Sims.  She was preceded in death by her parents, 3 husbands: Raymond Moyer, Gordon Qualls, and Gary Warren, twin sons Rodney and Ronald Qualls, brothers Mervin Keen and Jesse Keen, and sisters Wanda Kincart, Leone Robertson, and Debbie Ayers.
Private graveside services will be held on Saturday, November 21st at Ten Post Oak cemetery near Keenes.  Due to Covid restrictions there will be no public services.  Memorials in her honor may be made to Ten Post Oak Cemetery and will be accepted at the Johnson and Vaughn Funeral Home which is in charge of arrangements.