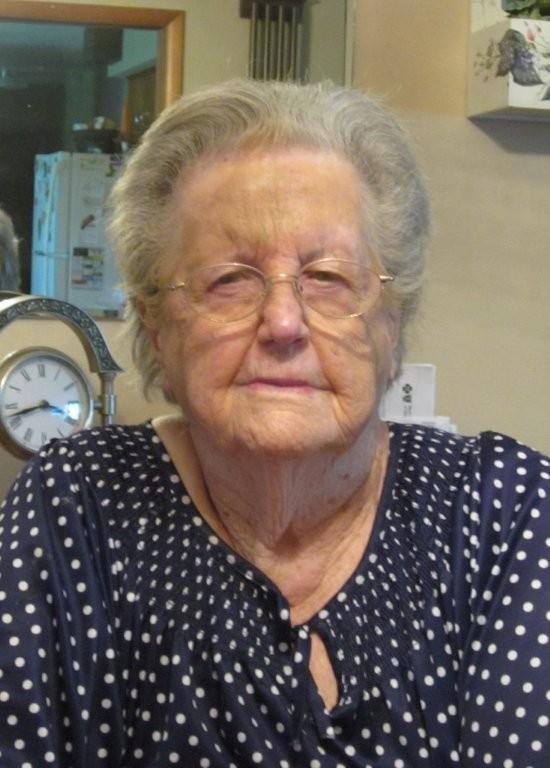 June Powless age 97  of Cisne, Illinois passed away on Friday, November 20, 2020 at  Enfield Rehabilitation & Health Care Center.
June  was born on June 26, 1923 in  Orchardville, Illinois to John and Edna (Tibbs) Hawkins.
June was a Homemaker and a factory worker. She had worked at Airtex in Fairfield, Illinois, also Brown Shoe Factory in Flora, Illinois.  June enjoyed gardening, flowers of all types, she loved listening to Gospel Music and sermons.  June was a member of the Providence General Baptist Church in Johnsonville, Illinois.
June is survived by two sons Darrell ( Pat )  Powless of Rockton, Illinois and David (Marsha) Powless of Michigan City, Indiana, twelve Grandchildren, numerous Great Grandchildren and Great Great Grandchildren.
Preceding her in death were  her parents, one daughter Melba Kay Clemmons, one  brother Carl Hawkins , two sisters Sybil Ellis and Mary Russell.
Graveside services will be held at Cisne Cemetery Tuesday, November 24, 2020 at 12:00 PM.           Everyone is asked to go directly to the cemetery.
In lieu of flowers Memorials may be given to Providence General Baptist Church.  Memorials may be dropped off at the funeral home or mailed to Hosselton-Meridith Funeral Home PO Box 418 Cisne, Illinois 62823.

Due to Illinois Department of Public Health guidelines, all visitors are asked to please wear a mask and practice social distancing.
Fond memories and expressions of sympathy may be shared with the family at www.meridithfuneralhome.com.