North Wayne EMS responded to a single-vehicle accident Sunday afternoon at Blue Point Church between Cisne and Johnsonville. Police say 18-year-old Chance A. Bunting attempted to turn from State Route 161, left the roadway, and eventually struck the church sign. Bunting and a passenger reportedly sustained minor injuries but refused transport to a hospital. A tow truck was called to the scene, and Bunting's 2014 Ford Escape sustained over $1,500 damage.
Two Fairfield residents were booked in the Wayne County Jail recently. 25-year-old Matthew J. Featherling was arrested this morning on a charge of delivery of or possession with intent to deliver methamphetamine. 27-year-old Jeffery E. Sisco was arrested yesterday for driving with a suspended or revoked license. Both were held, pending the posting of bond.
51-year-old Carmi resident Timothy L. Roberts was arrested by Carmi police last night after a 911 report of a man attempting to stab people with a knife. No injuries were reported, but Roberts was booked in the White County Jail on charges of aggravated assault and unlawful use of a weapon. He was also wanted on a White County failure to appear warrant. Roberts was held, pending an appearance before a judge to set bond.
Organizers Bill Thomason and Daniel Harms say there will be a Rally for America, the Constitution, and Election Integrity tomorrow at noon on the square in Albion. Albion Free Methodist preacher Neal Hartzell will pray, and soon-to-be State Representative Adam Niemerg will be the featured speaker.
Advocates say Illinois and many other states are out-of-step with other developed countries when it comes to treatment of children in the justice system. A 2020 State Ratings report from the Human Rights for Kids organization looked at 12 areas needed to create a legal framework protecting the rights of children in conflict with the law. Illinois rated poorly in the report, but the state has seen proposals to overhaul its juvenile justice system, including a push to raise the age of detention.
60-year-old Michael Mattox has been charged in Richland County Court with two counts of murder and one count of aggravated battery in a public place in connection with the deaths of two Olney residents late last month. He was originally charged with aggravated DUI after reportedly striking two women who were standing on the patio of Deuce's Wild Saloon in Olney with his truck. Mattox's bond was set at $1.5 million, and he is scheduled for a preliminary hearing on January 21st.
The Wayne County Health Department announced six new confirmed cases of COVID-19 yesterday, bringing its total to 1,254; 112 cases were active, including two hospitalizations. Edwards County reported two cases on coronavirus.illinios.gov to reach 411, White County added 15 and sat at 1,269, and Wabash County announced 10 to reach 1,049. The state Department of Public Health announced 5,059 new confirmed and probable cases of COVID-19 yesterday and 79 additional deaths. Statewide totals sat at 984,880 cases and 16,834 deaths. The Southern Region had a positivity rate of 11.4 percent on January 1st, down from 12.1 percent on December 31st.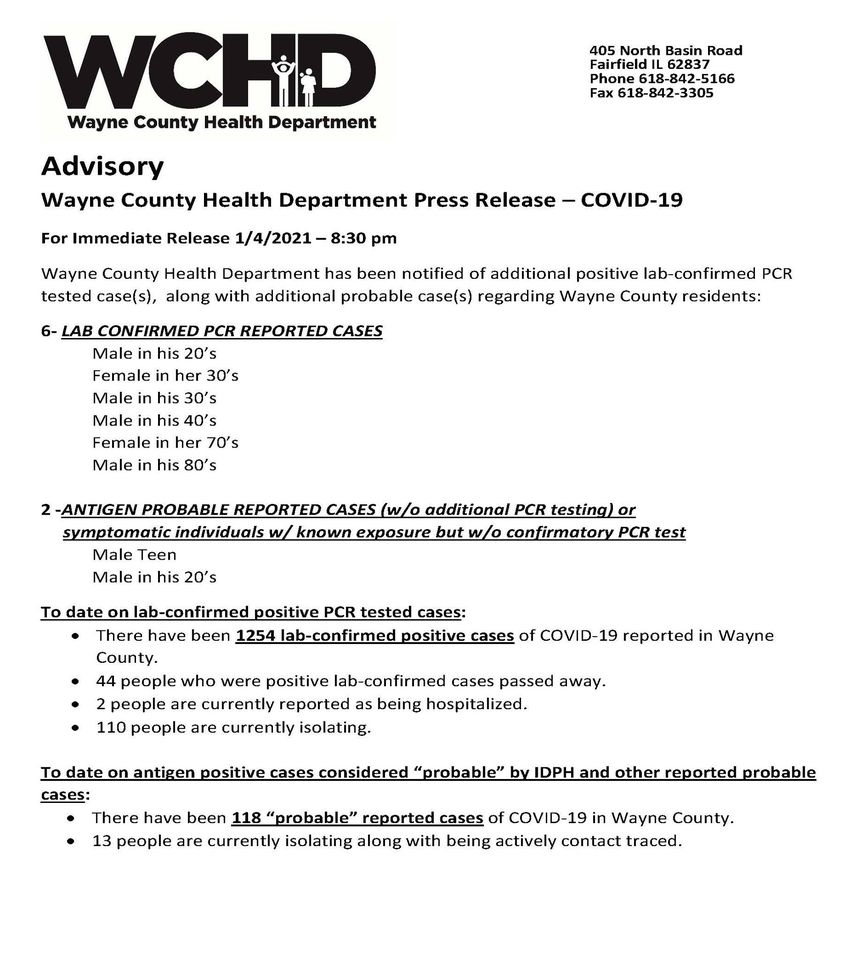 The Albion City Council met last night and discussed the new city garbage totes, which are set to arrive at some point this month. Billing for the totes won't show up for about another month after that. The council also heard from Randy Hallam and Police Chief Mike Judge on a recently approved grant that allowed four defibrillators to be installed in city squad cars.
The Albion Liquor Commission also met last night and voted to allow convenience stores to sell hard liquor. It also voted to raise the license fee from $750 per year to $1,250 per year. That fee change will be voted on by the full city council in its February meeting.
Republicans in the Illinois House fear the upcoming Lame Duck Legislative Session will include a tax increase. House GOP Leader Jim Durkin says the state may turn to taxpayers to shore up a big budget deficit caused by the pandemic, the lack of a federal bailout, and the failure of the graduated income tax proposal in November. No agenda has been set for the final days of the current General Assembly.
Illinois Secretary of State Drivers Services Facilities statewide reopen today. Spokesperson Dave Druker says masks and social distancing requirements will still be in place, and people can hold off on entering, as expiration dates have been extended. He also says people can renew a license plate sticker or obtain a duplicate license, for qualifying drivers, at cyberdriveillinois.com
Agrivisor's Karl Setzer is looking ahead at the forecast for corn and soybean futures, and he says neither crop had much overhead resistance at the beginning of the trade week yesterday. He says March soybean contracts could reach $15 by the end of the week, and corn futures could hit $5.50 or higher. This marks the first full trading week since the middle of December.
River stages as of this morning:  the Little Wabash east of Fairfield stands at 21.98 feet, above the 17 ft. flood stage. Meanwhile, the Skillet Fork at Wayne City has a reading of 6.63 feet (flood stage is 15 ft.). The Little Wabash below Clay City is at 14.20 feet (flood stage is 18 ft.). Bonpas Creek at Browns reads 9.03 feet, and the Little Wabash at Main Street in Carmi reads 21.60 feet. The Wabash River at Mt. Carmel sits at 12.10 feet.
Today's crude oil price is $40.50, down $1.00 from yesterday. The February crude oil price is $47.69, down $1.92 from yesterday morning.