25-year-old Brodey I. Murbarger had a pre-trial conference yesterday in Wayne County Circuit Court. Murbarger, his attorney Christian J. Baril, and Wayne County State's Attorney Kevin Kakac appeared before Judge Tom Dinn via Zoom. Another pre-trial conference was scheduled for January 25th at 10:30 a.m., where Baril is expected to present a motion to allow Murbarger access to a computer or similar electronic device. He also indicated he would have a second motion related to bond, though he did not enumerate yesterday what that motion might be. Judge Michael Molt denied a motion in December to reduce Murbarger's $300,000 cash bond.
The Fairfield Public School District 112 Board of Education will meet tonight at 6 in the Center Street Boardroom. It is scheduled to approve a resolution for the issuance of over $1.9 million in Taxable General Obligation Bonds and over $2.5 million in General Obligation School Bonds, as well as approve a donation to Junior Achievement.
The Fairfield City Fire Department has released its response figures from 2020. The department responded to 481 total incidents over the year, with 400 being EMS assists. It also responded to 12 motor vehicle crashes, eight structure fires, seven vehicle fires, and three grass or brush fires and unauthorized burns.
44-year-old Brian S. Medler and 36-year-old Michael S. Ferrier were booked in the Wayne County Jail over the weekend. Medler was wanted on a Wayne County civil warrant, and he was held, with bond sat at $770. Ferrier was arrested on a Wayne County failure to appear warrant for a traffic offense, and he was released after posting $345 bond.
Wayne County Crime Stoppers is offering a reward for information leading to the arrest of the person or persons who recently stole a three-wheel bicycle belonging to Joshua Heath. The bike was described as a blue Miami Sun bike with a basket on the back. Anyone with information should call or text Crime Stoppers at 842-9777.
21-year-old Ohio resident Princeton Glenn was arrested Saturday morning after a traffic stop on Interstate 57 near Salem Friday night. He is accused of getting into an altercation with Illinois State Police and fleeing the scene on foot. After being found on Saturday, Glenn was taken to the Marion County Jail on charges of unlawful use of a weapon by a felon and obstructing justice.
The Illinois State Police have adopted the NAACP's 10 Shared Principles of Police Reform. The principles recognize the need to treat everyone with dignity and respect, according to ISP Director Brendan Kelly, who says they have already put the principles into action.
The Wayne County Health Department announced nine new confirmed cases of COVID-19 yesterday, bringing its total to 1,310; 109 cases were active, including two hospitalizations. Edwards County reported one case on coronavirus.illinois.gov and sat at 445. Wayne County's positivity rate from January 1st through the 7th was 6.5 percent, per dph.illinois.gov, and Edwards County's was 13.2 percent. The state Department of Public Health announced 4,711 new confirmed and probable cases of COVID-19 yesterday and 80 additional deaths. Statewide totals sat at 1,028,750 cases and 17,574 deaths. The Southern Region had a positivity rate of 9.6 percent on January 7th, down from 10.5 percent on the 6th. Its rolling three day average for hospital availability was at 33.7 percent for Medical Surgical and 17.5 percent for ICU beds. 1-10-2021-WCHD-New-COVID-19-and-Probable-Case-Press-Release
Fairfield Public School District Superintendent Dr. Scott England said 112's restart has gone well; as of Friday, he said about five instructors were quarantined, and student numbers were even lower. He also said pre-K students had been introduced to in-person classes once again, and nearly 90 percent of students were learning in person.
The Fairfield City Council will meet tomorrow at 6. Aldermen are scheduled to finalize a resolution regarding a Library Board appointment, and they are also expected to discuss fees at Maple Hill Cemetery and customer connection to sewer lines. The meeting will also be held via phone conference; anyone wishing to join should call (844)854-2222 shortly before 6, enter access code 767116#, and state their name when prompted.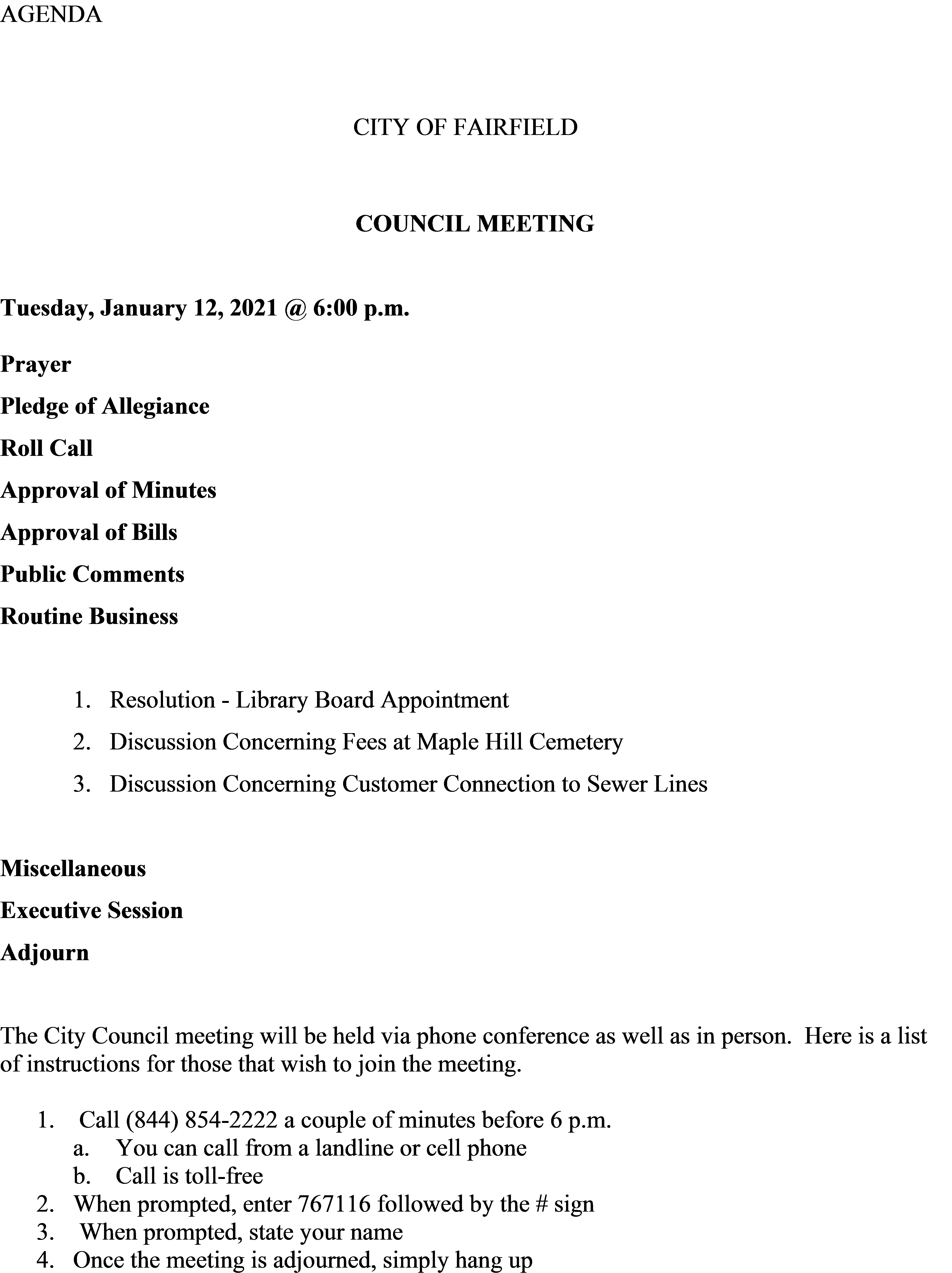 The Illinois General Assembly is looking at two separate police reform proposals in its ongoing Lame Duck Session. One is backed by the Illinois Legislative Black Caucus and would weaken qualified immunity and eliminate the cash bail system. The other is from Attorney General Kwame Raoul and would overhaul the state's certification and decertification systems. Law enforcement groups say some reforms are being rushed. Sponsors say some changes can still be made to initial proposals, but they want to get reforms passed by the end of the current session.
State Representative Darren Bailey reportedly experienced a minor medical issue during yesterday's proceedings in Springfield. According to a release from Bailey's camp, he fainted but was doing better after treatment at a hospital. He said he looks forward to returning to work as soon as possible.
After a meeting with IDPH officials and a member of the Governor's Office last week, the IHSA Board of Directors is set to meet this Wednesday to again discuss high school sports. IHSA Executive Director Craig Anderson said time is running out to make a decision about sports for all remaining seasons, especially the winter. Even with the meeting with state officials last week, no definite timelines for a return to play were established.
Federal and state land managers have signed an agreement to cooperate on vast forest lands in Illinois. Signed this past week, the agreement between the Illinois Department of Natural Resource and USDA's Forest Service established a system for the agencies to collaborate on forest management and mutual goals in tacking challenges facing communities, landscapes, and natural resources.
River stages as of this morning:  the Little Wabash east of Fairfield stands at 12.51 feet, below the 17 ft. flood stage. Meanwhile, the Skillet Fork at Wayne City has a reading of 5.55 feet (flood stage is 15 ft.). The Little Wabash below Clay City is at 7.41 feet (flood stage is 18 ft.). Bonpas Creek at Browns reads 2.32 feet, and the Little Wabash at Main Street in Carmi reads 13.46 feet. The Wabash River at Mt. Carmel sits at 9.63 feet.
Today's crude oil price is $45.25, up $1.50 from Friday. The February crude oil price is $52.05, up $0.99 from Friday morning.