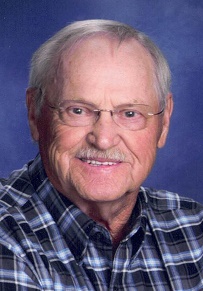 80-year-old Robert "Bob" James Roark of Norris City, died on Monday, January 11 at Linda E. White Hospice in Evansville, IN. He was born in New Haven, Illinois on January 15, 1940, the son of Edward and Tillie Marie (Allison) Roark.  He married Sharon Lynne (Bohner) Counsil on January 15, 2003. Bob served in the United States Army from 1960 to 1962.  In 1968, he became owner and operator of  Roark Trucking in Carmi. Bob enjoyed working on the farm and driving a tractor.  He loved his grandchildren and enjoyed following them in all of the activities they are involved in.
Bob is survived by his wife, Sharon Roark of Norris City; his son Rob (Jill) Roark of Norris City; a daughter, Malea (David Hall) Vaughan of Carmi; five grandchildren, Andy and Abby Vaughan, Zack and Riley Roark and Lily Wenzel; a brother, Howard "Jolly" Roark of Gridley, IL.;a sister, Hazel Browning of Carmi; two sisters-in-law, Naomi Roark of Crossville, and Lorene Roark of Wilmington, IL.; and many nieces and nephews. He was preceded in death by his parents; three brothers, Clyde "Buster", John and Eugene "Jake" Roark; three sisters, Mary Jane Crandall, Ida Mae Roark and Mary Katherine Roark; and a son-in-law, Shannon Vaughan.
Funeral Services for Robert "Bob" James Roark will be private with a public graveside service at approximately 11:00 a.m. on Thursday, January 14 at Asbury Cemetery in New Haven. Friends and family may visit from 4 to 8 p,m. on Wednesday, January 13 at Campbell Funeral Home in Carmi.  Memorial contributions can be made in Bob's memory to Norris City Cumberland Presbyterian Church and will be accepted at Campbell Funeral Home in Carmi who is in charge of arrangements.  In accordance with CDC and IDHP regulations, social distancing will be observed and wearing masks will be required.