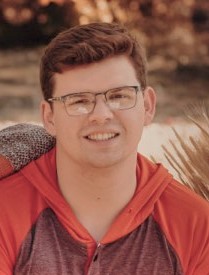 Brock M. Lewis, 23, of Fairfield, died at 8:37am on Saturday, February 20, 2021, at his home.
Brock was a graduate of FCHS Class of 2016 and was a delivery driver for Ataraxia in Albion, IL.  He was also a member of the First Christian Church in Fairfield. Brock loved spending time with his family and friends, and was an outstanding big brother to his siblings and other children.
Brock was born on February 19, 1998, in Evansville, IN, to Ryan Lewis and Missy (Janes) Lewis.
Survivors include his mother Missy Lewis of Fairfield, his father Ryan (Amanda) Lewis of Henderson, KY, step-parents Jennifer (Donnie Brackett) Lewis of Fort Branch, IN, two brothers Keegan Jordan of Fairfield, Lincoln Lewis of Henderson, KY, three sisters Hannah Lewis of Fort Branch, IN, Katie Lewis of Fairfield, and Ryleigh Lewis of Henderson, KY, maternal grandparents Jane Janes of Flora, IL, Doug Jordan of Fairfield, maternal great grandmother Catherine Laird of Olney, IL, paternal grandparents Rob Lewis of St. Francisville, IL, David (Donna) Crowley of Henderson, KY, and Rita Herron of Cynthiana, IN; step-grandparent Anthony (Debra) Seale, Sr. of Francisco, IN,  special little friends Kenton Revelo, and Dayln Gonzalez, along with several aunts, uncles, and cousins. He was preceded in death by maternal grandmothers Carol Jordan and paternal grandmother Marcia Lewis, maternal great grandfather Bill Laird, paternal great grandparents Bob and Shirley Lewis and Noble and Winnie Brown.
Funeral services for Brock Lewis will be at 10am on Saturday, February 27th at the Johnson and Vaughn Funeral Home in Fairfield, IL, with burial in Maple Hill Cemetery. Visitation will be from 5pm-7pm on Friday, February 26th at the funeral home. Everyone is asked to follow state guidelines for mask wearing and social distancing. In lieu of flowers, memorial donations can be made to help with funeral expenses and will be accepted at the Johnson and Vaughn Funeral Home which is in charge of arrangements. Condolences can be made to the family at www.facebook.com/johnsonvaughnfuneralhome.