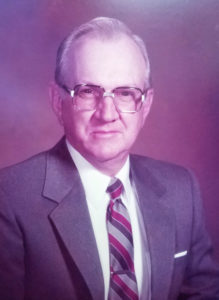 94-year-old Bernie Eugene Weaver of Cisne, died on Easter Sunday, April 4 at White Oak Rehabilitation and Health Care in Mt. Vernon.
Bernie was born on October 29,1926 in Johnsonville, to his parents Lewis Ottis Weaver and Bethany Evaline (Dickey) Weaver.  On Valentine's Day, February 14, 1948 he married Myrtle Ida (May) Weaver who preceded him in death.
Bernie was a US Army Veteran, having served in the latter part of WW2.  He was the Principal at Berry School and also was a teacher, coach, and assistant bus driver.  He was also the Principal at Sims School, and was the Transportation Coordinator of Wayne City Unit #100 Schools.  Bernie previously held public office as the former Berry Township Treasurer.
Bernie is survived by 3 sons: Sherman Ray Weaver (wife Mary) of Fairfield, Marvin Weaver (wife Tammy) of Fairfield, Darrel Weaver (wife Sherri) of Johnsonville; 2 daughters: Nila Harshbarger of Sesser, Gale Buchanan (husband David) of Fairfield, 12 grandchildren and several great great grandchildren.
He was preceded in death by his wife Myrtle Ida (May) Weaver, both parents, 4 brothers: Clifford O. Weaver, Hobart V. Weaver, Evan E. Weaver, Donnie Weaver, and Dwight O. Weaver, and a sister Evelyn Edward's.
Visitation for Bernie Eugene Weaver will be held from 5 pm until 8 pm on Friday, April 9 at Young Funeral Home in Wayne City.  A graveside funeral service will be held at 2 pm on Saturday, April 10 at Arrington Prairie/Dickeyville Cemetery north of Sims with Pastor Ed Windland officiating . Those attending the graveside service are asked to meet at the cemetery.  COVID-19 safety guidelines will be followed at the visitation, including a limit of 50 people indoors at a time and those attending are encouraged to wear face masks.  Online condolences may be shared at www.youngfuneralhomellc.com.