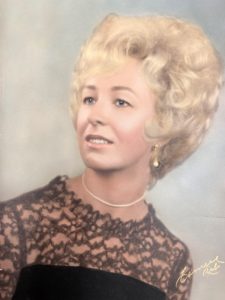 82-year-old Mona Ann McGill died on Sunday, April 25 in Katy, Texas.
Mona was born on July 31, 1938, in Cave-in-Rock, IL, to Leslie and Bertha (Tadlock) Craig. On November 24, 1955, she married Charles Eugene McGill in Fairfield. After they wed, they moved to Decatur, IL in 1956, where they resided for 38 years. She and Charles then moved to Katy in 1994 where they attended PowerHouse Christian Church. Mona enjoyed gardening, traveling, shopping, and fishing; further, she was a member of the Katy VFW Auxiliary. Mona was a loving wife, mother, grandmother, and great grandmother and will be dearly missed by all.
Mona is survived by her loving husband of over 65 years, Charles Eugene McGill of Katy, TX, two sons Dennis Ray McGill (Sandra Le) of Chappell Hill, TX, and Marty Eugene McGill (Kelly Lee) of Katy, TX, three grandchildren Holly McGill (Blyden Dahniya) and Charles Ray McGill (Natasha) both of Katy, TX, and Corielle Ray McGill (Koby Wayne Owens) of Brenham, TX, two great grandchildren Tyler Eugene McGill and Sutton Wayne Owens, along with three siblings Marion Craig (Ruth) of Calhoun, IL, Leslie J. Craig of Fairfield, and Ludenia Anniss (William) of Seneca, SC.
She was preceded in death by her parents Leslie and Bertha Craig and siblings Marvin Craig, Peggy Craig Rose, Nova Boyle, Wendall Craig, and Clyde Craig
Funeral services for Mona McGill will be held at 1pm on Tuesday, May 4th at the Holiness Rescue Mission Church in Fairfield, with burial in Maple Hill Cemetery. Visitation will be from 5pm-7pm on Monday, May 3rd at the Johnson and Vaughn  Funeral Home in Fairfield. Memorial donations can be made to St. Jude Children's Research Hospital, and will be accepted at the Johnson and Vaughn Funeral Home, or, the Holiness Rescue Mission Church, on the day of the funeral, or online at www.stjude.org-give.html. The Johnson and Vaughn Funeral Home is in charge of the local arrangements. Condolences can be made to the family at www.facebook.com/johnsonvaughnfuneralhome.