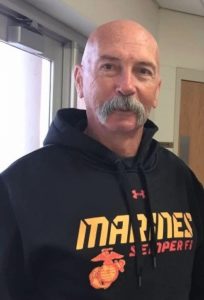 69-year-old Thomas A. Duvall of Springerton, died at 12:20pm on Tuesday, April 27 at his home. He had worked in masonry as a bricklayer, but, most recently, had retired from the Department of Corrections, at Menard, as a correctional officer. Tom was a veteran of the United States Marines, serving in the 1st Marine division in Vietnam.
Tom was born on September 7, 1951, in Fairfield, to Fred and Fannie (Meritt) Duvall. He was married to Leann (Griswold) Duvall.
Survivors include his wife Leann Duvall of Springerton, two sons Wesley (Lachelle) Thompson of Idaho, and Chris Duvall of St. Louis, MO, two daughters Cheryl (Ron) Bauersachs of Ava, IL, and Kelli (Ryan) Clark of St. Louis, MO, five grandchildren Paige and Claire Thompson, Ryan and Emily Bauersachs, and Molly Clark; three uncles Jim (Dot) Meritt, Darrell Meritt, and Kenny and Carolyn Meritt; three step-children Skip (Misty) Stanley, Mary Stanley, and Velvet (Bryan) Tucker, six step-grandchildren Samantha, Shay, Emilee, Joey, Braden and Alexis, and one step great grandchild Charlie. He was preceded in death by his parents Fred and Fannie Duvall.
Per Tom's request, his body has been cremated. There will be a memorial graveside service at 1:00pm on Saturday, May 1st at the Shrewsbury Cemetery in Mill Shoals, with military rites presented by the Anthony Wayne Post #176 American Legion and the Wayne County Post #4535 VFW. Family and friends are asked to go directly to the cemetery. After the graveside service, there will be a gathering of friends at the Burnt Prairie townhall. Memorial donations can be made to the American Legion #176 Auxillary Unit in Fairfield and will be accepted at the graveside or at the Johnson and Vaughn Funeral Home which is in charge of arrangements. Condolences can be made to the family at www.facebook.com/johnsonvaughnfuneralhome.