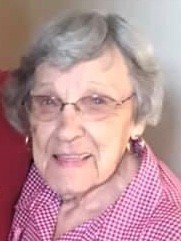 97-year-old Ruth McCormick, died Friday, April 30th at Aperion health facility in Fairfield .
Mrs. McCormick was a housewife, owned and worked in restaurants , and retired from Champ in Albion. She later attended to the elderly.
She was born in Geff, on May 30, 1923 the daughter of Ross and Edythe Brown.
Graveside will be held Friday May 7th at 1:00 p.m. at the Bestow Cemetery in Geff.
She was preceded in death by her son Mike, her parents, 3 sisters, and one brother. She is survived by sons Ray of St. Charles Mo. and Steve of Fairfield, five grandchildren, and 19 great grandchildren.