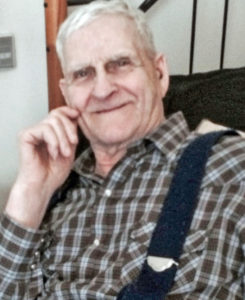 Leslie "Bacon" Leland Koons, age 98, of Flora, Illinois, passed away Thursday morning, January 7, 2021, at Flora Rehabilitation & Health Care Center.
He was born September 11, 1922, in Oklahoma, the son of Clarence Edward and Lenora May (Tate) Koons.
Leslie attended First Christian Church in Flora.  For many years he always made sure that the church building was unlocked and ready for use when Sunday worshipers arrived.  He will be remembered for his role as "Keeper of the Town's Keys."  Every evening he made sure the business offices in Flora were locked up and made secure.  He would make sure everything was in order, turn out the lights, and lock the doors.
He was preceded in death by his parents; 3 sisters: Opal Swanson, Louise Brock, and Sylvia Barnes; and 5 brothers: Earl, Fred, Bernice, Orvil, and Robert Koons.
A graveside ceremony will be held at 2 p.m. Thursday, July 22, 2021, at Elmwood Cemetery in Flora.  Those attending are asked to meet directly at the cemetery.  Arrangements are in the care of Frank & Bright Funeral Home in Flora.  To share a memory or condolence visit: www.frankandbright.com