The Wayne County Board will meet tonight at 7 in the upstairs courtroom of the courthouse. County Republican Chairman Ron Woodrow is scheduled to present Gene Kollak to fill the vacancy in District 7 on the board caused by the resignation of Gerald Melton. He is also set to discuss a potential candidate to fill the Interim Sheriff position, and a vote on the candidate is possible.
Wayne County deputies arrested 35-year-old Johnsonville resident Gary W. Sims yesterday on a charge of aggravated domestic battery. He is accused of pulling a man from his vehicle during an argument, causing him to fall, and stomping him on the ground. Sims said the man fell without any altercation. He was taken to the Wayne County Jail and held, pending an appearance before a judge to set bond.
The Wayne County Farm Bureau held its 13th annual Antique Tractor Drive Monday. 44 tractors participated in the drive, which began and ended at Rubenacker Farms in Dahlgren. 85-year-old Cisne resident Jack Fearn received the Earl Smith Memorial Award for the oldest driver, and Fairfield resident Braxton Major received the Youngest Driver Award.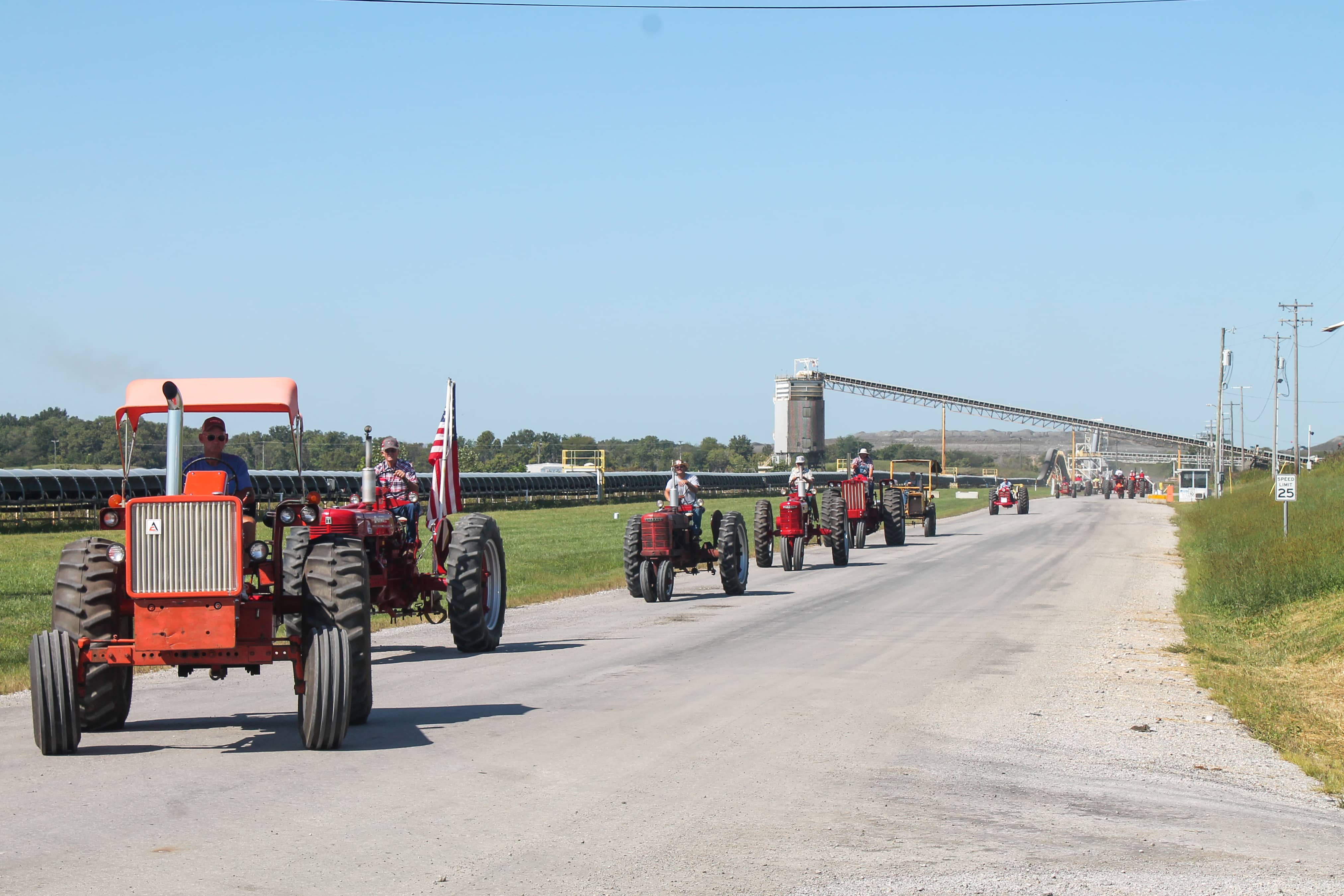 The Illinois Senate passed an Energy Bill recently that didn't meet standards set by the House or Governor's Office, but recent talks will bring the House back to Springfield for session this week. Senate President Don Harmon said last week they left enough wiggle-room to find compromise on critical issues.
The Fairfield Park Board met last night. President Jay Fyie gave an update on a proposed splash pad for the pool area, and he said preliminary engineering studies and consultation will take place to explore the feasibility of the project. Discussion was also held on the purchase of new playground equipment at Lakeside Park, and Superintendent Chris Jenkins will explore options and costs.
The Fairfield Public School District 112 Board of Education met in special session last night and approved a number of salary items for FY22. Principals April Smith and Kristina Gardner will see $7,500 pay increases, and Rhonda Clark will have a $15,000 stipend for additional duties. Non-certified employees not on a salary schedule will see a three percent pay increase, and the three administrative assistants will get a one dollar per hour pay raise.
The Wayne County Historical Society's Maple Hill Cemetery Tour is scheduled to be held tomorrow and Saturday, with tours beginning at 3:30 and ending around 6:30 both days. Project Co-Chair Terry Prizer says they have rotations planned to allow several tours each day, with each lasting about an hour. Tickets are required and can be purchased at the Fairfield Public Library or Uniquely Rustique. Any unsold tickets will be sold at the entrance to the cemetery on tour days.
The Wayne County Health Department says the State of Illinois will partner with The Journey Church and The Seventh-Day Adventist Church for free COVID vaccine clinics in the coming days. Both clinics will offer the Pfizer vaccine to anyone 12 and older for their first or second doses, or the third dose for the immunocompromised. The Journey clinics will be tomorrow (September 10) and October 1st from noon to 5:30, and the Seventh-Day Adventist clinics will be September 22nd and October 13th from 9 to 5. No appointments are needed.     TheJourneyChurchFlyer        FairfieldSDAFlyer
The Edwards County Health Office announced 102 new cases of COVID-19 since August 26th, bringing its total to 921; 95 of the cases were in unvaccinated individuals. Wabash County announced 59 cases in the past week and sat at 1,857 total; it also announced three additional deaths in that time span; 13 people were hospitalized, and 79 were in isolation. The state Department of Public Health announced 3,961 new cases of COVID-19 and 62 additional deaths. Statewide totals sat at 1,554,336 cases and 24,194 deaths. The Southern Region had a seven-day positivity rate of 10.5 percent on the 5th, up from 10.3 percent on the 4th.
Harvest weather should be good for much of September, per DTN ag meteorologist John Baranick. The remainder of this week should be dry for most of the state, and temperatures should be fine, too, with highs mostly in the low 80s. Baranick says next week should also be fairly dry, though fronts could bring a few scattered showers into play.
A new state law aims to reduce pedestrian deaths in Illinois. Sponsored by Senator Laura Murphy, the measure requires the Illinois Department of Transportation to study all fatal accidents where a person walking was killed on a state highway. IDOT could find it was the pedestrian's fault for not paying attention, or it could implement safety recommendations like adding a stop sign.
River stages as of this morning:  the Little Wabash east of Fairfield stands at 5.97 feet, below the 17 ft. flood stage. Meanwhile, the Skillet Fork at Wayne City has a reading of 5.07 feet (flood stage is 15 ft.). The Little Wabash below Clay City is at 6.31 feet (flood stage is 18 ft.). Bonpas Creek at Browns reads 1.20 feet, and the Little Wabash at Main Street in Carmi reads 4.19 feet. The Wabash River at Mt. Carmel sits at 3.70 feet.
Today's crude oil price is $62.25, up $1.00 from yesterday. The October crude oil price is $69.11, up $0.39 from yesterday morning.