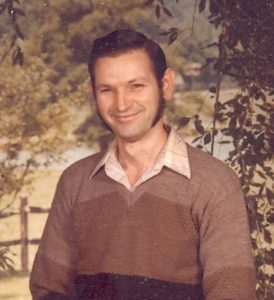 76-year-old Gale "Keith" Crackel of Grayville, succumbed to complications of COPD into Jesus arms on Friday, September 10 at St. Vincent's Hospital in Evansville, IN surrounded by his wife and two daughters. He was born in Olney to Ralph and Ferris (Michels) Crackel on January 4, 1945.
Keith married Mary Ruth Spruell, the love of his life, on June 7, 1966, at the First Christian Church in Grayville. They enjoyed the ups and downs of life together as best friends for 55 years.
He was drafted into the United States Army on October 28, 1965, to help fight for freedom in the Vietnam War. Keith was "in charge of rounding up the guys" in his area and making sure they all made it to basic training sign up. He spent most of his wartime in Saigon running generators and driving officers around. Keith received four medals for his honorable service to our country, National Defense Service Medal, Vietnam Service Medal, Vietnam Campaign Medal with 60 Device and the Good Conduct Medal. He was honorably discharged holding the rank of SP4 (T) on September 22, 1967.
Keith started working at Champion Laboratories in West Salem after his return to the states. He was a dedicated employee who never missed work. He taught his daughters the value of hard work, loyalty, and integrity. He retired after 40+ years to run around with his Wife Mary. He enjoyed "Piddling" in his garden, hanging out with his best friend and wife, Mary, taking care of his grandchildren and pulling pranks with friends, Mickey Hill and Fank Tice.
Keith is preceded in death by his parents Ralph and Ferris (Michels) Crackel, brother and sister-in-law Lynden and Ladonna (Knight) Crackel, two sisters, Kay Tate and Sue Groves.
He is survived by his wife Mary (Spruell), Sister Marla Moody, daughters Rachel (Scottie) Vaughan and Joanna Conner, grandchildren Savana Richardson, Gage Conner, Chloe Conner, great granddaughter Paisley Gunther and many nieces, nephews, and friends.
Keith will be fondly remembered and sadly missed by all including his little dog, Rufus.
Visitation: Wednesday, September 15 from 11:00 a.m. to 1:00 p.m. at Ingram-Meridith Funeral home, Albion, IL.
Funeral Service: Wednesday, September 15 at 1:00 p.m. Ingram Meridith Funeral Home, Albion, IL.
Memorials may be made to Oil Belt Christian Service Camp. Envelopes will be available at the visitation and funeral service.
Interment: Ridge Cemetery, Grayville, IL with Military rites
Ingram-Meridith Funeral Home of Albion, IL.