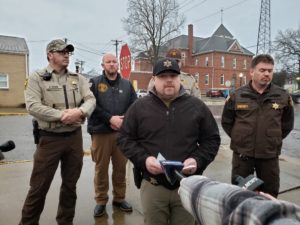 Sheriff Chris Otey and area Law Enforcement at Wednesday's Press Conference.
The Illinois State Police (ISP) Division of Criminal Investigation (DCI) Zone 8 is investigating an officer involved death (OID) involving a deputy from the Wayne County Sheriff's Office (WCSO). On Dec. 29, 2021 at approximately 5:00 a.m., ISP DCI Zone 8 was requested to assist with an officer involved shooting. Preliminary reports indicate that Deputy Sean Riley of the Wayne County Sheriff's Office was dispatched to a motorist assist on Interstate 64 eastbound at Milepost 115. A short time later another responding officer located Deputy Riley deceased on scene. The Deputy's squad car was missing and then located abandoned a short time later just east of the scene. It is believed that the suspect, Ray Tate, a 40-year-old male from Hopkinsville, KY carjacked a truck tractor semi-trailer near the area Deputy Riley's squad car was located. The driver of the truck tractor semi-trailer was held against his will and drove Tate to a gas station in St Peter's, Missouri. While in Missouri, a series of carjackings, robberies and shootings occurred. Tate then traveled back into Illinois with a kidnapped victim in another stolen vehicle. That stolen vehicle was located at a residence in rural Carlyle. Tate committed a home invasion and took the homeowner and the kidnapped victim hostage at a residence in rural Clinton County. At approximately 1:42 p.m. ISP Special Weapons and Tactics (S.W.A.T.) operators were able to make entry into the residence and took the suspect into custody without incident. The homeowner and kidnapped victim were located in the residence uninjured. Tate was then transported to the Clinton County Jail where he is being charged with First Degree Murder by the Wayne County State's Attorney.The Illinois State Police was assisted by multiple agencies in southern Illinois and eastern Missouri that worked together to bring this fugitive to justice.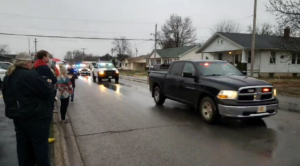 Wayne County Sheriff Deputy Sean Riley's remains escorted home.
The streets of Fairfield were lined with people Wednesday afternoon as Wayne County citizens waited to honor Wayne County Sheriff's Deputy Sean Riley as his body was returned to Fairfield.  The body of Deputy Riley was taken to the Vanderburgh County Coroner's Office in Evansville, IN around 10 am accompanied by area law enforcement agencies and returned home to Fairfield shortly before 4 pm.  The body was escorted by at least 40 law enforcement vehicles from around the area.  Fairfield Mayor Mike Dreith has ordered all flags under city control to fall to half-staff due to the tragedy.  Riley was taken to the Johnson and Vaughn funeral home in Fairfield.
The following fundraisers will be held in honor of Wayne County Deputy Sean Riley: The Bedford Township Fire Department will be having a benefit dinner for Wayne County Deputy Sean Riley's family. It will be held Saturday, Jan. 8, at 11 a.m. at the Bedford Township Fire Department, located at 303 Railroad Street in Cisne; The Carmi Christmas Elves will be having their light display open on New Year's Eve with all proceeds collected going straight to the Riley family; Halo Resale, located on Commerce Drive in front of the Fairfield Wal-Mart, (to the east of The Clay City Banking Company) has announced that 100% of their sales for Thursday, December 30 (today) will be donated to the family of Wayne County Sheriff Deputy, Sean Riley. If anyone would like to make a monetary donation for the family, they will have a donation jar. Halo Resale is open from 10 a.m. to 3 p.m.; Evansville PBR (Professional Bull Riding) has announced that from today through Sunday, all $5 of every ticket sold will go directly to the Riley family. Rally Point Events, along with PBR and presenting sponsor, Shoe Sensation, sends their thoughts and prayers to his family and all fellow officers; This Friday (New Year's Eve) K&M Diner will have a donation box set out for the Riley Family; Ron's Liquor Hut on State Highway 242, located between McLeansboro and Interstate 64, will be having a fundraiser during their New Year's Day party. They will have a bottle of 12 year Pappy's up for silent auction. $1000 is the opening bid; During the month of January, The Smokin' Pig will be donating all tips to the family of Wayne County Deputy, Sean Riley. If you don't plan on visiting their food truck, but would still like to donate, they will also accept donations through Venmo: @Smokin-Pig-1.
Running for Heroes will be running a mile tonight to honor Deputy Sean Riley. Departments and individuals across the country will coordinate and walk/run to honor Deputy Sean Riley's sacrifice. There will be a walk at the Wayne County Courthouse tonight in Fairfield at 7 p.m. to coincide with other walk/run across the country. The public is invited to attend.
The Illinois Department of Public Health reported 21,098 new confirmed and probable cases of coronavirus disease in Illinois, including 50 additional deaths. Currently, IDPH is reporting a total of 2,119,162 cases, including 27,734 deaths, in Illinois.  As of Tuesday night, 4,487 individuals in Illinois were reported to be in the hospital with COVID-19.  Of those, 984 patients were in the ICU and 556 patients were on ventilators. The preliminary seven-day statewide positivity for cases as a percent of total test from December 22nd – 28th is 9.1%.  The preliminary seven-day statewide test positivity from December 22nd – 28th is 13.2%. A total of 19,106,181 vaccines have been administered in Illinois as of Tuesday night, with 3,036,851 of those being booster doses.  The seven-day rolling average of vaccines administered daily is 47,302 doses.  Tuesday 71,488 doses were reportedly administered in Illinois, 42,489 of those were booster doses.
On December 21st at around 1:00 AM, Iva Bowen, of 405 Rudolph Street in Crossville, reported to the White County Sheriff's office that someone had taken some items that had been sent to her. While Bowen was out of town, the package was delivered and had been opened by an unknown person that then stole one of the items. Bowen knew there was an item missing because it was from a family member and they had listed the contents of the package. There are no leads as to who may have taken the item from Bowen.
District 12 State Police are investigating a 2 vehicle fatal traffic accident on I 57 at milepost 84 in Jefferson County Wednesday afternoon.  The preliminary investigation indicates that a 2019 Peterbilt Semi was parked on the right shoulder of I57 north when it was hit from behind by a 2017 GMC Sierra, driven by a 73-year-old male from Grafton, IL.  The driver of the Semi, 31-year-old, Nodell D. Graves, of Maddison, WI was uninjured.  The driver of the GMC Sierra was pronounced deceased on scene.  A passenger in the GMC Sierra was transported by ambulance to an area hospital with life-threatening-injuries and was later pronounced deceased, both names are being withheld pending the notification of next of kin. Interstate 57 north was closed with traffic diverted at exit 77 for approximately 1 hour and 30 minutes during the crash investigation.  This crash is still under investigation and no further information is available.
One of the three men charged with the murder of Roger Courson of rural Edgewood in September has been charged with the attempted escape from Clay County Jail last week. 30-year-old Walter West of Edgewood was charged Tuesday with escape of felon from a penal institution. The incident occurred December 23 as West was being returned to his cell from a visiting booth.  West ran from the jail, was pursued east of the jail to an area along the Little Wabash River approximately 100 yards from the jail. Clay County Sheriff Andy Myers and deputies established a perimeter in the area and requested assistance from other agencies.  West was located about 15 minutes later under a root wad by the deputy who had initially pursued him.  West was taken into custody without further incident. West and his co-defendants in Courson's murder Jamie Charlton of Salem and Christopher Gallatin of Centralia were in Clay County Circuit Court Wednesday for an evidentiary hearing. Trial dates have not been set.
Wednesday afternoon the Effingham County Dive Rescue Team was called to a stranded motorist in flood water.  The motorist, 19-year-old Jasmine Meyer of Effingham, drove her Dodge Journey around a road closed sign and into the flooded roadway becoming stranded approximately 75 feet into the flood water. Members of the Effingham County Dive Rescue Team assisted Meyer out of the flood water and to a waiting ambulance to be evaluated.  Due to the depth of the water, the vehicle will be recovered at a later date as the flood water recedes. The Effingham County Dive Rescue Team spent approximately 25 minutes on-scene.
Secretary of State Jesse White is announcing that driver's services facilities will be closed for a few weeks because of the ongoing COVID-19 pandemic. Secretary of State spokesperson Henry Haupt says facilities statewide will be closed from January 3rd through the 17th out of concern over the rising number of new infections. "It is our intent to reopen all departments and facilities for in-person transactions on Tuesday, January 18th.  It's important to underscore and highlight that online transactions remain open," Haupt says there is no reason to worry about expired licenses and ID cards. It is important to emphasize that Secretary White has extended expirations for driver's licenses and ID cards through March 31st, 2022, so everyone's driver's license or ID card will remain valid even if it is expired on its face." Haupt says you can do things like renew your license plate sticker, get a duplicate license or ID card and some can renew their driver's licenses online.
River stages as of this morning: the Little Wabash east of Fairfield stands at 14.57 feet, below the 17 ft. flood stage. Meanwhile, the Skillet Fork at Wayne City has a reading of 5.89 feet (flood stage is 15 ft.). The Little Wabash below Clay City is at 16.27 feet (flood stage is 18 ft.). Bonpas Creek at Browns reads 6.48 feet, and the Little Wabash at Main Street in Carmi reads 13.29 feet. The Wabash River at Mt. Carmel sits at 13.20 feet.
Today's crude oil price is $69.56, up .58 since yesterday. The February crude oil price is $75.99, down $0.57 from yesterday morning.