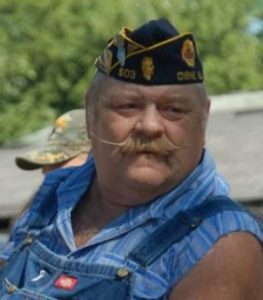 73-year-old Jerry Ray (Catfish) Tannahill of Cisne, died Tuesday, January 11 at Carle Hospital in Urbana, Illinois.
Jerry was born May 7, 1948, to Ted and Lorene (States) Tannahill at Cisne. He was a proud Dr. Phillips Baby. He married Cora Ann Kissee March 27, 1971, in Sycamore, Illinois.
Jerry retired after 37 years as a receiving clerk for Airtex Products in Fairfield. He enjoyed hunting, fishing, and hiking in the woods. Jerry served in the US Marines and was a Vietnam Veteran. He was a life member of the Fairfield VFW. He also was a member of the Cisne American Legion Post 603 and later transferred to American Legion Post 176 at Fairfield. He was also a member of the Pleasant Grove Christian Church in Geff.
Jerry is survived by his wife Ann Tannahill of Cisne; one son Paul (Jackie) Tannahill of Cisne; two sisters Linda (C.J.) Humphrey of Enfield, Lena (John) Jackson of Flora; six brothers Jim Tannahill of Cisne, Joe Tannahill of Cisne, Charles Tannahill of Ina, Frank Tannahill of Ocala, Florida, Earl Lee Tannahill of Olney, Walter (Marcia) Tannahill of Waltonville, Illinois; three grandsons Alex Robinson of Cisne, David ( Samantha) Thomason of Carmi, and Andy (Rebekah) Thomason of Bluford; one granddaughter Macy Tannahill of Cisne; seven great granddaughters, Kaisley Robinson, Isabella, Alexis and Olivia Thomason, Emersyn, Landreigh and Tennessee Thomason and one aunt Ruth Smith of Mt. Vernon, Illinois. Many nieces, nephews and cousins also survive.
Jerry was preceded in death by his parents Ted and Lorene Tannahill, daughter Christy Tannahill and a son Rodger Tannahill, one grandson Riley Eads and one sister Marjorie Powless.
Visitation will be Saturday, January 15 from 5-7 PM at Hosselton-Meridith funeral home Cisne. Funeral services will be held Sunday, January 16 at 1:30 PM at the funeral home and burial will follow in Pleasant Grove Cemetery in Geff with military rites. The family is requesting that all men wear bibs.
Memorials may be given to Marine Corp Toys for Tots or North Wayne Ambulance and will be accepted at Hosselton-Meridith Funeral Home.
Fond memories and expressions of sympathy may be shared with the family at www.meridithfuneralhome.com.
Hosselton-Meridith Funeral Home is in charge of the arrangements.