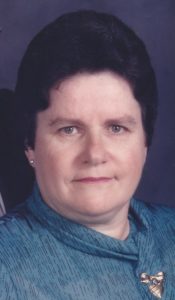 80-year-old Stella "Thomason" Brown of Geff, died at 8:04pm on Monday, January 10 at the Clay County Hospital in Flora. She had worked as a seamstress, working at sewing factories in Fairfield and Flora, and was also a homemaker.
Stella was born on June 8, 1941, in Sims to Rannie and Flora (Morris) White. She married Daniel Thomason on September 10, 1958 and he preceded her in death in 1993. She later married Tom Brown on November 11, 1995 and he also preceded her in death in 2014.
Survivors include two sons Danny (Pam) Thomason of Sims, and Jeff (Beth) Thomason of Acadia, FL, three daughters Juanita (Joe) Carter of Fairfield, Lora (Kevin) Strouse of Hermitage, MO, and Kim (Doug Halterman) Kennedy of Cisne, ten grandchildren, twelve great grandchildren, three brothers-in-law Leslie Bryant of Springfield, IL, Harold (Carolyn) Thomason of Wayne City, and Carl (Jody) Thomason of Pocahontas, AR, two sisters-in-law June Thomason of Fairfield, and Elvira (Don) Haile of Wayne City, along with several nieces and nephews.
She was preceded in death by her parents, her two husbands Daniel Thomason and Tom Brown, four sisters Wilma Watson, Imogene Grimes, Zelda Akers, and Jessie Bryant, and one brother Edward White.
Funeral services for Stella Brown will be at 1pm on Friday, January 14th at the Johnson and Vaughn Funeral Home in Fairfield, with burial in Barnhill Cemetery. Visitation will be from 12pm until the time of service at the funeral home. Memorial donations can be made to the Sims Missionary Baptist Church and will be accepted at the Johnson and Vaughn Funeral Home which is in charge of arrangements. Condolences can be made to the family at www.facebook.com/johnsonvaughnfuneralhome.