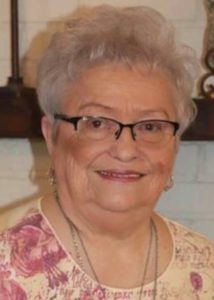 82-year-old Elizabeth 'Betty' Bailey of Mt. Erie, died Friday, January 14 at Cisne Rehabilitation and Healthcare Center.
Betty was born February 25, 1939, at Huntingburg, Indiana to Edwin L. and Clara (Rohleder) Bosler. She married Carl E. 'Jack' Bailey November 26, 1967, at Ellery, Illinois. He preceded her in death November 16, 2010.
Betty was a housewife. She was a member of the Mt. Erie Christian Church and the Mt. Erie Ruritan Club.
Betty is survived by three step daughters Sherry Swindell of Sulphur Springs Texas, Debbie (Larry) Obrecht of Cisne, and Carolyn (Terry) Brown of New Harmony, Indiana; one son Mike (Bonnie) Bailey of Louisville, Illinois; two sisters Joyce Voegerl and Doris Ziegler, both of Jasper, Indiana; two brothers Jim Bosler of Jasper, Indiana, and Donald (Bonnie) Bosler of Geneva, Illinois; nine grandchildren; nine great grandchildren and nine great-great grandchildren.
Preceding her in death were her husband Jack, one sister Linda, one brother Robert and her parents.
Graveside service will be 10:00 am Saturday, January 22 at West Cemetery, Mt. Erie, Illinois.
Memorials may be given to Shriner's Hospital at St. Louis, Missouri and will be accepted at the graveside service and Hosselton Meridith Funeral Home.
Fond memories and expressions of sympathy may be shared with the family at www.meridithfuneralhome.com.
Hosselton-Meridith Funeral Home is in charge of the arrangements.