Fairfield Memorial Hospital will be bringing their Digital Mammography Truck to Horizon Healthcare Cisne Medical Clinic for a Mobile Mammography Event today, with appointments starting at 8:00 am. Fairfield Memorial Hospital's Digital Mammography Truck will be set up in front of the Horizon Healthcare Cisne Medical Clinic, located at 413 Park Street in Cisne.  No physician order needed for those who are over the age of 40.  It must have been at least one year since your last Mammogram.  Patients are asked to bring their insurance card, photo ID, and doctor's contact information.  This event is for annual screening Mammograms only.  Individuals can call the FMH Diagnostic Imaging Department at 618-847-8249 to secure an appointment with one of FMH's skilled technologists.  Walk-ins are also welcome until 11am. After 11am, patients will be seen by appointment only. Each participant during this event will receive a special gift in honor of Mother's Day. Screening mammograms only take about 15 minutes to perform.  Mammography is an integral part of preventative medicine for women and that is why Fairfield Memorial Hospital is reaching out to surrounding communities and offering the most advanced digital mammography system.
A Norris City woman has been sentenced to four years in the Illinois Department of Corrections for burglary, a class 2 felony, with one-year mandatory supervised release. 39-year-old Amanda M. Schroeder had previously been placed on probation in June of 2021 for the offense, however her probation was revoked in March of this year with the sentencing hearing on Thursday.  During the hearing, State's Attorney Denton Aud called three witnesses to testify.  Following arguments, Judge T. Scott Webb sentenced Schroeder to the Illinois department of Corrections. Carmi Police Department was the original investigating agency in the case.
The Jefferson County Sheriff's Department says DNA samples have led to the identification of a badly decomposed body found on March 21st just outside the southwest Mt. Vernon City Limits. The department received confirmation this week the remains are those of 20-year-old Keriaye Winfrey of Indianapolis, Indiana. The cause and manner of Winfrey's death are still under investigation by the Jefferson County Coroner's Office which is using the services of a forensic anthropologist. The sheriff's department reports evidence located in a field and wooded area west of the intersection of Davidson Avenue and Veterans Memorial Drive provided a lead to the possible identity of the remains.  DNA was secured, then forensically compared with DNA samples provided by a member of the deceased suspected family. In addition to the search when the partial human body was found on March 21st, a larger search of the area on March 29th resulted in the recovery of additional evidence. .Anyone with information please contact Detective Captain Wallace at the Sheriff's Office ((618)244-8004) or Crimestoppers at (618)242-TIPS. The Sheriff's Office sends out condolences to the family of Ms. Winfrey.
A 40-year-old Vandalia man has been sentenced to five years in prison for distributing child pornography. Bradley Matthews came to the attention of law enforcement in February 2019 during an FBI undercover investigation of child pornography. According to the stipulation of faces, an undercover officer engaged in a conversation with Matthews during which he sent the undercover officer three videos depicting child pornography. In an interview with law enforcement on September 5, 2019, Matthews reportedly admitted to distributing child pornography. When shown the printout of the conversation with the undercover officer that took place on February 5, 2019, Matthews identified himself as the person in the profile picture and admitted that he was the person who had engaged in the conversation with the undercover officer and distributed the child pornography videos. In addition to the 5-year term of imprisonment, Matthews will serve a ten-year term of supervised release, fined $200, and ordered to pay a $100 special assessment. This case was brought as part of Project Safe Childhood, a nationwide initiative launched in May 2006 by the Department of Justice to combat the growing epidemic of child sexual exploitation and abuse. Led by the United States Attorneys' Offices and the Criminal Division's Child Exploitation and Obscenity Section, Project Safe Childhood marshals federal, state, and local resources to locate, apprehend, and prosecute individuals who sexually exploit children, and to identify and rescue victims. For more information about Project Safe Childhood, please visit www.usdoj.gov/psc. For more information about internet safety education, please visit www.usdoj.gov/psc and click on the tab "resources." The case was investigated by the Federal Bureau of Investigation-Springfield Field Office.
The results of the 2022 Crappie Tourney have been released.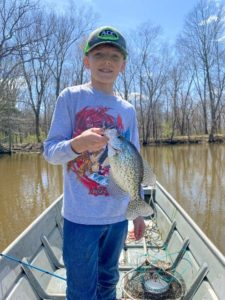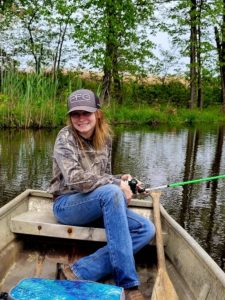 Tied for First Place: Braxton Kirk – 15-inch crappie, and Hunter Stevens – 15-inch crappie.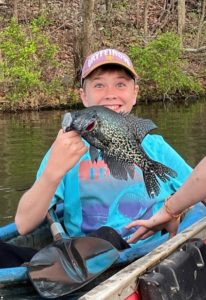 Second Place: Abe Sutton – 14-inch crappie.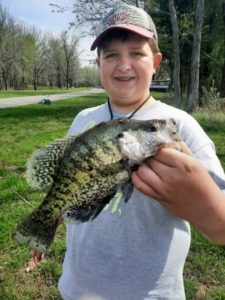 Third Place: Remyngton Fuller – 13 inch crappie.
IDOT says Interstate 64 from just west of County Highway 11 in Washington County to the Jefferson County line will be intermittently restricted to one lane during daytime hours only beginning Monday through Wednesday, May 11, weather permitting. These lane closures are necessary for inspection of the pavement. Drivers are urged to reduce speed, be alert for changing conditions, obey all signage, and refrain from using mobile devices while approaching and traveling through the work zone.
The new official Illinois highway map is now available. While you may mostly use your smartphone for directions, paper maps can still be a good resource says State Department of Transportation spokesperson Paul Wappel. The new map includes Q-R Codes you can scan with your phone to get information about travel conditions, Amtrak, State Parks, and more. The latest version includes routes updates and a new feature showing mileage between towns. The new map will soon be available at interstate rest stops and other I-DOT facilities, or you can email dot.maps@illinois.gov for a copy.
River stages as of this morning:  the Little Wabash east of Fairfield stands at 16.99 feet, below the 17 ft. flood stage. Meanwhile, the Skillet Fork at Wayne City has a reading of 7.86 feet (flood stage is 15 ft.). The Little Wabash below Clay City is at 15.71 feet (flood stage is 18 ft.). Bonpas Creek at Browns reads 4.83 feet, and the Little Wabash at Main Street in Carmi reads 14.73 feet. The Wabash River at Mt. Carmel sits at 13.56 feet.