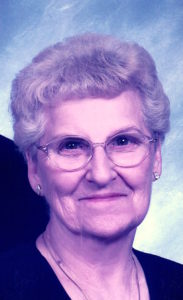 Iris Marie (Herdibu) Duncan went to be with her Lord at 1:07 pm on June 20, 2022 at Countryside Manor in Mt. Vernon, IL after a 3 month battle with ovarian cancer.  She lived a full and active life up until that time.  Anyone who knew Iris knew that she had a kind and generous soul and was very vocal and spirited.  To truly know Iris was to love her unconditionally.
Iris was born September 2, 1932 at the home of her grandparents Hugh & Grayce Scrivner in Belle Rive, IL in Jefferson County.  Iris was the daughter of Chris Herdibu and Majora (Scrivner) Herdibu.  Iris married the love of her life, George D. Duncan, on November 6, 1954 at the Belle Rive Baptist Church by Reverend Grover Dorris.  In 1959, they moved to Wyoming with C.E. Brehm Oil Company and remained there until 1978.  They celebrated 62 years of marriage before George's passing on November 10, 2016.
After her mother's passing when Iris was 18 months old, she lived with and was raised by her grandparents, Hugh & Grayce Scrivner.  Iris attended Burlington Grade School.  Her last four years of grade school, she was taught by her grandmother, Grayce.  She attended Bluford High School for 2 years and graduated from Mt. Vernon High School in May, 1952.  Iris then attended Barry Jones Beauty School, graduating in December 1952.  She operated a beauty shop in Belle Rive, as well as one in Wyoming, and then again in Belle Rive after her and George moved back to Illinois in 1978, totaling some 60 years as an operator.  In retirement, Iris enjoyed waiting tables for Wilkey's Cafe at the Belle Rive location.
Iris was a long-time member of the Belle Rive Baptist Church, Jefferson County Homemakers, and the Jefferson County Farm Bureau.  She was an annual supporter of the Paralyzed Veterans of America and the Disabled Veterans of America.  She loved gardening her flowers, growing her own herbs, cooking, and making candy at Christmas time for her family and friends.
Iris is survived by her nephew David (Linda) Scrivner, nieces: Carloyn (Bill) Cross, and Andrea (Kris) Morgan, as well as her great nephews and great nieces Steve (Lori) Cross, Meleah (Brett) Walton, Ryan (Liz) Cross, Kara Belangee, Christy (Doug) Huse, Mallory (Chad) Welch, Wade (Tara) Scrivner, Courtney (Brandon) Royer, Kristopher Morgan, Andrew Morgan, Lacie (Matt) Trotter, Tonya (Myron) Wallace, Morgan Gowler, Sue (Larry) Sal, Steve (Carol) McNeal, David (Melinda) McNeal, Jan (Al) Isaacs, Larry Gowler, and many great-great nephews & great-great nieces.  Iris was very fond of her close friends and neighbors, Dennis (Colleen) Richards, Jason Richards, Kevin (Jamie) Rainwater, and Cherlyn Wilkey.
She was preceded in death by her beloved husband George Duncan, her parents Chris & Majora Herdibu, grandparents Hugh & Grayce Scrivner, uncle Foster (Helen) Scrivner, cousin Ronald F. Scrivner, grandparents Alexander & Katherine Herdibu, aunt Lizzie Hoeffner, aunt Margaret (Joe) Wagner, aunt Ann Platt, niece Sharon Gowler, great nephew Tim Gowler, and close friends: Norma & Glenn Gowler, Rose Irvin, and Nada Upchurch.
Funeral services for Iris Marie (Herdibu) Duncan will be held at 1:00 pm on Saturday, June 25, 2022 at the Belle Rive Baptist Church in Belle Rive, IL with Pastor Jeremy Hamson officiating.  Visitation will be held from 11:00 am until the time of service at 1:00 pm at the church.  Iris will be laid to rest at Opdyke Cemetery in Opdyke, IL following the funeral service.  In lieu of flowers, memorials may be made in Iris' honor to the Belle Rive Baptist Church.  Gholson Funeral Home of Dahlgren is in charge of services.  Online condolences and expressions of sympathy may be made at www.gholsonfuneralhome.com