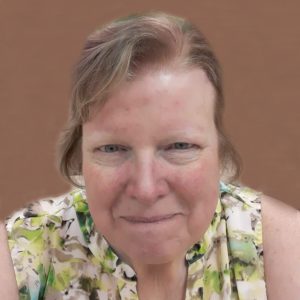 Lyn E. Stephens, 65, of Crossville, Illinois, died Wednesday, January 26, 2022, at Carle Foundation Hospital in Urbana, Illinois.  She was born June 29, 1956, in Columbus, Ohio, the daughter of William Paul Kielmeyer and Mary Lou (Mitchell) Kielmeyer.
Lyn was a compliance officer for the Southern 14 Workforce Investment Board, Inc. of Carmi.  She was a member of the West Haven Presbyterian Church in Rocky Mount, North Carolina.   "Playing in the mud" was her way of referring to her love for searching for rocks and minerals.  Keeping in contact with her many friends and family scattered about the country was her favorite pastime.  She enjoyed her years with her significant other, Kent Armstrong, and she enjoyed her their pet dogs Scarlet, Blue and Blackie.
Survivors include her significant other Kent Armstrong of Crossville, Illinois; brothers Paul (Chris) Kielmeyer of Ft. Myers, Florida, Eric (Kathy) Kielmeyer and Marc (Vicki) Kielmeyer, all of Westerville, Ohio; nieces and nephews Julie, Kara, Justin, Tera, Cody, Trevor, Marc II, Jessica, Janette, and Erica; and former father-in-law and mother-in-law Fred and Marie Stephens of Columbus, Ohio.
She is preceded in death by her parents; and brother Jon Kielmeyer.
In keeping with Lyn's wishes, her remains were cremated.
A gathering of Lyn's family and friends for a celebration of her life will be Wednesday, June 29,  2022 at the Crossville United Methodist Church in Crossville, Illinois.  Visitation is at 9:30 am and memorial service is at 11:00 am.
Gifts in Lyn's memory may be made to West Haven Presbyterian Church, or Eversight at https://www.eversightvision.org/give/ who are facilitating Lyn giving the gift of sight to others, or a charity of your choice.
Cook Funeral Chapel in Crossville is assisting Lyn's family and friends.