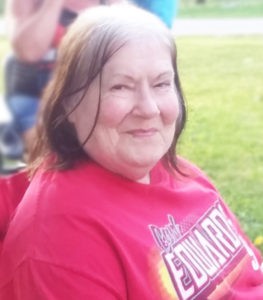 Lorna Gay Leathers, age 79, of Flora, Illinois, passed away early Monday morning, September 19, 2022, at Deaconess Midtown Hospital in Evansville, Indiana.
She was born September 29, 1942, in Salem, the daughter of LeRoy Edward and Lucille (Lewis) Turner.
Gay was a longtime employee of Sparton Manufacturing in Flora. She enjoyed working crossword puzzles, watching movies and game shows, and coloring. She had a love for animals, ice cream, and sweets.
She is survived by her son: Blake Leathers of Flora; granddaughter: Shayna Leathers of Iola; great-grandson: Aiden Leathers of Iola; a sister: Nancy (Ray) Corry of Fairview Heights; and a niece: Lee Ann Corry of Flora.
She was preceded in death by her parents and 2 sisters: Anita Turner and Judith Turner.
There will be no services. Arrangements are by Frank & Bright Funeral Home and Cremation Services in Flora. Memorial donations are suggested to Fur a Good Paws and will be accepted through the funeral home. To share a memory or condolence, visit: www.frankandbright.com