Veterans Day Speaker 11/11/22 
The featured speaker at this years Veterans Day service at Maple Hill Cemetery in Fairfield will be Loren Adams COL (RET) who served 21 years in the US Army Reserve-Veterinary Corps. 
Colonel Adams is married to the former Susan Wilson, daughter of the late Russell and Dorothy Wilson. They are the parents of four children and have resided in Fairfield since 2012. 
Adams was a veterinarian in Iowa from 1984 until 2010. He served in the Army Reserve from 2000 until his retirement in 2021. 
The November 11th service starts at 11 a.m. and Dave Land will serve as MC. The invocation and benediction will be given by Lawrence Hurley and the national anthem will be sung by Elizabeth Gonzalez. 
In case of inclement weather, the program will be held at the CP Church on outer West Delaware.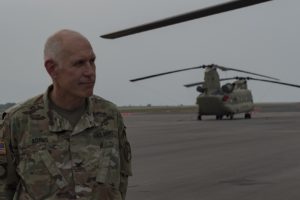 ### 
FCHS Veterans Day  
Fairfield Community High School will be presenting a Veterans Day Program today at 10:00 am in the east gym.   
Representatives of the local VFW will present the flag, followed by the Pledge of Allegiance, then the FCHS Show Choir will perform the National Anthem and the FCHS Band will perform a selection of Patriotic songs.  
Recognition of FCHS student that have enlisted with the various branches of service will be introduced by Superintendent, Jill Fulkerson.  
Guest speakers for the program will be Caleb Koker, Warrant Officer with the National Guard and a Full-Time patrolman with the Fairfield Police Department.  
Taps will be performed at the end of the program.  
The east gym doors will open at 9:30 am, there is no charge for the event, and all are invited to attend.  
### 
FCHS MADD  
Angie Tucker and the FCHS MADD Committee have announced that the FCHS Make a Difference Day has now raised a total of $27,087.19. FCHS wants to thank the public for their support of the Make a Difference Day and Fairfield Swimming Pool Splash Pad.   
###  
Fairfield Park District  
The Fairfield Park District will hold their regular meeting tonight at 6:00 pm. In old business discussions will focus on the Splash Pad Project. In new business items include the Tax Levy Ordinance and Employee Christmas Bonus'.  
 ### 
Wayne County 4-H Annual Achievement Night  
On Friday, November 4, Wayne County 4-H held their annual achievement night to recognize our youth for their accomplishments for their previous year's 4-H work. During this program, they also announced the 2022 Friend of 4-H. FNB was selected as the Friend this year, for their donations and continued support to the Wayne County 4-H program. They have donated to the Tech Fest program, helped with improvements to the fairgrounds and are major contributors to the 4-H livestock auction, where they are repeat buyers of multiple animals.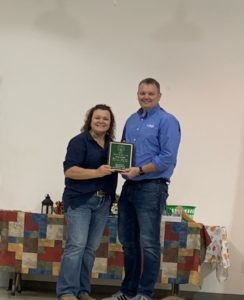 ###  
Quilts of Valor Ceremony 
The Wayne County Quilts of Valor and Fairfield National Bank will be holding a Quilts of Valor Ceremony on Sunday, November 13th @ 2 pm. The ceremony will take place at the First Christian Church in Fairfield. Approximately 50 Wayne County veterans will be recognized for their service. Public is invited and encouraged to attend to recognize these Veterans for their service. For those unable to attend, WFIW will be streaming the ceremony live on our website at wfiwradio.com. To view the ceremony, visit our website, click on the sports tab at the top of the page, and select videos from the drop-down menu. 
### 
Gamma Upsilon Fantasy Auction  
 The Gamma Upsilon Fantasy Auction will be held on Saturday, November 12th at the First Baptist Church in Fairfield. Auction starts at 10:00 a.m. Linda Spicer will be the Auctioneer.   
Items to be auctioned include: homemade food items, crafts, and more.   
The money raised will be used for grants to support early educators (teachers with less than 5 years experience) to help in their classroom.   
Refreshments will be served and the community is invited to come and enjoy the day.  
###  
Wayne City High School Trivia Night  
The Wayne City High School History Club Trivia Night will be held on March 11, 2023. Doors will open at 6pm, Trivia begins at 7pm. Cost is $100 per team, with up to 10 members per team. There will be free snacks and door prizes. All proceeds go to the WCHS History Club.  
###  
Grayville City Council  
The Grayville City Council will meet in regular session on Monday, November 14 at 7:00 pm in City Hall.   
In old business the council will discuss the Water Filtration Plant, ISP Health and Welfare Fund Demand for Payment Audit 2016-2022, Security Camera System Quotes, and a request to vacate an alley in Martin's Addition. The council will also hear the 2nd reading of Ordinances 933 and 934.  
In new business items include Application to Solicit Donations – Grayville Ministerial Association, Christmas Parade Resolution, Next Link Access Lease Agreement for equipment at the Water Tower, Gasoline for Police Vehicles, and Christmas Party.   
###  
Trash Service Delay  
Republic Trash has announced there will be on a one day delay the week of the Thanksgiving holiday. Residents are asked to have their trash cans set out by 6am Saturday, November 26th.  
###  
Weather Update 
With near record warmth today throughout our downstate area and plenty of sunshine, the forecast has colder changes in store. With the cold front moving into Illinois by late tonight, we'll stay warm overnight and into early Friday morning before the northwesterly wind brings in the cold air by sunset. With wind chills figured in, we'll have a 40 to 50 degree drop in our air temperature from today's high to Saturday morning's low and colder than average conditions for the weekend. We'll stay cool and dry for most all of next week.   
### 
River Stages       
River stages as of this morning: the Little Wabash east of Fairfield stands at 5.80 feet, below the 17 ft. flood stage. Meanwhile, the Skillet Fork at Wayne City has a reading of 5.11 feet (flood stage is 15 ft.). The Little Wabash below Clay City is at 5.34 (flood stage is 18 ft.). Bonpas Creek at Browns reads 1.54 feet. The Little Wabash at Main Street in Carmi reads 3.67 feet, and the Wabash River at Mt. Carmel sits at 3.27 feet.        
###        
Crude Oil         
Today's Crude Oil Price is $78.83 down $3.08 from yesterday. The January Crude Oil Price is $84.15 down $4.23 from yesterday morning.       
 ###