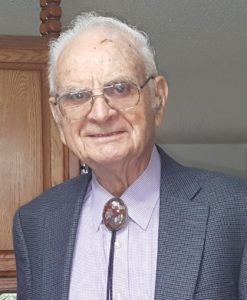 Robert D. "Bob" Walker, 96, of Cisne, IL, passed away Monday, November 14, 2022, at Fairfield Memorial Hospital.
Bob was born April 19, 1926, in Herrin, IL, to Loren and Iva (Allen) Walker. He married Helen J. Fildes on June 10, 1949, in Carbondale, IL. She preceded him in death on February 20, 2002.
Bob was drafted into the Army on September 9, 1944. He was discharged June 26, 1946. He attended SIU Carbondale for three years and during this time he married Helen. His final year of college he attended University of Illinois where he studied Vocational Agriculture. Bob taught for five years, then transferred as a farm advisor to Edwards County, and then he transferred to University of Illinois Cooperative Extension Service. He retired as Professor of Natural Resources in 1987. After his retirement, he started Elm River Christmas Tree Farm.
He was a member of the Mt. Erie Ruritan Club and was National Director for three years. He was a member of the Soil Conservation Society of America, Illinois Retired Teachers Association, and American Legion in Cisne. Bob was also active in the Elm River Cumberland Presbyterian Church. His hobbies included photography. If there was a family event, Bob was sure to have his camera with him especially if there was a wedding. He also loved to travel and has visited fifty states. He made two trips to Columbia, South America, one trip to Cali, Columbia to help repair a school building, and then traveled to the jungle to build a schoolhouse. He then traveled to Poland to help build a building at a Baptist Church Camp. While in Poland, as a side trip he traveled to Minsk and Moscow Russia. In 1986, he and Helen traveled to Israel and Egypt.
Bob is survived by his daughter Johnsie M. Wargel of Eldorado, IL, son David D. Walker and a grandson Billy Walker of Colorado.
Preceding him in death was his parents, wife, one brother Val Gene and (Bea) Walker, one sister Helen K. (Albert) Pierce and a son-in-law Fred Wargel.
Visitation: Sunday, November 20, 2022, from 5:00-7:00pm at Hosselton-Meridith Funeral Home, Cisne, Illinois.
Funeral: Monday, November 21, 2022, at 11:00am at Elm River Cumberland Presbyterian Church.
Burial will follow in Brown Cemetery.
In lieu of flowers memorials may be given to North Wayne Ambulance Service and will be accepted at the funeral home or church.
Fond memories and expressions of sympathy may be shared with the family at www.meridithfuneralhome.com
Hosselton-Meridith Funeral Home, Cisne, Il.