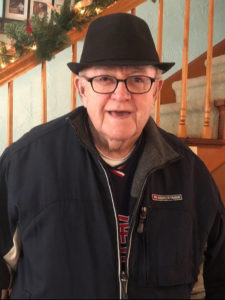 Johnie Lee Thomason, 86, of Mt. Vernon, IL passed away on Saturday, November 19, 2022 at SSM Health Good Samaritan Hospital in Mt. Vernon, IL.
Johnie was born August 18, 1936 in Wayne County, IL the son of Norris & Bessie Thomason. On July 1, 1962 he married Wilma Lee Thomason, who survives.
Johnie retired from General Mills, where he had worked as a forklift operator. He was a U.S. Navy Veteran and a U.S. Army Veteran. He was a former member of the Fairfield, IL Volunteer Fire Department, and he attended West Salem Trinity Methodist Church in Mt. Vernon, IL. He enjoyed fishing, playing pinochle, going to flea markets, attending church, and he was a St. Louis Cardinals baseball fan. What he loved most was attending his kids' and grandkids' sporting events and activities. He enjoyed spending time with his family and friends.
Johnie is survived by his wife Wilma Lee Solomon of Mt. Vernon, IL; 3 daughters: Vicky Handley of Sandwich, IL; Sherry Hayes of Mt. Vernon, IL and Angie (Brian) Dishon of Fairview, TN; 2 sons: Dan Manring (and Claudia Talley) of Fairfield Glade, TN and Jerry Herron (and Erika Lorenzini) of Plano, IL; 7 grandchildren: Andrea Chambers-Benedict, Jackson Dishon, Heather Brueckner, Jameson Herron, Finnegan Herron, Madison Cesario, and Vinny Cesario; 6 great-grandchildren: Devon Chambers, Robert Chambers, Emma Benedict, Millie Benedict, Alex Brueckner, Emily Brueckner, and several nieces and nephews.
He was preceded in death by both parents Norris & Bessie Thomason and 8 siblings.
Funeral services for Johnie Lee Thomason will be held at 3:00 pm on Tuesday, November 22, 2022 at Young Funeral Home in Wayne City, IL with Rev. Harold Quick officiating. Visitation will be held on Tuesday from 1:00 pm until the time of service at 3:00 pm at the funeral home. A graveside interment service with military rites will be held at a later date. Online condolences, memories, and words of encouragement may be shared at www.youngfuneralhomellc.com.