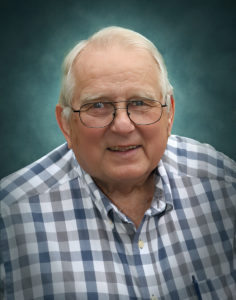 Harold Feller Holman, 86, of Newburgh, IN passed away on December 23, 2022. He was born on October 9, 1936, in Geff, IL to the late Oscar Hayward and Alice (Feller) Holman.
Harold retired from Farming in Geff and moved to Newburgh in 2005. He was a charter member of the Geff Volunteer Fire Department serving over 25 years. He also served as the Mayor of Geff for several years. He was a member of Geff Christian Church and then Crossroads Christian Church. His grandchildren were the delight of his life.
Harold was preceded in death by his parents and sister, Annabell Cable.
He is survived by his wife of 66 years, Glenda (Johnson) Holman; son, Joe & Pam Holman of Fairfield, IL; son, Owen & Linda Holman of Mt. Carmel, IL; daughter, Heidi & Jim Barnett of Newburgh, IN; 6 grandchildren, Nathan Holman (Stacey), Bryce Holman (Leah), Meagan Stewart (Jeramie), Heath Holman, Kennan Barnett (Sydney), Cole Barnett (Annie); and 6 great grandchildren; sister, Emmadean Felix and several nieces and nephews.
The family would like to express their deepest appreciation to the staff of Newburgh Health Care for their loving care of Harold.
Per the request of Harold, there will be no funeral services. Condolences may be offered online at www.AlexanderNewburghChapel.com.