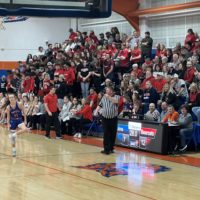 The Edwards County Lady Lions saw their basketball season come to an end, falling to the  Christopher Lady Bearcats 58-43 in Christopher.
The Bearcats jumped to an 11-0 start in the first 4 minutes and then hit a 7-minute field goal drought. The Lady Lions took their first lead later in the 2nd quarter on an Alice Robb 3-point field goal. At the half, Lady Lions led 22-20
Midway through the third the game was a back-and-forth battle with Edwards County and Christopher See-Sawing their way. After 3, Christopher built up a 6-point lead at 39-33.
The fourth quarter saw Christopher show their seniority and their size difference as they dominated and outscored Edwards County 19-10 on the way to a 58-43 win.
Grace Bishop led Edwards County in scoring with 17 points. Lexi McKinney added 11. Senior Isabelle Shepherd scored 8 and Gracie LaFollette scored 2 in their final game.
After the game, Jonathan Henton talked about the taste of success his team had this year.
Henton also wanted to say thanks to the community for their support.
Edwards County finished the season 30-4, a game away from a sectional title, but with a ton of accomplishments. Overall, the team won the most games in the history of the program, won the conference title in their division for the first time, and claimed their 2nd regional title.