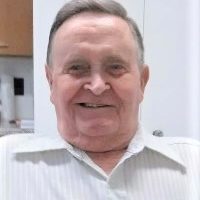 Leslie E. Ewing, 87, of Fairfield, died at 11:45pm on Saturday, March 11, 2023, at his home. He had worked as a set-up operator at Airtex Products for over 40 years.
Leslie was born on October 16, 1935, in Fairfield, IL, to Lester and Laurel (Pierce) Ewing. On August 8, 1959, he married the love of his life, Janet L. (Harris) Ewing, who preceded him in death in 2007.
Survivors include his daughter Sharon Withrow of Fairfield, and a grandson Bryan Barton. He was preceded in death by his parents Lester and Laurel Ewing, his wife Janet L. Ewing, a brother Kenneth Ewing, and a sister Clarabelle Phillips.
Funeral services for Leslie Ewing will be at 12pm on Saturday, March 18th at the Johnson and Vaughn Funeral Home in Fairfield, with burial to follow in Maple Hill Cemetery. Visitation will be from 10am until the time of service at the funeral home. Memorial donations can be made to the Carle Hospice and will be accepted at the Johnson and Vaughn Funeral Home which is in charge of arrangements. Condolences can be made to the family at either www.facebook.com/johnsonvaughnfuneralhome or www.johnsonvaughn.com.