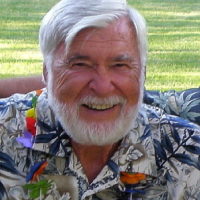 Arthur Marion Smock, 87 of Huntley, IL, died early Friday December 04, 2020, at home. He was born on December 12, 1932, in Carmi, IL. The first born of Raymond Theodore and Mabel Wilda (Rankin) Smock. He married his first wife Almina Rose Zerilli on January 15, 1955, in Staten Island, NY. Arthur retired after 25 years with the Federal Aviation Administration in 1983 as a CIS/Aerospace specialist. He continued in an aviation career with IBM, Martin Marietta, and Lockheed Martin working on the ARTS III air traffic control radar integration program for the FAA.
     He continued to be a lead ATC trainer in Chicago, IL at O'Hare International Airport until the young age of 75 years old for pilots all over the world. Arthur was a Korean War veteran (October 1952-October 1954) serving in the Navy on the USS Dortch DD670 and as a submariner radioman RM2 on the USS TENCH.
     He is survived by his second wife Jay Fairchild of Huntley, IL; a sister Carolyn June Steed of Carmi IL; a brother Stephen Roy Smock of Coweta OK; a daughter Elisa (David) Locke of Broomfield Colorado; four sons: Paul Smock of Columbus Ohio, Raymond (Debbie) Smock of West Liberty Ohio, Michael (Carla) Smock of Grove City Ohio, and Peter (Kelly) Smock of Galena Ohio; 14 grandchildren; 18 great grandchildren. He was preceded in death by a son, Mark Smock, brothers Elmer Ray Smock and Wilburn Duane Smock, and sisters Norma Clark and Ruth Hastings.
     A funeral mass for Arthur Marion Smock will be held at 1:30 p.m. on Friday, May 26, 2023, at St. Polycarp Catholic Church in Carmi, with burial following immediately at Kuykendall Cemetery in Carmi. Campbell Funeral Home in Carmi is in charge of arrangements.