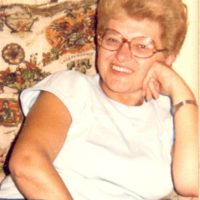 Loving Mother, Grandmother and Great-grandmother Helene Malone, 81, of Albion, IL, passed away at her home with her daughter by her side in the early morning hours of Monday May 8th, 2023. She was born to Walter and Florence Emeline Kotula November 8th, 1941, in Chicago Illinois. She graduated from St Mary of Perpetual Help High School in 1959.
She married the love of her life Larry Stone in 1961, they had two children Larry in 1963 and Nancy in 1964. She became a widow in 1966 after a tragic motorcycle accident. She eventually remarried to Paul Malone and they had a daughter Shannon in 1970. The family relocated to Albion Illinois in 1976. She retired from Champion Labs after 29 years in April of 2010.
She loved her country, was very patriotic, as was her Kotula family. Five members of the Kotula family served in the Military at the same time, they were known as the Fighting Kotulas. She supported a lot of organizations through her donations including Wounded Warriors, Help Heal Veterans, Wildlife Conservation Organizations, St Jude Children's Hospital and Shriners. She loved being able to just get in the car and go go go especially out to eat, she was a regular customer at Knappmart where everyone knew her as Granny. She also loved Mandy's in Grayville and afterwards would go to the river to feed the birds her leftover toast. She loved watching game shows, old movies, Country Music Awards, working crossword puzzles and spending time with her family.
Survivors include one son Larry Stone of Albion, two daughters Nancy Willis of Albion, Shannon (Scott) Kelsey of Evansville Ind, stepdaughter Delana (Chuck) Romanenko of Avon Ind. Grandchildren Cody (Samantha) Stone, Jessica (Nickolas) Jester, Tyler and Amber Willis of Albion, Samuel and Silas Kelsey of Evansville Ind, Mikka and Dana Romanenko of Indianapolis Ind. Great-grandchildren Waylon Trost, Onyx Jester, Sophia Clore, Jaxton Stone and lil Scarlett due in August all of Albion, and one Loyal and Faithful dog Gunner and her cat with no name.
Proceeded in death by her parents Walter and Florence Emeline Kotula her sister Nancy, brothers Michael and David Kotula and her husband Larry Stone.
In lieu of flowers memorials may be made to Wounded Warrior project.
Memorial Service: 10:00 a.m., Friday May 26th, 2023, Ingram Meridith Funeral Home, Albion, IL.
Ingram Meridith Funeral Home, Albion, IL.