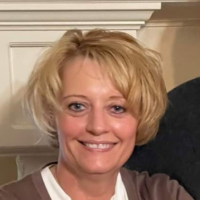 Kathleen (Kate) Hoover, 60, of Magnolia, AR, formerly of Fairfield, IL, passed away peacefully in her sleep on August 26th.  Kate was born July 19, 1963, in Breese, IL, to Ken and Theresa (Detmer) Nordmann.  Kate married Chris Hoover on June 17, 2011.
In addition to her beloved husband, Chris, Kate is survived by sons Addison (Casey) Ochs of Cumberland, Rhode Island, and Ryland (Kaisi) Ochs and granddaughter, Merrin, of Magnolia, AR, and daughter Jennifer Hoover of Columbia, MO.  Also surviving are her parents Ken and Theresa Nordmann of Fairfield, IL, sister Karen (R.Dane) Gale of Millstadt, IL, brother Brian (Karen) Nordmann of Willington, IL, brother Keith (Mary Claire) Nordmann of Belleville, IL, and brother-in-law Tom Huffstodt of McNabb, IL. Kate was a loving wife, mother, daughter, grandmother, sister and aunt to many nieces and nephews.
Kate was preceded in death by her beloved sister, Kristine (Nordmann) Huffstodt.
Kate worked as a Speech and Language Therapist in Arkansas and remotely in several other states. She was a devoted grandmother to Merrin. Kate loved her pets, was known for her floral design, and had a passion for antique quilts.
Details for a Celebration of Life will be forthcoming.