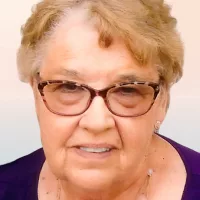 Dixie Lee Slagley, age 81, of Flora, Illinois, passed away Wednesday morning, November 15, 2023, at St. John's Hospital in Springfield.
She was born February 11, 1942, in Richland County, the daughter of John C. and Hazel (Pickel) Mason. She married the late Robert "Bob" D. Slagley on January 25, 1960, in Shawneetown, and they shared 27 years of marriage.
Dixie's life and spirit was a beautiful reflection of her strong Christian faith and heartfelt affection for her family and friends. She demonstrated her beliefs in the love and care she extended to her family throughout her life as a wife and mother, and especially treasured the memories of the time she was able to share with both of her grandsons. Her friends were very important to her, and they made each day a little more special for one another. Dixie was a familiar visitor at her favorite local dining spots, especially the Flora DQ, and she always found joy in the daily companionship of her dog, Snicky. She was an ongoing supporter of organizations that were very close to her heart, like St. Jude Children's Research Hospital and Fur a Good Paws. Dixie attended church services and activities through her life and was always ready to share the word of Christ and offer a kind and caring word to others.
She is survived by her son, Doug Slagley and wife Angela of Olney; 2 grandsons, Jonathan Douglas Slagley and fiancé Wurwood Dawoud, and Luke Mason Slagley; as well as many dear friends and extended family members. She was preceded in death by her parents and her husband.
A funeral ceremony will be held beginning at 1 p.m. on Tuesday, November 21, 2023, at Frank & Bright Funeral Home in Flora. Interment will follow in Odd Fellows Cemetery, Xenia. A visitation will be held from 11 a.m. until 1 p.m. Tuesday at the funeral home. Memorial donations are suggested to either St. Jude Children's Research Hospital or Fur A Good Paws in Flora, and these will be accepted through the funeral home. To share a condolence or memory, visit: www.frankandbright.com