LOCAL SPORTS
6/2/20 SPORTS
MLB owners are now considering a 50-game schedule in which it would pay players full prorated salaries according to a report from ESPN. The players proposed a 114-game schedule Sunday that would cover 70 percent of their original salaries. A 50-game schedule would pay players at 31 percent. MLB had first proposed an 82-game schedule. MLB contends it will lose money for each game played without fans and players making their full prorated salaries.
The NBA is finalizing details of its restart plan before Thursday's vote by the board of governors. A 75-percent vote from all 30 clubs is needed to pass the plan, which features 22 teams and play-in scenarios to get to a final 16-team playoff bracket. Some small markets say every team needs to play.
Noah Gragson squeezed past JR Motorsports teammate Justin Allgaier with four laps left, a move that caused Allgaier to crash, and Gragson held on at Bristol Motor Speedway for his second win of the season. Gragson's victory was set up by a caution with 13 laps remaining that wiped away Allgaier's lead. Gragson had to race Chase Briscoe and Brandon Jones in a two-lap overtime finish but beat them both to claim the checkered flag. Gragson joined Briscoe as the only drivers with two Xfinity Series wins this year.
Former boxing champion Floyd Mayweather has offered to pay for George Floyd's funeral and memorial services, and the family has accepted the offer. Mayweather personally has been in touch with the family according to Leonard Ellerbe, the CEO of Mayweather Promotions. He will handle costs for the funeral on June 9 in Floyd's hometown of Houston as well as other expenses.
6/1/20 SPORTS
FCHS boys basketball player Kane Hixenbaugh will conpete at the next level. Hixenbaugh has accepted a scholarship offer to play basketball at Rend Lake College for first year coach Brian Gamber. Hixenbaugh was MVP of the Black Diamond Conference this past season. He also was named All-South, Special Mention All-State and was an all-tournament selection at the Capital Classic, the Eldorado Holiday Tournament and the Carmi-White County Invitational Tournament,
The Major League Baseball Players Association is submitting a proposal to the league in an effort to start the season. ESPN reports it includes an expanded playoff format and a 114-game season starting on June 30th and ending October 31st. In addition, the association is pushing for 100-million dollars in prorated salary deferrals if a postseason is not played this year and giving players the right to opt out of the season. This comes as some owners are "perfectly willing" to cancel the 2020 season to save money. Originally scheduled for a late-March Opening Day, the season was suspended shortly before due to coronavirus.
Secaucus, New Jersey will remain the site for this year's abbreviated Major League Baseball Draft. The two-day draft starts June 10th at the MLB Network studios, but has been shortened to five rounds due to the coronavirus pandemic. The draft was originally to be in Omaha ahead of the College World Series.
Brad Keselowski inherited the lead with three laps to go and went on to win the Supermarket Heroes 500 at Bristol Motor Speedway for his second Cup Series victory in a week. Keselowski, who won last Sunday's Coca-Cola 600 at Charlotte Motor Speedway, moved to the front when race leaders Chase Elliott and Joey Logano collided and crashed while battling for top position. Clint Bowyer finished second with Jimmie Johnson, Kyle Busch and Erik Jones completing the top five, while both Elliott and Logano ended outside the top 20 following the wreck.
The NHL plans to test all players daily for the coronavirus when the 2019-20 season is able to restart. Deputy Commissioner Bill Daly said players will be tested every evening and their results will be obtained before they would leave their hotel rooms the next morning, so the league will know if there is a positive test and whether the player has to self-quarantine. A single test costs approximately $125, according to the league, and Commissioner Gary Bettman estimates that 25,000-35,000 tests are needed to get through the Stanley Cup Final.

Tuesday's scheduled announcement surrounding the Madden video game is being delayed. EA Sports announced the move Sunday following the protests seen in many cities across America. A statement says in part, "this is bigger than a game." Numerous cities are seeing protests following the in-custody death of George Floyd in Minneapolis. Video showed him being pinned to the ground with an officer's knee on his neck. The now fired Officer Derek Chauvin is facing murder and manslaughter charges.
5/30/20 SPORTS
Pending school board approval, Chester High School will accept their invitation to join the Cahokia Conference. School administration cited the benefits of more localized competition than they currently have as the main reason for the move. They have placed a motion to accept the invitation on June's agenda for the regular board board meeting on Thursday, June 18. Chester has been a member of the Black Diamond Conference for 10 years. The Roxana School Board last week approved the move to the Cahokia from the South Central Conference. Okawville will accept their invitation to join the Cahokia after getting board approval Thursday night. East Alton-Wood River, a member of the Prairie State Conference, will decide at its board meeting Tuesday. The Cahokia will be divided into three divisions based on size with a large, medium and small division. The new realignment would go into effect no later than the 2022-23 season.
Illinois High School Association Executive Director, Craig Anderson, issued a statement yesterday saying: "The IHSA and Illinois Department of Public Health continue to work together to finalize Return to Play Guidelines focused on safely reuniting IHSA coaches and student-athletes within the guidelines of Phase Three of Governor J.B. Pritzker's Restore Illinois plan and the IDPH's best practices. We refuse to compromise safety in this process, and anticipate being able to enact and educate our member schools on the Return to Play Guidelines by Monday, June 1."
The NBA has set July 31 as the target date for its return. The NBA's Board of Governors is expected to vote to approve Adam Silver's recommendation on a format for resuming the season next Thursday, June 4. As of now, 20-22 teams are expected to be invited to Orlando. It gives the NBA roughly two more months to finish organizing its Disney proposal and get its players back up to speed physically with both individual workouts and a second training camp at practice facilities. Teams participating in whatever format the concluded regular season and playoffs take would then travel to Orlando and quarantine before basketball could begin again.
Alex Rodriguez and Jennifer Lopez are once again trying to buy the New York Mets. A-Rod and J-Lo are working with "very senior bankers at JPMorgan Chase" to secure financing for a potential purchase. Last month it was reported Rodriguez and Lopez were looking to buy the Mets, though talks fizzled when the Wilpons, the team's current owners, refused to include SportsNet New York (SNY) in the sale. The club's television network will now be included in the potential sale, indicating the Wilpons are more serious about a deal. The Wilpons purchased full control of the Mets in 2002.
5/29/20 SPORTS
Today is the deadline to sign-up for the Fyie & Rice Law Office Golf League at the Fairfield Public Golf Course. Matches will be on Mondays and Tuesdays starting Monday, and continuing through August 11th. League dues are $20 per player, and does not include green or cart fees.  A 2020 USGA Handicap Index is also required, which is $20. Season pass holders receive a reduced handicap fee of $15. The sign-up sheet is located at the course outside the Pro Shop. For more information, contact Marty Vaughan at martinrvaughan@gmail.com or by phone at 842-4289.
Chase Elliott won the rain-delayed Cup series race at Charlotte Motor Speedway, pulling away from Kevin Harvick with 27 laps remaining to earn the victory and put an end to a frustrating week. Elliott was wrecked while trying to race for the lead at Darlington Raceway last week and a caution with two laps remaining in Sunday's Coca-Cola 600 cost him the victory. Denny Hamlin finished second in this one despite having three crew members suspended, while Ryan Blaney took third.
NFL owners are tabling a proposed rule that would allow teams to replace an onside kick with an untimed fourth-and-15 play from their own 25-yard line. Three other proposed rules were adopted at yesterday's virtual meeting. The league made permanent the expansion of replay to include scoring plays and turnovers negated by a foul, as well as extra-point tries. Defenseless player protection will be expanded and teams will be prevented from deliberately taking time off the game clock by committing multiple dead-ball fouls while the clock is running. The owners also increased the number of players that teams may designate for return from injured reserve each season from two to three.
NFL players and coaches will work remotely for a bit longer. The NFL is extending its virtual offseason through mid-June. It was set to end today. Commissioner Roger Goodell says they hope to have coaches back at team facilities by the end of next week according to local health guidelines.
Minor League Baseball players are feeling the brunt of the coronavirus pandemic. Multiple reports say hundreds of players were cut Thursday with more expected as the likelihood of no season becomes reality. Some clubs began laying off front office and game-day staff weeks ago. The Cardinals, meanwhile, have announced they will pay minor leaguers through at least June. Reports say the club is hopeful to continue paying them 400-dollars per week through the end of the summer, if there isn't a minor-league baseball season.
Prominent agent Scott Boras has issued a memo to his clients advising them to refuse Major League Baseball's attempt to reduce salaries as it negotiates with the players' union to conduct a shortened season. MLB's latest proposal to the union called for an 82-game schedule in ballparks without fans that would have a sliding scale of salary reductions, with the highest-paid players to receive the largest cuts. Nationals pitcher Max Scherzer, a Boras client and a member of the union's eight-man executive subcommittee, issued a statement Wednesday calling further salary cuts a "non-starter." The players association previously agreed to having players reduce their salaries to a prorated rate based on a shortened season, but MLB has said that would result in a $4 billion loss for the owners and would give players 89 percent of total revenue if games are played without fans.
For the first time in its 124-year history, there will be no Boston Marathon. The iconic race has been called off by Boston Mayor Marty Walsh due to the COVID-19 pandemic. It was originally postponed from April 20th and moved to September 14th, but Walsh says it won't be safe to run then either.
5/28/20 SPORTS
The Fairfield Tennis Club has canceled its Summer Youth Tennis program for 2020. The Tennis Club looked at all possible scenarios, and were hopeful to be able to have a season. However, with the stipulations and restrictions in the state's executive order, as well as those made by the United States Tennis Association, it became clear that it would not be a possibility for this year. The club is still hoping to hold the annual John Peterson Memorial Tournament on July 9th-12th. 
Individuals or businesses interested in donating to the tournament may contact Don Wood at 842-2555 or Fairfield Tennis Club President Tommy Kent at 925-5711.  All checks should be made payable to the Fairfield Tennis Club
The deadline for sign-ups for the Fyie & Rice Law Office Golf League is Friday. Matches will be on Mondays and Tuesdays starting June 1st, and continuing through August 11th. League dues are $20 per player, and does not include green or cart fees.  A 2020 USGA Handicap Index is also required, which is $20. Season pass holders receive a reduced handicap fee of $15. The sign-up sheet is located at the course outside the Pro Shop. Contact Marty Vaughan at martinrvaughan@gmail.com or by phone at 842-4289 for more information.
NASCAR teams taxed by a grueling return to racing received a slight break when rain postponed the Cup Series race at Charlotte Motor Speedway Wednesday. The race was rescheduled for 7 pm today, which in turn forced NASCAR to move the Xfinity Series race scheduled for Saturday at Bristol Motor Speedway. NASCAR's first wave of races in its comeback totaled seven national events over 11 days.
The NFL has dropped a proposal for a booth official to help referees calls on the field by using a video feed when owners vote on rules proposals in a conference call Thursday. The league has also clarified a rules proposal for an alternative to an onside kick. The Eagles have proposed allowing a team a fourth-and-15 scrimmage play from the 25-yard line of the team kicking off, which can only be done in regulation, and only used twice in a game. A regular onside kick would still remain an option. Team owners will discuss and possibly vote on the proposal during a league-wide conference call on Thursday. There is reportedly some support of trying it during the preseason as an experiment, but it is uncertain if the NFL will have a preseason.
Basketball Hall of Fame chairman Jerry Colangelo told ESPN that the enshrinement ceremony for Kobe Bryant, Kevin Garnett, Tim Duncan and five others will be delayed until 2021 because of the coronavirus pandemic. The ceremony was to have taken place in Springfield on Aug. 29. Colangelo told ESPN that the event will be moved until the spring of 2021.
The NHL is looking at expanding rosters for its 24-team playoff if and when the season can continue. The league has told teams that they will likely be able to have 28-player rosters with an unlimited number of goalies.
Nationals pitcher Max Scherzer issued a statement calling management's proposal for more salary cuts a non-starter as the players and MLB attempt to reach an agreement to start the pandemic-delayed season. A day after MLB proposed a sliding scale of salary slashing with an 82-game schedule in ballparks without fans, the union held a conference call that included its executive board, player representatives and alternate player representatives. Players appeared likely to propose more regular-season games this year while holding to their demand for full prorated salaries.
5/27/20 SPORTS
The Fairfield Public Golf Course is postponing the Fairfield Dairy Queen Junior Golf Tournament scheduled for Thursday May 28. In addition, the Junior Golf Camp scheduled for Thursday has also been cancelled.
Meanwhile, the deadline for sign-ups for the Fyie & Rice Law Office Golf League is Friday. Matches will be on Mondays and Wednesdays starting June 1st, and continuing through August 11th. League dues are $20 per player, and does not include green or cart fees.  A 2020 USGA Handicap Index is also required, which is $20. Season pass holders recieve a reduced handicap fee of $15. The sign-up sheet is located at the course outside the Pro Shop. Contact Marty Vaughan at martinvaughan@gmail.com or by phone at 842-4289 for more information.
The NHL will skip the rest of the regular season and begin the Stanley Cup Playoffs if play resumes. The league announced its Return to Play Plan yesterday, which includes a 24-team postseason format that was approved by the players last week. As a result, the Blues will win the Central Division and finish with most points in the Western Conference, and will be one of four teams in the West that will have a bye if the league returns to action. The team will play a round robin with Colorado, Vegas and Dallas to determine first-round seeding. The Blackhawks, meanwhile would be seeded 12th, and would play Edmonton in a best-of-five series with the winner earning a berth in the Stanley Cup Playoffs against the top four teams from the conference. Games will be played in two hub cities. Candidates for the hub cities are Chicago, Columbus, Dallas, Edmonton, Las Vegas, Los Angeles, Minneapolis/St. Paul, Pittsburgh, Toronto and Vancouver. If everything goes as planned, play will resume no earlier than the first half of July.
Under a six-tier, sliding-scale proposal by major league baseball, a rookie at the major league minimum would keep about 47% of his original salary this year while multimillionaire stars would lose more than 77%. Players found the idea "extremely disappointing" and the union said "the sides also remain far apart on health and safety protocols" aimed at starting the pandemic-delayed season around July 4th. The proposal was made to the players' union during a digital meeting rather than the 50-50 revenue-sharing plan that owners initially approved for their negotiators on May 11.
NASCAR's best are taking another go tonight at Charlotte Motor Speedway. William Byron will be on the pole up front alongside teammate Alex Bowman. Brad Keselowski won the Coca-Cola 600 Sunday at Charlotte. He will start in the 20th position.

5/26/20 SPORTS
The clock is ticking if Major League Baseball is to start the season around the Fourth of July. The league and union are still trying to work through salary and revenue issues, but will presumably need a resolution by the end of next week in order for a second spring training in mid-June.
The NHL keeps moving closer to returning to play. The league announced protocols yesterday to begin small-group workouts early next month. A maximum of six players will be allowed to take part in the voluntary workouts at team facilities. If all goes well, teams can proceed to full-squad training camp and then play can resume. The NHL Players Association agreed on the framework of a 24-team postseason format last week, with the league expected to make a formal announcement on that format this week.
NBPA executive director Michele Roberts conducted team-by-team conference calls as the league works toward its resumption. According to ESPN, Roberts gathered feedback from players as she detailed the format for a possible return in Orlando. The financials of each option were also reportedly discussed with teams.
One NFL executive is making his feelings about the league's pass interference rule known. NFL Executive Vice President of Football Operations Troy Vincent told NBC Sports the league "failed miserably" in its introduction of pass interference reviews in the 2019 season. Vincent discussed the importance of not rushing future rule changes and that the failures of the decision to implement the change in 2019 was on display during the season. The NFL competition committee to declined to renew the rule last month.

Sunday's "The Match: Champions For Charity" golf event is now the most-watched golf telecast in cable TV history. While raising 20-million dollars for coronavirus relief, star athletes Tiger Woods, Phil Mickelson, Tom Brady, and Peyton Manning drew an average of five-point-eight million viewers across all Turner platforms. Peak viewership came around the midpoint of the match with over six-million viewers. The two-on-two event, at Medalist Golf Club in Jupiter, Florida, was won by Woods and Manning. It was also the number one trending topic on Twitter Sunday.
Three of Denny Hamlin's crew members have been suspended for four races because a piece of tungsten fell off his car on the pace lap before Sunday's Coca-Cola 600. The tungsten is necessary to meet minimum weight requirements on the car. If it is separated at any point it is an automatic four-race suspension for the crew chief, car chief and engineer. Hamlin, who ended up finishing 29th in Sunday's 40-car field, won last Wednesday night at Darlington Raceway, as well as the season-opening Daytona 500.

The Bare Knuckle Fighting Championship is upping the ante to try and lure former boxing champ Mike Tyson out of retirement. According to MMA Fighting, BKFC is now set to offer the 53-year-old more than 20-million-dollars as well as charitable donations. Tyson's last match was back in 2005.
5/25/20 SPORTS
The Jasper and Geff Boards of Education mutually agreed to a revised cooperative sports agreement. The two year contract includes a change to the name, which will be Jasper Polecats. The colors will be green and gold. Baseball, softball, volleyball, and track are the only sports included in the agreement.
Three former standout Cardinals players are being inducted into the Cardinals 2020 Hall of Fame this year. Tom Herr and John Tudor were chosen by the fans as the top two vote-getters in the online balloting this spring, while Bill White was the veteran player selected by the Red Ribbon committee to be part of the seventh induction class. The trio will join the 43 members already inducted into the Cards Hall of Fame in a ceremony, the date of which will be announced on a later.
Brad Keselowski has picked up his first victory of the 2020 NASCAR Cup Series season after winning the Coca Cola 600 at Charlotte Motor Speedway. The Michigan native crossed the line ahead of Jimmie Johnson, whose car was later disqualified after failing post-race inspection. That promoted Chase Elliott from third place to second while Ryan Blaney, Kyle Busch and Kevin Harvick rounded out the top five. The series will be back in action at Charlotte Wednesday night.
Tiger Woods and Peyton Manning edged out Phil Mickelson and Tom Brady in a golfing exhibition to raise money for COVID-19 relief efforts. Rain threatened to dampen "The Match: Champions for Charity" at Medalist Golf Cup in Hobe Sound, Florida Sunday as Woods and Manning won one-up over Mickelson and Brady as the event raised more than 20-million-dollars for charity. Manning joked that Mickelson told him he was nervous and said he wasn't comfortable the entire time, but raising the money is what made it worth-while for him. Woods and Manning had a two-up lead after four holes and three up through six before Lefty and Brady made it close.
The University of Illinois Division of Intercollegiate Athletics is planning for a safe return of student-athletes to campus. The DIA is preparing to return groups for voluntary summer training, with staggered arrivals beginning as early as June 3rd. The plan follows the timeline recently announced by the NCAA, which will allow voluntary workouts to resume on campuses as of June 1st. It also aligns with similar plans being developed by most other Big Ten schools. The return protocol includes initial and ongoing viral and antibody testing, initial quarantining, contact tracing, and arrangements for extended quarantine and care of any student-athlete testing positive for COVID-19. Meanwhle, the Michigan president Dr. Mark Schlissel told the Wall Street Journal if there are no students on campus for classes this fall, there will be no Wolverine football. He also expressed some doubt as to whether there will be college athletics anywhere, at least in the fall."
The potential restart of the NHL season is becoming more of a reality. The league's players union has approved a playoff format that will send 24 teams to the postseason when the league lifts its coronavirus lockdown. The league is expected to approve the plan this week. The exact details of the format haven't been released but the Blues will most likely get a first-round bye, while teams five through 12 in each conference would meet in a best-of-five play-in round to narrow the field down to the now-standard 16-team playoff. The Blackhawks would face the Oilers in a five-game playoff series.
The NBA still has its eye on resuming the season in Florida in late July. The league and union have been in talks with The Walt Disney Company about being the host site. The NBA says talks are still exploratory, but practices and games would be held at the ESPN Wide World of Sports Complex.

5/23/20 SPORTS
Jerry Sloan, tenacious as a player for the Chicago Bulls and coach of the Utah Jazz, died Friday at the age of 78. The Jazz announced that Sloan died from complications from Parkinson's disease and Lewy body dementia, which he had revealed diagnoses for in April 2016. Sloan was inducted into the Hall of Fame in 2009 after a 26-year head-coaching career, 23 of them with the Jazz. He finished his coaching career with 1,221 regular-season victories, behind only Don Nelson and Lenny Wilkens. He was later passed by the San Antonio Spurs' Gregg Popovich. Sloan was an all-state player at McLeansboro before playing for Evansville from 1962 to 1965. He led the Aces to two, Division II titles and was the fourth overall pick in the 1965 draft. Sloan played one season with the Baltimore Bullets before being selected by the Bulls in the 1966 expansion draft. His playing career for the Bulls was cut short by injuries after 11 years. He averaged 14 points per game, with a career-best of 18.3 for the Bulls in 1970-71. He was a two-time All-Star and was named to the NBA All-Defensive first team four times.
The Jasper and Geff boards of education mutually agreed to a revised cooperative sports agreement. The two year contract includes a change to the name which will be "Jasper Polecats". The colors will be green and gold and baseball, softball, volleyball, and track are the only sports included in the agreement.
The Roxana School Board has unanimously approved opting to leave the South Central Conference to join the Cahokia Conference. The Shells were one of five schools that have received an invite to join the Cahokia, along with Chester, East Alton-Wood River, Sparta and Okawville. The remaining schools have expressed interest in joining the Cahokia. Roxana Athletic Director Mark Briggs said in a statement: "One of the main driving factors was, we wanted to line our district up more with the Metro East". Roxana had already given the SCC two years notice that it may be leaving the conference starting in the 2022-2023 school year. If the SCC can find a replacement to come aboard as early as 2021-2022, the Shells would exit then.
Georgetown basketball coach and former New York Knicks great Patrick Ewing is isolated at a local hospital after testing positive for COVID-19, according to a statement released Friday from the Georgetown athletic department shared on Ewing's Twitter account. The 57-year-old Ewing is the only member of the Georgetown program who has tested positive for the virus, according to the athletic department's statement.
5/22/20 SPORTS
There will no youth baseball or softball in Fairfield this summer. Officials of both the Fairfield Baseball Association and Fairfield Girls Softball, Inc have announced that their respective seasons are being cancelled due to COVID-19. Both leagues say all fees will be refunded. For softball, parents can come to Southwest Park on Tuesday May 26th, Wednesday May 27th, or Thursday May 28th from 4-6pm or youn can contact the league via Facebook to special arrangements. Baseball refunds will be available from eight am – 4:30 pm June 1st through the 5th at Rush Appliance and Furniture. Identification will be required by both leagues to obtain a refund.
There may be changes on the horizon for the Black Diamond Conference West Division. A published report indicates Chester is among five schools that have been offered invitations to join the Cahoka Conference. The other schools include Okawville, Roxana, East Alton Wood River, and Dupo. All five had previously expressed interest in joining the conference.
The Major League Baseball's players union expects to receive an economic proposal from the owners regarding a shortened season by early next week, according to MLB Network. The report states that the players would almost certainly reject any proposal that calls for a 50-50 split of revenue, while the owners would be opposed to paying prorated player salaries above the projected 82-game schedule. The players' association replied to management's 67-page proposal for starting the season and pushed back on safety protocols like banning in-stadium shower use but wanted more testing than the proposed "multiple times per week." MLB still remains hopeful of an early-July start date, though the two sides also need to agree on safety objectives before a season can begin.
As for the NBA, Sports Illustrated is reporting that the league is thinking about shortening the regular season to 70 games before conducting a full playoffs in the summer. Teams had played between 63 and 67 games before the season was halted in March by the coronavirus, and the proposal would allow playoff contenders a final opportunity to battle for position. The Athletic reported Wednesday that the NBA is aiming to resume in mid-July with games to be played at neutral sites without fans, with Orlando and Las Vegas believed to be the front-runners to host games.
NFL owners will vote on rule change proposals next week, including the use of a sky judge and an alternative to the onside kick. Teams received a list of potential rule changes yesterday, with a virtual vote set for next Thursday. The onside kick alternative would be a 4th-and-15 from a team's own 25.
Following the success of its "Last Dance" documentary chronicling the Chicago Bulls' championship in 1997-98, ESPN now say it will produce a series on Tom Brady's nine Super Bowls with the Patriots to be shown in 2021. Entitled "The Man in the Arena," the series will feature an episode each on Brady's six Super Bowl victories as well as his three losses in the title games. A release from ESPN said the shows will offer a personal firsthand account from Brady's perspective, a rarity from the usually private 42-year-old and now Buccaneers quarterback.
The NHLPA is in the process of voting on a return-to-play proposal put in place by the league and its owners. According to The Athletic, voting could spill into today and results should be known by tonight. The format would feature a 24-team playoff.
NASCAR is back in action on Sunday. The drivers head to Charlotte for the Coca-Cola 600. Kevin Harvick and Denny Hamlin both won races at Darlington in NASCAR's return amid the ongoing coronavirus.
5/21/20 SPORTS
Denny Hamlin took home the win at the Toyota 500 at Darlington after braving the elements. Weather caused delays, but it didn't slow down Hamlin who was able to hold off Kyle Busch in NASCAR's second race back amid the ongoing coronavirus. Busch vaulted up to second after he was caught in a dustup with Chase Elliott. Sunday's winner Kevin Harvick took third while Brad Keselowski and Erik Jones rounded out the top five. The drivers will be back on the track for the Coca-Cola 600 at Charlotte Motor Speedway on Sunday.
The NCAA Division I Council voted to lift a moratorium on voluntary workouts by football and basketball players effective June 1 as a growing number of college leaders aexpressed confidence that fall sports will be possible in some form despite concerns about the coronavirus pandemic. This decision clears the way for individual workouts by athletes, mostly on their own, subject to safety and health protocols decided by their schools or local health officials. NCAA officials noted that the workouts could go on as long as all local, state and federal regulations are followed.
The NFL is in for a big financial hit if games are played this year without fans. Forbes projects the league could lose 5.5 billion-dollars based on stadium revenue figures from 2018. Players would also be directly affected as they receive nearly 50-percent of total revenue based on the labor agreement
The NFL is working on a helmet face guard that could provide the same protection as a surgical mask, with the material used for players' clear eye shields extending down to cover the mouth. Thom Mayer, who is medical director of the NFL Players Association, said league engineers are working with Oakley to test prototypes of a face mask that contains surgical or N95 material. Mayer said he expects the new face masks would quickly gain acceptance as long as they were comfortable and safe.
The NBA is in serious discussions with the Walt Disney World complex in Orlando to serve as the playing site for when the league resumes its season, according to The Athletic. The report states that Orlando has an advantage over other neutral sites under consideration such as Las Vegas and Houston because it can restrict access due to the complex being private property. The NBA is believed to be targeting a mid-July return to the season, with ESPN reporting that the league plans to issue guidelines to teams for recalling players who have left the area around June 1. Players returning to their team's market are expected to be placed in quarantine for two weeks, with individual workouts and training camps to take place following the quarantine period.
Bulls fans will get a chance to see Michael Jordan's appearance on Saturday Night Live nearly 30 years ago. NBCSN will rebroadcast the SNL episode Jordan hosted on September 28th, 1991. The episode will be broadcast on Monday at 7 p.m. and May 29th at 10 p.m. The program is part of a series of sports-related "SNL" episodes the network is re-airing.
5/20/20 SPORTS
NASCAR's Cup Series is back on the track at Darlington in South Carolina tonight. It's the second race for the sport since it marked its return this past Sunday. Kevin Harvick took home the win in the return while Alex Bowman finished second.. It's the first Wednesday race for NASCAR in 36 years. The last Wednesday race was on July 4, 1984 . The Xfinity series race, scheduled for Tuesday, was postponed by rain and will now be run Thursday at noon.
The Washington Nationals are ready to show off some new jewelry. On Sunday, the team will be unveiling their World Series rings virtually. The event will be broadcast on MLB Network and MASN at 7 p.m ET and will also be streamed online via the team's website and social media platforms. The Nationals beat the Astros in seven games last year to claim their first World Series Championship.
NFL team facilities are starting to reopen, but only to limited personnel and rehabbing players. The league's chief medical officer says they're are no dates on the calendar for when all players can return. The Colts, Chiefs, Cardinals, Texans, Cowboys, Falcons and Steelers are among the teams reopening now.
The NFL is taking steps to increase diversity hiring. Teams can no longer block assistants from interviewing for coordinator jobs elsewhere. Low-level execs will have the same privilege for GM openings. Hiring teams will also be required to interview more minority candidates than in the past.
The Belmont Stakes will be the first Triple Crown race run this year instead of the last. It's set for June 20th at Belmont Park without fans. It will also be trimmed from a mile-and-a-half to a mile-and-an-eighth. The Kentucky Derby was moved to September and the Preakness Stakes to October.
5/19/20 SPORTS
NFL teams will be permitted to open facilities today. The league notified teams that they will be able to open so long as they follow guidelines within their area. Some teams are not expected to open their facilities today despite being given the go-ahead to do so.
If the NFL is able to play this fall, it could take some important steps to keeping players safe amid the coronavirus outbreak. NFLPA medical director Thom Mayer is recommending that players wear modified facemasks that protect themselves. A prototype is currently being designed by Oakley that could feature surgical or N95 materials.
It's not clear when the NBA Lottery is going to take place but the format is expected to be the same. Reports state that when the lottery does take place its likely to feature the same format that was implemented the season prior. The system that was implemented allows the top four spots to be selected via the lottery system.
This year's U.S. Open, already moved to Sept. 17-20 because of the coronavirus outbreak, has closed its signature qualifying for the first time since 1924. The USGA said that in a typical year, half of the 156-man field consists of players who played their way in. The organization did not state how other players could become exempt. "We take great pride in the fact that many thousands typically enter to pursue their dream of qualifying for the U.S. Open and we deeply regret that they will not have that opportunity this year," said John Bodenhamer, senior managing director of championships for the USGA.

The 90's Bulls docuseries, The Last Dance, is the most-watched documentary content ever on ESPN. The ten-part series finished strong for its finale Sunday night, with episodes nine and ten averaging five-point-six million viewers across ESPN and ESPN2. The original airings of all ten episodes also averaged five-point-six million viewers, becoming the most watched documentary content on ESPN by surpassing 2012's You Don't Know Bo. The Last Dance started strong on April 19th, with episodes one and two averaging six-point-one million viewers, making them the two most-viewed original content broadcasts on ESPN Networks since 2004.
ESPN will be airing a new version of the Bulls title-clinching Game 6 against the Utah Jazz in the 1998 NBA Finals. Game 6: The Movie will feature never-before-seen game footage captured by five different NBA Entertainment cameras. It will feature the original commentary for the live game telecast by Bob Costas, Isiah Thomas, Doug Collins, Ahmad Rashad and Jim Gray. The broadcast also marks the first time that the legendary game has been available to watch in high-definition. It airs tomorrow night at 8 p.m. on ESPN and streams on the ESPN app.
5/18/20 SPORTS
The Fyie & Rice Law Office Golf League will begin Monday, June 1st with a 5:30 pm tee off at the Fairfield Public Golf Course. Two person teams will play weekly nine-hole matches and accumulate points through August 11. The matches will be scheduled on Mondays and Tuesdays due to Covid-19 social distancing precautions of one person per golf cart. League dues are $20 per player, and does not include green or cart fees. A 2020 USGA Handicap Index is required, which is $20. Season Pass Holders receive a reduced Handicap fee of $15. The sign-up sheet is located at the course outside the pro shop, and dues and fees must be paid in full prior to the June 1 matches. The team sign-up cut off is Friday May 29. Contact Marty Vaughan by email at martinrvaughan@gmail.com or by phone at 842-4289 for more information.
Rory McIlroy delivered the money shot Sunday as live golf returned to television for a Skins game that revealed plenty of rust and raised more than $5 million for COVID-19 relief funds. McIlroy and Dustin Johnson, who had not won a skin since the sixth hole, had a chance to win the final six skins worth $1.1 million on the final hole at Seminole in the TaylorMade Driving Relief exhibition. Both missed and they returned to the par-3 17th for a closest-to-the-pin contest where Mcllroy delivered.
Kevin Harvick took the checkered flag after a dominant 293 laps in NASCAR's return to the track at Darlington to win the Real Heroes 400. With no fans in attendance amid the ongoing coronavirus, Harvick was able to hold of Alex Bowman for his first win of the season. Bowman finished in second while Kurt Busch took third. Chase Elliott and Denny Hamlin rounded out the top five. It's a quick turnaround for NASCAR's Cup Series as the drivers will be back on the track for another cup race at Darlington on Wednesday night.
Next month's Major League Baseball Draft will be held remotely. According to a memo obtained by ESPN, teams will not be allowed to have a draft room and will make all selections via video conference. The first round takes place June 10th, with rounds two through five the next day.
The NFL will allow teams to reopen their practice facilities starting tomorrow contingent on state and local regulations. Clubs will be required to have an infection control officer and are limited to no more than 75 staff members on site. No coaches are allowed and only players rehabbing an injury.
The NHL and NHLPA are making ground on having a plan in place for the playoffs should the season resume amid the ongoing coronavirus outbreak. According to The Athletic, there would be games played before a 24-team playoff would take place. After the return-to-play committee settles on a format, 31 NHLPA player reps would have to vote on it for approval.
5/16/20 Sports
Kobe Bryant's tragic death in a January helicopter accident is still being investigated, but on Friday, one important piece of information came to light. Bryant's pilot, Ara Zobayan, did not have drugs or alcohol in his system at the time of the crash according to his autopsy, the AP reports. On the day of the crash, the conditions on the morning of Bryant's flight were extremely foggy. Zobayan climbed in order to escape the fog and clouds, but eventually plunged into a hillside in Calabasas, California. All nine people on board died in the crash, including Bryant, his daughter Gianna and Zobayan. The coroner's report lists blunt force trauma as the cause of death for all nine. Bryant's widow, Vanessa, has taken legal action on a number of fronts. She is suing the Los Angeles County Sheriff's Department for sharing photos from the crash, and the owners of the helicopter as well as Zobayan's estate for the wrongful death of her husband and daughter. That litigation is in its early stages.
The NBA is considering allowing fans to attend games during the 2020-21 season, but only filling a certain percentage of the arena (with 15-20 percent of capacity being the number currently being reported). NBA Commissioner, Adam Silver, told players in a conference call this week that "It may be that … there'll be a point we can bring a portion of our fans back where they sit every other seat or every third seat." A recent estimate suggested that 40 percent of NBA revenue is derived from fans attending games. At this time, the league is still grappling with the idea of playing games that do not include fans.
NFL Commissioner Roger Goodell informed all 32 teams in a Friday memo that they can return select staff to facilities starting Tuesday, May 19, if their state and local regulations allow it. Coaches and players will still be barred from entry to facilities, but if teams are permitted to gather under state and local guidance, in compliance with additional public health requirements in their jurisdiction, and have implemented previous protocols developed by NFL chief medical officer Allan Sills, they will be permitted to have no more than 50 percent of their staff — not to exceed 75 persons — return for onsite work. Any team that wants to reopen must also have its newly appointed infection control officer complete a required training program, hosted by Dr. Sills, on Monday, May 18. Any team unable to meet all of the criteria, Goodell's memo said, can reopen for up to 75 staff on the earliest date thereafter.
5/15/20 SPORTS
MLB Commissioner Rob Manfred is hopeful that there will be a season starting in the summer. Speaking to CNN, Manfred said he has great confidence that the league will reach an agreement with the players association to start a shorten season in early July. The players have voiced concerns over safety issues involving a return to clubhouses and playing fields. Manfred said the players would be tested multiple times a week for the coronaviarus, along with daily temperature checks and symptoms analysis.
USA Today isn't too confident with the Bears going into next season. The newspaper projected that Chicago would finish 3-and-13 in 2020. Reporter Nate Davis cited the Bears' brutal schedule and a lack of weapons supporting an unsettled quarterback position as reasons for the poor record prediction. Davis believes the team could end up cleaning house rather than returning to the postseason if their defense doesn't produce like 2018. The Bears finished 8-and-8 in 2019 after posting a 12-and-4 record and winning the NFC North in 2018.
NASCAR announced plans for five Cup Series races in June to take place in Tennessee, Georgia, Virginia, Florida and Alabama — all of them without fans. Stock car racing is set to resume this weekend at South Carolina's Darlington Raceway and will continue at Charlotte Motor Speedway in Concord, North Carolina. NASCAR has now set plans for 20 races – including nine in the top Cup Series – as it returns to the tracks after being relegated to only iRacing for more than two months due to public health concerns about the coronavirus.
NBC is still airing racing content over Memorial Day weekend even though the Indianapolis 500 is postponed. The special will feature a re-airing of last year's race along with other features and tributes. The Indy 500 has been postponed until August 23rd.
Power 5 conference commissioners are getting input from NFL commissioner Roger Goodell on returning from the coronavirus. The ACC's John Swofford tells reporters a recent conference call was very positive and he expects more. He says the NFL is ahead of them on developing protocols.
5/14/20 SPORTS
The University of Illinois is recognizing volleyball standout Jacqueline Quade and basketball star Ayo Dosunmu. Both athletes were the recipients of the 2019-20 Dike Eddleman Awards, which are presented annually to the top Fighting Illini female and male athlete. Quade was AVCA All-America Honorable Mention and First-team All-Big Ten this past season. Dosunmu led Illinois to its most Big Ten wins since 2005 and the program's first top-25 ranking in the final season poll since 2006.

The designated hitter will likely be coming to the National League for 2020. MLB Network is reporting the players are overwhelmingly in favor of adopting a universal DH for a condensed season that Major League Baseball hopes to start in early July. Owners approved a proposal earlier this week that would have the DH in place for all games of an 82-game schedule as well as an expanded postseason that would increase playoff teams from 10 to 14. Finances still remain a big hurdle, however, as the players union is not expected to agree to the owners' plan of having player salaries based on a 50-50 split of all regular-season and postseason revenue.

Blues president Chris Zimmerman believes the NHL will complete the 2019-20 season. Zimmerman tells the Post Dispatch that a plan must be put into place that is safe for the players, staff, and fans, but he feels confident that not only will the season finish, the Blues will get an opportunity to defend the Stanley Cup. Zimmerman would also like St. Louis to play a leading role in the return to hockey as a host city.
The NFL has extended its virtual offseason workout program through the end of May. In-person sessions had been barred through May 15, but that ban will now continue through the month. Normally, teams would be holding OTAs in May, followed by June minicamps.
An informal poll of NBA players reportedly showed "overwhelming" support for returning to play and finishing the 2019-20 season. The poll conducted by the National Basketball Players Association showed interest in both finishing at least some of the regular season as well as the playoffs. The exact results of the poll were unknown, and the methodology behind the poll – including how many players participated – was unclear.
Players, caddies and key personnel will be tested once a week at tournaments and have their temperatures taken every day as part of a plan to limit the risk of coronavirus when golf resumes at the Charles Schwab Challenge at Colonial in Fort Worth on June 11-14. Anyone who tests positive will have to withdraw from the tournament and self-isolate for 10 days, provided there are no further symptoms and they get two negative tests 24 hours apart. The tour said it would give players and caddies a stipend to pay for the self-isolation. Andy Levinson, the senior vice president for tournament administration, said the tour would pay for all testing material.
The NCAA has extended indefinitely the deadline for college players to withdraw from the NBA draft and retain their college eligibility, though it will wait to set a new date. The original deadline was June 3, which would've come 10 days after the completion of the NBA scouting combine. NCAA senior vice president of basketball Dan Gavitt said in a statement Wednesday that college sports' governing body won't set a new deadline until the NBA has determined its revised timeline for the predraft process.
A Cleveland Clinic nurse will help jumpstart the coronavirus-delayed NASCAR season this weekend. Frank Mercuri was tapped by the auto racing league to be one of three-dozen grand marshals for Sunday's race in Darlington, South Carolina. Mercuri has spent the past month helping care for COVID-19 patients in New York City.
5/13/20 SPORTS
Talks to restart the season are in progress between MLB and the players union, but so far there is no deal. The New York Post reports a 50-50 revenue-sharing plan was not formally presented after union head Tony Clark said it would not be agreed to. Talks are expected to continue today.
The Blues have set ticket policy guidelines for games postponed by the COVID-19 pandemic. The team says season-ticket holders can apply money spent for the six home games left on the schedule when play was suspended in March as a credit for tickets next season or get a refund. Single-game ticket buyers can get a refund from their original point of purchase or use the money to purchase single-game tickets next season.

The NBA players association is taking a poll of its players to see if they want to resume the season. ESPN reports they've been asked to respond to a yes or no question, with player names and their responses to be confidential. The players union later denied any kind of poll to The Athletic.
The NHL remains optimistic it can resume its season. Deputy commissioner Bill Daly tells The Athletic the trend is positive in most of their markets, with businesses and economics starting to open back up. The NHL and union have been talking through the Return to Play Committee.
A one-hour special called "Tiger Slam," which chronicles Tiger Woods winning all four majors in a span of 294 days spanning 2000 and 2001, is scheduled to air on May 24 at 7 pm. It will be shown shortly after Woods and Peyton Manning face Phil Mickelson and Tom Brady in a charity golf game for coronavirus relief efforts.
It will up to individual states and universities to determine when their college sports teams can resume. NCAA president Mark Emmert says the NCAA will not be implementing a uniform return date from the coronavirus. He says it will be up to local health officials to determine when it is safe.

5/12/20 SPORTS
Major League Baseball is one step closer to returning to the field. Team owners approved the league's plan for restarting the 2020 season. The plan features an 82 game season that would start without fans in early July. It also includes an expanded playoff field and the designated hitter for all games, even those in the National League. The proposal will be submitted to the players' union today.
It appears there will no World Baseball Classic in 2021, ESPN reported the cancellation of the event is imminent, citing one source as saying it;s not a priority right now. It was scheduled for next March in the US, Japan and Taiwan. Organizers expect the classic to return in 2023.
Super Bowl MVP Patrick Mahomes in the odds on favorite to win the NFL's Most Valuable Player in the upcoming NFL season. Mahomes is a four to one betting faviorite to win his second regular season MVP award in the past three season as per Caesars Sportsbook in Las Vegas. Ravens quarterback Lamar Jackson, last season's MVP, is second at 13 to two odds. The lowest odds for a non-quarterback is Panthers running back Christian McCaffrey at 40 to one.
NBA owners willl have more time to decide whether to terminate the collective bargaining agreement. ESPN reports the league and players union have agreed to extend the deadline for possible termination to September due to COVID-19. Both sides hope to have a clearer picture by then.
In golf, Ryder Cup captain Steve Striker has appointed Davis Love III and Zach Johnson as his assistants. Love and Johnson will join Jim Furyk as assistants to the matches, which are stilll scheduled for September 25-27 at Whistling Straits in Wisconsin.
5/11/20 SPORTS
Major League Baseball is set to meet today to discuss its plans for the coronavirus suspended 2020 season with team owners. The Athletic's Ken Rosenthal reports MLB will submit its proposal to the players union tomorrow if owners agree to it. Details of the plan include the season starting in early July, teams playing 78-82 games, games being played without fans to start, and region-based games. That means the Cardinals, Cubs and White Sox would only play teams from the NL and AL Central respectively.

Only 0.7 percent of Major League Baseball employees tested positive for COVID-19 antibodies from the 26 teams that volunteered to participate in a coronavirus antibody study performed in mid-April. Of the 10,000 employees to be tested, data on approximately 5,600 employees has been analyzed for the antibodies, and from this sample, 60 tested positive for the COVID-19 antibodies.
Daytona 500 winner Denny Hamlin was victorious in NASCAR's final iRace of the season, winning at a simulated version of throwback North Wilkesboro Speedway. Hamlin won the series' first iRacing event on March 22 and reached prominence again when his daughter asked him questions and accidentally turned off his screen during another virtual race. NASCAR is expected to return on May 17 at Darlington Raceway.
After the success of the NFL's virtual draft last month and with no definitive end to COVID-19 pandemic in sight, the NHL is considering mixing up its league calendar by holding the draft before completing the 2019-20 season. After first postponing its draft scheduled for June 26-27, the league is now considering moving the event, in all-virtual form, to the beginning of June. Normally a hot-bed for trades and team improvement, a draft held with the season still pending would prevent teams from altering their rosters other than selecting young players. Team personnel are reportedly conflicted about the idea but are telling their scouting staffs to be ready by early June.

The president of the University of Virginia told CBS' "Face The Nation" that he doesn't expect the season to be normal if college football is able to be played in the fall. James Ryan said the Cavaliers, who won the ACC Coastal Division last season, will not resume workouts until medical officials say it's safe to do so. Last week, Virginia was one of nine ACC schools that said it was making plans to reopen its campus this fall.
5/9/20 Sports
Former NBA player Shannon Brown has been arrested for aggravated assault after an incident at his home in Georgia, as first reported by TMZ. The alleged incident, which took place on May 2, occurred when a couple looking for homes in Tyrone, Georgia noticed a "for sale" sign in Brown's front yard. Interested in touring the house, the couple noticed Brown's gate was open, and after reportedly announcing their intentions, claim they were told to come in. Brown allegedly confronted them after that before letting them leave. The couple claims, however, that Brown fired five or six gunshots at them as they left. A police spokesperson says that they found one shell casing in the area, and proceeded to arrest Brown for aggravated assault. Nobody was injured in the incident. Brown bonded out of jail on May 4. He has not yet issued a public comment. He does not have a prior criminal record. The 34-year-old Brown has not played in the NBA since the 2014-2015 season.
Major League Baseball has reached an agreement with the players that the draft will be just five rounds this season. The deal was finalized Friday evening. The draft has for the past several years been 40 rounds. As part of the agreement, teams can sign an unlimited number of undrafted free agents for $20,000. The reason for the drastic reduction in the number of rounds is for owners to save money.
Ronaldo Souza, who was scheduled to fight Uriah Hall at UFC 249 on Saturday in Jacksonville, Florida, has tested positive for the coronavirus. The UFC immediately pulled the 40-year-old Souza from the event, but it still plans on moving forward with the rest of the pay-per-view lineup. The UFC also said two of Souza's cornermen tested positive. "UFC's medical team examined Souza and his two cornermen and found them to be currently asymptomatic, or not exhibiting the common symptoms of COVID-19," the promotion said in a statement. "As per UFC's health and safety protocols, all three men have left the host hotel and will be self-isolating off premises, where UFC's medical team will monitor their conditions remotely and will provide assistance with any necessary treatment."
A Shoeless Joe Jackson baseball card from a 1910 series called T210 Old Mill has sold at auction for $492,000. Heritage Auctions said the auction ended after bidding that continued late into Thursday night. The winning bidder's identity was not revealed. The card had belonged to Hayes and Ben Foster.
5/8/20 SPORTS
The 2020 NFL schedule is now availabale. The defending champion Chiefs will host the Texans on Thursday, Sept 10, to kick off the season. The Bears will open the season at Detroit on September 13. The first home game is the following week against the Giants. The Colts opener is September 13 at Jacksonville with the fist home game September 20 against the Vikings.
A handful of NBA teams are re-opening their practice facilities today. The Cavaliers, Trail Blazers and Nuggets are among the team who will allow players to work out at team facilities for the first time since play was suspended in March. Teams are not permitted to hold organized practices and coaches cannot be present.
It's not clear when the NHL will return, but the league is reportedly discussing various playoff formats. According to TSN, the league discussed a 16, 20 and 24 team playoff format in its return to play committee call. Teams that may have missed the playoffs could not potentially get in under the expanded format.
A golf match involving Tiger Woods and Phil Mickelson as well as NFL legends Peyton Manning and Tom Brady will contain a $10-million dolllar donation for coronavirus relief efforts. Turner Sports, which will televise the match pitting Woods and Manning against Mickelson and Brady at the Medalist Golf Club in Florida on May 24, also announced the event will be a best ball format for the front nine and an alternating shot format for the back nine.
IndyCar will start its season on June 6 with a night frace at Texas Motor Speedway without spectators. Practice, qualifying and the race will all take place on the same day with the number of personnel on site limited and a health screening system administered to all participants. The Indianapolis 500, originally scheduled for May 24, has already been moved to August 23.
Your home for Cardinals baseball, WOKZ 105.9, is continuing with its replay of classic Cardinals broadcasts from the 2011 World Series championship season,. Tonight's broadcast is game four of the 2011 World Series against the Texas Rangers. Game five is tomorrow, game six Sunday and the deciding game seven is Monday. The broadcasts begin at 6:15 each evening.
5/7/20 SPORTS
The NFL schedule is being released today. All 32 teams will find out when and where they will be playing for the 2020 season. The league has a contingency plan in case the coronavirus pandemic gets worse.
The NFL is taking its next steps toward re-opening its facilities. According to ESPN, the league has sent out a memo to all 32 teams instructing them to have re-opening protocols in place by May 15th for their facilities. Team facilities have been shutdown since March amid the COVID-19 outbreak.
MLB is telling its players to get ready. According to ESPN, the league is finalizing a return-to-play proposal. Teams have begun to inform players to prepare for a potential spring training in June with a season beginning in July. The league is suspected to have the proposal ready within the week.
Several major conferences have announced the number of their schools that expect to open their campuses in the fall, which could open the door for the start of the college football season. In the Big 12, all 10 schools expect their campuses to be open, while all but Vanderbilt in the SEC will open this fall. In the ACC, eight of the 14 schools plan to open and five of the 12 in the Pac-12 believe they'll open. In the Big Ten, however, not one of the 14 schools can say for certain if they'll have students back this fall.

The Maryland Jockey Club and NBC Sports have set aside three possible dates to hold this year's Preakness Stakes, traditionally the second jewel in horse racing's Triple Crown. Baltimore's NBC affiliate reported that the race will be moved to Oct. 3, though officials are also considering the possibility of holding it in either July or August. The Preakness was to be held May 16, two weeks after the Kentucky Derby which was also postponed by the coronavirus pandemic. Churchill Downs announced last month it has rescheduled the Derby for Sept. 5.
5/6/20 SPORTS
Cardinals and Cubs fans will get the chance to relive the 1998 home run race between Mark McGwire and Sammy Sosa next month. ESPN's new 30 for 30 film "Long Gone Summer" will examine the steroid-tainted chase of Roger Maris' home run record. The program will feature in-depth interviews with McGwire and Sosa. Both men will discuss that summer at length, including its lasting legacy and complications. It is set to air on ESPN Sunday, June 14th at 8 pm.
Former Cardinal Jim Edmonds is helping in the fight against the coronavirus. Edmonds donated his plasma at Mercy Hospital in St. Louis on Monday, over a month after he tested positive for COVID-19. The plasma will be used to treat patients unable to fight off infection. Edmonds was tested for the virus in March after taking a trip to Nashville. The eight-time Gold Glove Award-winner and four-time All-Star played 18 seasons in the majors with the Cardinals, Angels, Padres, Cubs, Brewers and Reds.
It's going to be a while before your favorite MLB team is playing baseball again. Union chief Tony Clark tells ESPN that despite all of the ideas floating around, they have not received anything formal that details an actual plan to start the season. Clark says health and safety remains the priority.
Three Illini football players are getting high marks from Mel Kiper Jr. The ESPN football analyst has ranked punter Blake Hayes, center Doug Kramer, and kicker James McCourt among the top 2021 NFL Draft prospects at their positions. Hayes is the number-one punter, McCourt is the number-two kicker, and Kramer is the number-five center according to the draft expert.
Three weeks after being fired by Chip Ganassi Racing for using a racial slur during an iRacing event, Kyle Larson plans to race Friday at a dirt track event at Knoxville Raceway in Iowa. Larson, who is from Iowa, began his career racing dirt tracks across the West Coast. Friday's race will be run without fans due to the coronavirus pandemic.
LeBron James revealed that former President Barack Obama will speak as a part of a television special to honor graduates in the Class of 2020. The special will air simultaneously on NBC, ABC, CBS and Fox on May 16, as well as on TikTok, Facebook, YouTube and other digital services. "You all worked so hard the past four years and deserve the best commencement we can bring to you and your family," James tweeted.
5/5/20 SPORTS
Cardinals fans are getting a chance to hear from some Cardinals legends. The Cardinals Town Hall Event takes place Wednesday night. The webinar is an evening of baseball discussion with Cards' Hall of Famers Ozzie Smith, Willie McGee and Cardinals Alumnus and current broadcaster Ricky Horton. The town hall will be hosted by Dan McLaughlin of FOX Sports Midwest. Fans can register for the webinar on the team's website.
In keeping with its plan of playing a full season and starting in September amid the coronavirus pandemic, the NFL will reveal its 2020 schedule Thursday night with a three-hour broadcast on the NFL Network. The schedule will not include any games outside of the US this season, as the NFL has moved the five regular-season contests that had been scheduled for London and Mexico City back to the stadiums of the host teams. Though it plans for the season to begin on time, the
NFL has yet to decide whether early-season games will have fans attending.
Legendary football coach Don Shula has passed away at the age of 90. Shula was the winningest coach in NFL history with 347 victories between the regular season and playoffs to his total. The Hall of Fame coach led the Dolphins to the NFL's only perfect season in 1972. Shula won two Super Bowls with the franchise. He also played in the league from 1951 to 1957.
The Big Ten Conference has extended the suspension of all organized team activities until June 1st. The conference originally postponed spring sports and on and off campus recruiting in mid-March. Big Ten officials say their main priority is to ensure the health, safety and wellness of student-athletes, coaches, and fans.
In what will be the first live golf event since the pandemic shut down the sports world, Rory McIlroy and Dustin Johnson will face Rickie Fowler and Matthew Wolff in a $3 million charity skins match for COVID-19 relief on May 17 at the fabled Seminole Golf Club. McIlroy and Johnson are playing for the American Nurses Foundation, while Fowler and Wolff will play for the CDC Foundation. It will be the broadcast debut of South Florida's Seminole Golf Club, which has never been ranked outside of the top 20 on Golf Digest's list of "America's 100 Greatest Golf Courses" since the ranking began in 1966.
Baseball is back on television. ESPN is airing six regular-season games per week of South Korea's KBO baseball league. The league kicked off its season today, and the first game between the NC Dinos and the Samsung Lions aired this morning. Karl Ravech, Eduardo Perez, Jon Schiambi, Jessica Mendoza and Kyle Peterson will broadcast the games in English for American viewers.

5/4/20 SPORTS
Rend Lake College has announced the hiring of Woodlawn High School basketball coach Brian Gamber as the Warriors' new men's coach. Gamber has spent the last six seasons at Woodlawn, where he amassed a career record of 91-34 as head coach over the last four years. He replaces Tommy Holder, who stepped down in April.
William Byron earned a third iRacing victory in four events, pulling out a win at virtual Dover International Speedway. Byron passed Timmy Hill with seven laps remaining to give Hendrick Motorsports drivers four consecutive iRacing victories after Alex Bowman won last week at virtual Talladega Superspeedway.
The legend of Secretariat continues to grow. The 1973 Triple Crown winner waited until the final lengths to surge past the rest of the competition to win the 2020 virtual Kentucky Derby, which featured every Triple Crown winner. Secretariat was able to hold off Citation and Seattle Slew. The Kentucky Derby was a computer-simulated race this year amid the ongoing coronavirus.
The NBA is delaying the draft lottery and draft combine. The lottery was scheduled for May 19th with the four-day draft combine to begin on May 21st. The draft is scheduled for June 25th, but likely will be pushed back as the league explores options to resume the season. The NBA has not played since March 11th due to the pandemic.
While the NBA waits to resume this season, it could push back its next. ESPN reports the board of governors have discussed delaying the start of the 2020-21 season until December. The draft lottery and combine are being postponed, with a decision on the NBA Draft itself to come.
Despite the unknown of if there will be any football later this year, the NFL still plans to release its schedule. The league confirmed that it will be releasing its full 17-game schedule late this week. As of now, games are still expected to begin on September 10th, with Super Bowl 55 taking place on February 7th in Tampa. The league continues to evaluate contingency options for starting the league year amid the ongoing coronavirus pandemic.
The NHL could be looking to hold its entry-level draft before the current season resumes. According to TSN, the league said in a memo that it would need a month to get ready for a virtual draft, meaning the earliest it could occur is in early June. The memo reportedly states the benefits of an early draft. There are however questions and concerns regarding the status of draft picks and draft order that are tied to a season that has not yet been finished. The league is currently on pause amid the ongoing coronavirus pandemic.
Former major league pitcher Matt Keough, who pitched for both the Cardinals and Cubs, died Saturday night. He was 64. Keough was with the Cardinals in 1985 and the Cubs in 1986. He was an A's executive and a 1978 American League All-Star as an Oakland rookie. He also pitched for the Yankees and Astros, plus four years in Japan.
5/2/20 SPORTS
The NBA has delayed the upcoming NBA Draft Lottery and NBA Draft Combine indefinitely, according to a release from the league. The NBA was already reportedly considering delaying the actual draft, and according to reports, and it is expected that it will be done eventually. Commissioner Adam Silver and the NBA Board of Governors continued discussions Friday about delaying the start of the 2020-2021 season until December. Amid the coronavirus pandemic, the NBA's thinking and planning has progressed on the idea independent of whether the 2019-2020 season is resumed and completed.
Cleveland Indians pitcher Emmanuel Clase has been suspended 80 games under Major League Baseball's Joint Drug Agreement. The 22-year-old Clase came to the Indians organization along with Delino DeShields in the trade that sent long-time Indians ace Corey Kluber to the Rangers. In February, it was announced he was going to miss 8-12 weeks due to to a back injury.
5/1/20 SPORTS
Officials with the Fairfield Summer Baseball Association have announced plans to start the 2020 season on June 1st. According to a Facebook post from the group, players need to sign up as soon as possible so that officials can have everything in place and be ready to start on June 1st. Sign ups will be at Christina Copeland Country Financial at the Wayne County Farm Bureau Office at 301 E Court Street. There will be a tote in front of the building between eight am and four pm daily with forms and and envelopes inside. You can put your form and check in the envelope and drop it back in the tote, which will be collected daily. Officials add no checks will be cashed until they are cerain there will be a season.  
NASCAR will resume its season with two Cup Series races within a four-day span at Darlington Raceway beginning May 17. Both events will take place without fans as will the Coca-Cola 600 over Memorial Day weekend at Charlotte Motor Speedway. NASCAR, which suspended its season March 13, becomes the second major North American sporting organization to announce a specific date to resume holding live events since the coronavirus shutdown. UFC president Dana White said earlier this week he will hold three events in Jacksonville, Florida beginning May 9.
A second spring training for MLB teams could take place at their home ballpark. USA Today cites four team execs as saying the league is preparing for that possibility to save time, money and travel. With New York being so hard hit by COVID-19, the Yankees and Mets could opt to go back to Florida.
For the first time ever, there will be no Little League World Series this year. It's been canceled due to the coronavirus pandemic. Regional tournaments and championships in other Little League divisions have also been canceled. All events are expected to return next summer.
The NHL could start next season several months late in order to finish this season and the playoffs. Commissioner Gary Bettman tells NHL Network there's no magic to beginning in October as they traditionally do. Bettman says a November or even December start will be considered.
Meanwhile, the coronavirus suspended NHL season is causing financial issues for the Blues. The Post Dispatch reports the team has informed employees that staff furloughs will begin on Monday. Staffers who aren't laid off will take a 20-precent salary cut. Furloughed employees will continue to receive health benefits and be eligible to receive unemployment insurance, as well as apply for help from the team's Employee Assistance Program. The Blues didn't say how many employees would be furloughed.
The NCAA is now considering holding off on a change that was recommended to the transfer waiver process in early February that permitted all athletes to switch schools once without having to sit out a season. The NCAA Board of Governors is recommending sticking with the current rule that requires football, baseball, men's hockey and men's and women's basketball players to sit out a season after transferring.
4/30/20 SPORTS
The Cardinals are revealing their ticket refund policy for April and May games at Busch Stadium impacted by the coronavirus pandemic. Season ticket holders will receive an account credit to be used on a future game or a refund if requested. Single-game and theme ticket buyers will be refunded the full purchase price, including all fees. The refund will be automatically credited back to the original credit card used for purchase.
The Cubs and White Sox, meanwhile, are also refunding tickets for March, April, and May games that were affected by the COVID-19 pandemic as well. Season ticket holders for the Cubs have the option of receiving a credit plus a five percent bonus for their tickets. Refunds for Cubs single-game ticket holders will be processed using the same method of payment within the next two weeks. White Sox fans who purchased individual game tickets, parking and Huntington Bank Stadium Club passes will have the option to obtain a refund through the original purchaser's account. Season and premium seat ticket holders will be contacted directly by the Sox ticket sales and service department.
The Baseball Hall of Fame has canceled induction ceremonies for the 2020 class due to the coronavirus pandemic, with this year's inductees to be enshrined along with next year's new members on July 25, 2021. This year's ceremony had been scheduled to take place July 26 in Cooperstown. The 2020 class includes former Cardinals Larry Walker and Ted Simmons as well as Yankees great Derek Jeter and former union chief Marvin Miller elected by the veterans committee.
The NHL is outlining a plan that could have players back in their home rinks by mid-May and the season restarting in July, though that's the best-case scenario as the sport continues to figure out a way to hold games amidst the coronavirus pandemic. The league remains hopeful it can conduct a full regular season or something close to it as well as a complete playoffs that would likely end with the Stanley Cup being awarded in September. Regular-season games would be held in empty arenas with the sites yet to be determined, with commissioner Gary Bettman saying last week the league is looking at potentially playing in four cities with as many as three games played per day at a site. Bettman also emphasized that no decisions have been made and that government officials will have the final say in when games can resume.
The NCAA Board of Governors is supporting a plan that will allow athletes to earn money for their names, images and likenesses without involvement from the NCAA, schools or conferences. The proposed rule changes will still have to be voted on by NCAA membership at the next convention in January, and the NCAA said it will ask Congress to help keep states from passing their own compensation laws and to come up with a national standard.
Lakers star LeBron James is recognizing high school graduation classes across the country. His Family Foundation will collaborate on "Graduate Together: America Honors the High School Class of 2020." It will include sports and music stars and air May 16th on multiple networks and social media.
4/29/20 SPORTS
Mt Vernon High School boys basketball coach and Athletic Director Doug Creel has stepped down. The Mt Vernon School Board accepted his resignation earlier this week. A Mt Vernon native, Creel is the winningest coach in Mt Vernon High School history. He will stay on for three months to help with the transition to a new AD.
Illinois defensive end Oluwole Betiku is getting a chance to play in the NFL. The native Nigerian has signed a free agent contract with the New York Giants. Betiku declared for the NFL Draft after earning All-Big Ten third team honors during his one season in Champaign.
Major League Baseball is optimistic it can start its season by late June. USA Today reports a new alignment plan is being explored that would feature at least 100 games, with all teams playing in their home park. The season would start no later than July 2nd. The league would be split into three, ten-team divisions with games only against divisional foes until the playoffs.
Major League Baseball has informed teams they can decide their own ticket refund policies. Baseball's decision comes a week after two fans in California sued MLB, all 30 teams and ticket companies seeking refunds. The Cardinals, meanwhile, are expected to announce plans this week for ticket refunds for games that aren't likely to be rescheduled because of the coronavirus crisis. The Cardinals have had 13 home games postponed, with another six in early May set to be pushed back.
North Carolina Governor Roy Cooper says NASCAR can go forward with the Coca-Cola 600 on Memorial Day Weekend at Charlotte Motor Speedway without fans in attendance, unless health conditions deteriorate in the state. Cooper said he and state public health officials have had discussions with NASCAR and the speedway regarding safety protocols for staging the race. He also said NASCAR should have an announcement later this week. Most teams are based in the Charlotte area and are expected to return to work this week as essential businesses.
4/28/20 SPORTS
The NBA has pushed back the possible reopening date of some team practice facilities for at least a week until May 8 at the earliest, saying Monday the extra time was needed in part to make sure player training options would be safe and controlled in an effort to try to mitigate the threats caused by the coronavirus pandemic.
The NFL is open to playing a later Super Bowl or eliminating the Pro Bowl if the 2020 season is delayed. The Sports Business Journal reports that the league has discussed many different alternatives, including pushing the Super Bowl date back from February 7th to February 28th. Eliminating bye weeks is also an option.
Chicago Mayor Lori Lightfoot believes the Cubs and White Sox could play home games this year. However, the mayor says the games will likely be played without fans. Major League Baseball is determined to play at least some of the regular season after suspending spring training last month and postponing the start of the season because of the coronavirus pandemic. Lightfoot says a decision on whether professional sports will return will be made at the major-league level.
Former NASCAR champion Matt Kenseth will replace fired driver Kyle Larson for Chip Ganassi Racing. Kenseth, one of five drivers in NASCAR history to win a Cup Series championship, rookie of the year award and the Daytona 500, had been retired since the 2017 season and got the job ahead of Ganassi development driver Ross Chastain, who was assumed to be the leading contender as Larson's replacement. Larson was fired two weeks ago for using a racial slur during a live stream of a virtual race.
The HBO television show "Real Sports" is returning from a suspension forced by the coronavirus before the real sports themselves begin again. Host Bryant Gumbel will appear tonight in a roundtable with sportscasters Mike Breen, Joe Buck and Jim Nantz. The show will have a story about quick pivots, such as a company that switched from manufacturing lacrosse helmets to protective gear for medical workers, and another piece on sports entities that moved too slowly to cancel events. April marks the 25th year that "Real Sports" has been on the air.
4/27/20 SPORTS
ESPN's ten-part documentary about the 90's Bulls is four episodes in. The third episode of the docuseries "The Last Dance" focused a lot on Dennis Rodman's role on the team, as well as his off the court antics. The Bulls-Pistons heated rivalry in the late 80's and early 90's was also featured. Phil Jackson's childhood and journey to becoming the Bulls head coach was detailed in episode four. It also showed Chicago finally beating Detroit and winning their first NBA title over the Lakers in 91. Episodes five and six air next Sunday.

The NFL's "Draft-A-Thon Live" was a rousing success for the charitable drive. The fundraiser helped raise more than 6.7-million-dollars during the 2020 NFL Draft this past weekend, contributing to a collective total of more than 100-million-dollars raised by the league for COVID-19 relief efforts. The three-day event was viewed by more than 55 million viewers.
The Bears' 2020 NFL Draft Class is headlined by tight end Cole Kmet. Chicago drafted the Notre Dame tight end with the 43rd pick in the second round, seven picks before taking Utah cornerback Jaylon Johnson. The team also drafted edge rusher Trevis Gipson, receiver Darnell Mooney, cornerback Kindle Vildor and offensive linemen Arlington Hambright and Lechavious Simmons. After the draft, the Bears signed Khalil Mack's younger brother Ledarius as an undrafted free agent.
The Colts hope to get some offensive playmakers from this year's NFL Draft. Indy selected receiver Michael Pittman Junior and running back Jonathan Taylor in the second round. The Colts also added Washington quarterback Jacob Eason in round four. Ball State guard Danny Pinter was selected in round five. The Colts didn't have a first-round choice after trading it to San Francisco for DeForest Buckner.
Some NBA players could be back working out in familiar territory by the end of the week. ESPN reports the league plans to reopen team facilities on Friday in states where stay-at-home restrictions have been loosened. Group workouts and organized team activities are still prohibited.
Ryan Newman will race again. The NASCAR driver said Sunday he will get behind the wheel of a stockcar once the coronavirus quarantine is lifted. The announcement comes two months after he was involved in a fiery crash at the Daytona 500 on February 17th, escaping with relatively minor injuries. NASCAR could resume as soon as May 17th, according ot FOX: NASCAR Host Mike Joy.
Meanwhile, NASCAR's iRacing series continued with a virtual race from Talladega, which Alex Bowman won by holding off Corey LaJoie and Ryan Preece in a two-lap overtime. The victory was the third straight for Hendrick Motorsports, with William Byron claiming the previous two virtual races at Richmond and Bristol. Retired Hall of Famer Jeff Gordon made his iRacing debut and finished 38th.
4/25/20 Sports
Chloe Britton of Fairfield Community High School has announced she will be continuing her academic and athletic career at Lincoln Memorial University in Tennessee. Britton played setter and hitter for the Lady Mules during her junior year, helping guide Fairfield to an Elite 8 appearance. Lincoln Memorial University is a private, liberal arts school in Harrogate, Tennessee and their mascot are the Railsplitters. This past season, LMU finished 11-19 overall, 10-12 in the South Atlantic Conference. They are coached by Jenny Michael.
Rounds 2 and 3 of the NFL Draft occurred last night. Jeremy Chinn of Southern Illinois was drafted by the Carolina Panthers as the 64th pick. Chinn was a team captain and four-year starter at safety for the Salukis. Rounds 4-7 will begin at 11 a.m. today.
FOX Sports Midwest play-by-play announcer of the St. Louis Blues, John Kelly, will participate in a study that will help determine whether antibodies from recovered COVID-19 patients can help those who are still battling the disease. Kelly was diagnosed with double pneumonia in March and later tested positive for the coronavirus, but has now fully recovered and will donate plasma for the study. Kelly will donate plasma for the study at the American Red Cross on May 2.
4/24/20 SPORTS
The top of the NFL's first virtual draft went as expected as the Bengals made LSU Heisman Trophy-winning quarterback Joe Burrow the first overall selection. The Redskins followed by grabbing Ohio State pass rusher Chase Young before the Lions chose cornerback and Buckeyes teammate Jeff Okudah with the third pick. After the Giants went with Georgia offensive tackle Andrew Thomas, the next two picks were quarterbacks. Alabama's Tua Tagovaiola went to the Dolphins at No. 5 and the Chargers took Oregon signal-caller Justin Herbert sixth. Auburn defensive tackle Derrick Brown went 7th to Carolina. Arizona went with Clemson linebacker Isaiah Simmons at No 8, Jacksonville took Florida cornerback CJ Henderson 9th and Cleveland took Alabama offensive tackle Jedrick Willis at No 10. Neither the Colts or the Bears had selections in Round one. The draft resume today with rounds two and three.
The NFL has awarded the 2022 draft to Las Vegas, which was supposed to host this year's draft before it was converted to a virtual format because of the coronavirus pandemic. Commissioner Roger Goodell announced Vegas' selection on the draft broadcast. Next year's draft will be held in Cleveland.

Legendary broadcaster Vin Scully has been hospitalized after falling at his Los Angeles-area home, but is expected to be released soon. The Dodgers said the 92 year old Scully fell Tuesday and was hospitalized for observation. Scully, who retired after the 2016 season after calling Dodgers games for 67 years, said "I won't be doing anymore head-first sliding. I never liked it."
MLB and Minor League Baseball put out a joint statement yesterday regarding possible team contraction. The statement said that discussions are ongoing from both sides and an agreement will be reached in the future. The MLB reportedly wants Minor League Baseball to reduce their number of teams by 40.
North Carolina Governor Roy Cooper says he's considering a request to run the Coca-Cola 600 as scheduled next month without fans. The race is set for May 24th. Cooper says NASCAR teams can work in their race shops as long as they maintain social distancing guidelines. Only four races have been run this season.
Tom Brady is still getting used to his new surroundings in Tampa. TMZ reports the new Buccaneers quarterback went to visit Tampa offensive coordinator Byron Leftwich this month, but accidentally walked into the house next door.
4/23/20 SPORTS
The first-ever virtual NFL Draft begins tonight with the Cincinnati Bengals first on the clock. All teams will make their picks from home due to the coronavirus pandemic. Commissioner Roger Goodell will also announce selections from his house. The three-day draft runs through Saturday.
The state's top in-state recruit is officially a member of the Illinois basketball program. Head coach Brad Underwood announced yesterday the signing of consensus top-40 recruit Adam Miller to a national letter of intent. The 2020 Illinois Mr. Basketball is a 6-foot-3-inch combo guard who starred at Chicago's Morgan Park High School. Miller averaged 27.4 points, 6.3 rebounds, 5.6 assists, and 2.3 steals during his senior season. He helped lead Morgan Park to a 22-and-9 record and IHSA Class 3A sectional finals before the state tournament was canceled due to COVID-19.
The Cardinals will pay all their employees at least through May while the season is on hold due to the coronavirus pandemic. The club has confirmed that there has been no layoffs. The Cards are awaiting guidelines from Major League Baseball to establish policies for refunds of game tickets. No decision has been made on whether any games will be canceled.
MLB is stripping the Red Sox of its second-round draft pick and suspending its video replay system operator through 2020 as a result of a 2018 sign-stealing scandal. Former manager Alex Cora is also suspended, but for his role with the 2017 Astros.
The NHL is abandoning the idea of neutral site games at smaller venues. ESPN reports the league is now focused on regional NHL arenas to host games assigned by division. The league hopes to select one arena per division to host all of that division's games.  If approved, the Blues and Blackhawks would play the rest of the paused 2019-2020 season in Minnesota. The league is targeting a June training camp and a July regular season resumption.
NFL greats Tom Brady and Peyton Manning will join Tiger Woods and Phil Mickelson for a charity golf match next month. Turner Sports reports "The Match: Champions for Charity" will help COVID-19 relief efforts. TNT will telecast the event live at an undisclosed course without spectators.
The Playing Rules Oversight Panel of the NCAA has approved several rules changes in colllege football. Players ejected from football games for targeting will now be allowed to remain on the sidelines. Instant replay officials will now have to complete video reviews in less than two minutes. Officials now have to put at least three seconds on the clock at the end of a half if replay determines there was time remaining. Officials' jurisdiction of a game will now begin 90 minutes before kickoff instead of the current 60. There had been concerns about dust-ups between opponents before officials were required to be on the field. And only two players on a team will be allowed to wear the same jersey number to limit confusion among officials and to make opponent scouting less difficult. The players must not be on the field at the same time. Also, players will be allowed to wear number "0" this season.
4/22/20 SPORTS
The IHSA has announced it is canceling all spring state tournaments. The decision comes in conjunction with the April 17th announcement by Governor JB Pritzker and the Illinois State Board of Education that all Illinois high schools will complete the 2019-20 school term from home via e-learning. The IHSA offers spring state tournaments in Baseball, Softball, Boys & Girls Track & Field, Boys Tennis, Bass Fishing, Girls Badminton, Boys Gymnastics, Boys & Girls Water Polo, Girls Soccer, Boys & Girls Lacrosse & Boys Volleyball. The IHSA is also suspending summer contact days for this year unless state government and medical leaders indicate such gatherings are safe.  At that time, the IHSA could reconsider how summer contact might be conducted and whether opportunities for schools to conduct some kind of spring athletic events might occur.
There were be 40 fewer minor league baseball teams next season as the minors are agreeing to Major League Baseball's proposal to cut guaranteed affiliations from 160 to 120. In this major overhaul in which Major League Baseball would take over the minor league's governing body, MLB would oversee selling sponsorship, licensing and media rights for its minor league affiliates.
Commissioner Rob Manfred has made a move that allows teams to lay off or cut the pay of major and minor league managers, coaches, trainers and full-time scouts starting May 1. Manfred has suspended uniform employee contracts that cover about 9,000 people, including general managers on some teams. Manfred cited the inability to play games due to the national emergency caused by the new coronavirus pandemic.
Michael Jordan is donating all the proceeds from "The Last Dance" docuseries. Forbes reports that the NBA legend is set to make between three to four-million from the ESPN series, which focuses on the Chicago Bulls' 1997 to 1998 season. The first two parts of "The Last Dance" premiered over the weekend. Jordan has not yet announced which charities he will donate to.
4/21/20 SPORTS
The remainder of the Upward Basketball program in Fairfield has been cancelled. Those with children enrolled in the season should call the CP Church at 618-847-5281 in order to schedule a time to pick up pictures and awards for their children.
The United State Supreme Court will not hear a case involving the Rams' move to Los Angeles. The city of St. Louis, St. Louis County and others parties filed a suit against the Rams alleging breach of contract and other violations. The Supreme Court's decision now means that the case will either be heard in St. Louis County or settled out of court.
The coronavirus is expected to cancel nearly half of this year's major sports events. Two Circles sports marketing agency projects only 53-percent of scheduled events will actually take place during 2020. That counts events with expected attendance of at least five-thousand.
MLB will allow major and minor-league teams to reduce pay or lay off managers, coaches, trainers and full-time scouts starting May 1st. Uniform employee contracts are being suspended, affecting about nine-thousand. Some clubs say they'll pay employees through May.
Former Yankees star Alex Rodriguez and his fiancee, pop star Jennifer Lopez, are making moves in an effort to buy the Mets. The New York Post reports they've retained J.P. Morgan Chase to assist with the bidding process. The couple would likely be part of a larger ownership group.
4/20/20 SPORTS
ESPN debuted the first part of its documentary on the Chicago Bulls yesterday. The first two portions of the 10-part miniseries aired on ESPN and ESPN2. The documentary, title "The Last Dance", follows the Bulls' final season with their core of Michael Jordan, Scottie Pippen, Phil Jackson and Dennis Rodman.
The NBA still does not have a time table to resume its suspended season. Commissioner Adam Silver said Friday that the league still isn't in the position to make a decision due to the uncertainty of the coronavirus pandemic. Play was suspended more than a month ago on March 11th.
Beginning next month, NBA players will receive a 25-percent pay cut. The league and the players' union agreed to the deal over the weekend. Players will get a full check on May 1st before the cuts begin on the May 15th. They will eventually be recouped once play resumes.
William Byron won his second consecutive iRacing event, holding off Timmy Hill at virtual Richmond Raceway. It was a drama-free event after Kyle Larson was fired this past week for using a racial slur during a non-NASCAR sanctioned iRacing event last weekend.
The 2020 NFL Draft kicks off on Thursday with round one. Rounds two and three are Friday, and the final four rounds are set for Saturday. The entire draft will be virtual.
Wayne Gretzky said he thinks the NHL will resume play this summer, with "The Great One" believing that the leadership in the United States and Canada will be able to figure it out. Gretzky, who is self-quarantining in California, says he really believe that we'll see hockey and some sort of other sports in June, July and August, albeit in a different way.

4/16/20 SPORTS
Illinois star Ayo Dosunmu is declaring for the NBA draft. The sophomore guard can return to the Illini if he withdraws before the NCAA's June 3rd deadline for maintaining eligibility. The 6-foot-5 Dosunmu led Illinois to its best record in a decade this past season at 21-and-10, averaging team highs of 16.6 points and 3.3 assists. The Illini were headed for their first NCAA Tournament appearance since 2014, but postseason play was canceled due to the coronavirus pandemic.
Sammy Blais is staying with the Blues. The team has agreed to terms with the forward on a two-year, three-million-dollar contract extension. Blais has been limited to just 11 games this season due to injury, recording one goal and two assists. In 83 career games over three seasons with the Blues, he has posted nine goals and 11 assists.
Dr. Anthony Fauci says if pro sports are to return this summer, it will have to be without fans. The medical face of the US fight against the COVID-19 virus tells Spapchat's Peter Hamby that players could stay in big hotels wherever games are played and be tested weekly.
Despite no games, the late Jackie Robinson is still being remembered. Wednesday was the 73rd anniversary of him breaking MLB's color barrier with the Dodgers. Former outfielder Curtis Granderson donated 42-thousand meals to food banks in honor of Robinson's retired number-42.
The NTSB says Hall of Fame pitcher Roy Halladay mixed drugs and dangerous stunts when he crashed his small plane and died in 2017. The report released yesterday says Halladay had 10 times therapeutic levels of amphetamine in his system and was doing extreme acrobatics.
The NBA's virtual HORSE Challenge resumes tonight. ESPN will televise the semifinals and finals beginning at 8 pm. The semis pit Chauncey Billups against Mike Conley and Zach LaVine against Allie Quigley. All the participants are streaming shots from their home court.
4/15/20 SPORTS
It's Jackie Robinson Day in Major League Baseball. Today marks the 73rd anniversary of his breaking baseball's color barrier with the Brooklyn Dodgers in 1947. Players and coaches throughout the league usually wear his retired number-42 on this day, but this year's Jackie Robinson tributes will be done online.
Major League Baseball players and team employees will be getting tested for coronavirus antibodies. Up to 10-thousand will be tested as part of a comprehensive study that will help researchers determine how widespread the virus is in metropolitan areas across the country. Test kits will have results in 10 minutes.
The Cubs are mourning the passing of former manager and general manager Jim Frey . The Ohio native died Sunday at his home in Florida at the age of 88. Frey guided Chicago to the 1984 National League East title as manager, their first playoff appearance in 39 years. He led the Cubs back to the postseason in 1989 as their general manager. Frey also managed the Royals to their first World Series appearance in 1980.

Kyle Larson's racing team is shifting gears on his employment. Chip Ganassi Racing has fired the NASCAR driver after he used a racial slur over the weekend. Larson uttered the N-word during a live-streamed iRacing tournament. NASCAR suspended Larson on Monday and he was dropped by numerous sponsors.
Five FBS conferences want the NCAA to ease requirements to compete in Division One the next four years. Yahoo! Sports says commissioners from the AAC, Conference USA, Mountain West, Mid-American and Sun Belt sent a letter asking for relief over financial aid, average football attendance and scheduling.

The Tour de France has been postponed due to the coronavirus pandemic. The three-week race was scheduled to begin on June 27, but French President Emmanuel Macron announced on Monday that all public events with large crowds have been canceled until at least mid-July. Race organizers said they are consulting with the International Cycling Union to try to find new dates for the event, which was last not held in 1946 when France was still emerging from World War II.

4/14/20 SPORTS
NASCAR driver Kyle Larson has been suspended indefinitely after used a racial slur on a live stream during an iRacing event Sunday, and his two primary sponsors – McDonald's and Credit One Bank – have cut ties with him. Larson appeared to lose communication on his headset with his spotter and during a microphone check said "You can't hear me?" before using the slur. NASCAR ordered Larson to complete a sensitivity training course before he's eligible for reinstatement. Larson has apologized, saying he made a mistake using a word that shouild never ever be used. NASCAR issued a statement in part saying they have, "made diversity and inclusion a priority and will not tolerate that type of language."
The XFL has filed for bankruptcy and will not return for a 2021 season, according to paperwork filed Monday. The league saw mixed results since launching after the Super Bowl in February with many teams hosting crowds as high as 20-thousand people. However, those numbers faded as the season went along. Amid the pandemic, the league opted on March 12th not to finish its season.

The NFL and players' union have agreed that virtual offseason workout programs will be allowed until all 32 teams are permitted to open their facilities. The three-week virtual offseason starts on April 20, and allows teams to hold classroom instruction, workouts and non-football educational programs using online platforms.
ESPN and NFL Network have partnered to provide a single, combined NFL draft telecast to be aired on both networks for the entirety of the event from April 23-25. Draft hosts and a limited number of commentators will be in-studio but will separate to adhere to social distancing guidelines. Other reporters and analysts will report remotely from home. Commissioner Roger Goodell will introduce first-round picks from his home in Bronxville, New York.
4/13/20 SPORTS
Two of the NBA's current stars went down in defeat in the opening round of the HORSE tournament hosted by the league and ESPN. WNBA sharp-shooter Allie Quigley knocked out Chris Paul after the Thunder guard failed to bank in a shot from the free-throw line, while the retired Chauncey Billups rallied from a three-shot deficit to upset the Hawks' Trae Young. The Bulls' Zach LaVine and Jazz guard Mike Conley also advanced to the semifinals, with LaVine shutting out former Celtics great Paul Pierce and Conley blanking WNBA Hall of Famer Tamika Catchings. The semifinals and championship of the trick-shot competition will take place Thursday with Billups facing Conley and LaVine taking on Quigley.
NBA players will get some time to prepare if the season were to continue. ESPN reports there will be a 25-day window for players and teams to get ready. That time frame will include eleven days for individual workouts with social-distancing measures in place and two weeks for team training camps. The season was suspended March 11th because of the coronavirus pandemic. The league isn't expected to make a decision on whether the season will continue until next month.
The NFL Draft will kick off next Thursday. Due to the coronavirus pandemic, the draft will be fully virtual. Team executives are required to isolate as they go through the draft process, and commissioner Roger Goodell will announce some of the picks from his basement.
The future of the XFL is up in the air. ESPN reports the football league owned by WWE CEO/president Vince McMahon has suspended operations and has laid off nearly all of its staff. There is also no plans to return in 2021. The XFL canceled its season last month after five games due to the coronavirus pandemic.
NASCAR driver Kyle Larson is under fire after using a racial slur in an e-sports race. The driver appeared to have said the slur while he thought no one could hear him. Other racers soon informed they could hear him and appeared appalled at what he said. Larson drives the No. 42 for Chip Ganassi Racing.
4/11/20 SPORTS
The XFL has suspended day-to-day operations and all employees have been laid off. The league held a conference call to inform employees of the decision Friday. The XFL suspended play prior to Week 6 of its inaugural season due to the COVID-19 pandemic, and canceled the season a week later. The decision came less than 24 hours after the league gave fans back all money in their season ticket accounts, including deposits for 2021 season tickets. The league had plans to play a second season in 2021, but reports indicate that the league currently has no plans to return.
The New Orleans Saints quarterback has agreed to join NBC Sports as a football analyst when he is done playing, the New York Post reported Friday. The 41-year-old Brees has not announced when he plans to retire. He plans to play the 2020 season after signing a two-year, $50 million contract extension with the Saints last month. According to the New York Post, Brees will be groomed as a potential replacement for Cris Collinsworth on NBC's "Sunday Night Football." Brees is expected to start as a game analyst for Notre Dame football games and as a studio analyst for "Football Night in America."
The Competition Committee of the NFL has proposed two rule changes, along with seven rules changes proposed by NFL teams that will need to be approved by at least 75% of the league's owners in order to pass. Among the rules changes proposed by the competition committee is one to amend Rule 4, Section 3, Article 2, which would prevent teams from manipulating the game clock by committing multiple dead-ball fouls while the clock is running, something that Belichick did during the 2019 season. If this is passed by the NFL's owners, it would likely receive the unofficial title as the "Bill Belichick Rule". The other rule change proposed by the competition committee is to amend Rule 12, Section 2, Article 9, which would "expand defenseless player protection to a kickoff or punt returner who is in possession of the ball but who has not had time to avoid or ward off the impending contact of an opponent." This would be yet another change to NFL kickoffs after the league took away running starts and wedge blocking by the kickoff team in recent years. The NFL also moved their kickoff from the 30 to the 35-yard line in 2011.
4/9/20 SPORTS
Former Cardinal Mark Hamilton is set to become a doctor and join the fight against the coronavirus in New York City. The ex-first baseman will graduate on Friday from the Donald and Barbara Zucker School of Medicine at Hofstra/Northwell in New York. The graduation ceremony was moved up a month in response to the pandemic. The 35-year-old is scheduled to begin his residency at Northwell's Long Island Jewish Medical Center in June, unless he's needed earlier. Hamilton was drafted by the Cards out of Tulane University in 2006 and made his debut with the organization in 2010. He remained with the Redbirds through 2012 before pursuing his medical degree after his playing career ended in 2014.
This month's NFL Draft is being turned into a fundraiser to help fight COVID-19. The league announced the three-day virtual draft will benefit six NFL Foundation charities that are battling the spread and providing relief. Dubbed "Draft-A-Thon," it will also pay tribute to healthcare workers.
The NBA and ESPN are teaming up to televise a HORSE shooting competition. The all sports network reports OKC's Chris Paul, Atlanta's Trae Young and the Bull's Zach LaVine are among those expected to participate. Players would be filmed competing from home courts.
The track and field world championships have been rescheduled for July 15-24, 2022. It's the first major sports event to be repositioned in the wake of the 12-month postponement of the Olympics because of the coronavirus pandemic. The event draws around 1,800 athletes from more than 200 countries. It will still be held at Hayward Field in Eugene, Oregon.
4/8/20 SPORTS
Illinois freshman Kofi Cockburn is declaring for the 2020 NBA Draft. The 7-foot center earned Big Ten Freshman of the Year honors in his debut season with the Illini. Cockburn averaged 13.3 points and 8.8 rebounds this past season. The Kingston, Jamaica native can maintain his eligibility at Illinois if he withdraws from the draft by the June 3rd deadline.
Dayton's Obi Toppin has won the John R. Wooden Award as the nation's top college basketball player. Toppin, who is the first player from Dayton to win the Wooden Award, completed the sweep of the nation's top awards having previously won the Naismith Trophy and was also named The AP National Player of the Year.

The Blues are getting back together tonight for the first time since the sports world was put on hold last month due to the COVID-19 pandemic. Members of the current roster along with General Manager Doug Armstrong and Coach Craig Berube, will have a reunion via a video conference. Fans can watch the video conference on the team's website and on the Blues' social channels at 7 p.m. The gathering is the highlight of a new slate of programming being produced by the NHL to keep fans connected to the game while practicing social distancing.
NHL commissioner Gary Bettman says it may not be possible to finish the regular season. He tells NBCSN they are considering every conceivable alternative, but it's hard to even speculate on what might happen. The coronavirus outbreak shut down the league on March 12th.
The NFL will hold a dress rehearsal for its upcoming virtual draft. According to NFL Network Total Access, the league will do a dry run with all teams on how to execute the draft remotely. The NFL Draft is set to begin April 23rd, but team personnel will be working from home.
MLB is pumping the brakes on reports teams may play games at empty spring training parks in the Phoenix area starting next month. The league says many contingencies are being discussed, but nothing has been decided. Health and safety remain the top concern.
Dale Earnhardt Jr., Jeff Burton and Carl Edwards headline the new nominees for NASCAR's next Hall of Fame class. The new process for enshrinement this year split nominees into three ballots – Modern candidates, Pioneer candidates and Landmark candidates. Two entries from the Modern candidates will be elected, while one each from the other two categories.
4/7/20 SPORTS
MLB and the union are considering a plan to potentially start the season as early as May. ESPN reports all 30 clubs would play games in empty stadiums around the Phoenix area in Arizona. Federal health officials are on board provided more rapid coronavirus testing is in place by then.
It will be at least May 1st before the NBA decides about resuming its season. In an interview on the league website, commissioner Adam Silver says it won't be in April. He says he has no better sense right now about when they can resume than he did when the league first shut down.
The limited series that gives Blues' fans an all-access look at the franchise's first Stanley Cup Championship last June is being extended to four episodes. The first two episodes of "History Made: Director's Cut" premiered the past two Sundays. Because of high demand from fans, two additional episodes have been added and will premiere over the next two Sundays. Each episode will be seen on the Blues' YouTube channel.

A total of eight players were unanimous selections to the NFL's 2010s All-Decade Team. Tom Brady, Adrian Peterson, Von Miller, J.J. Watt, Joe Thomas, Marshal Yanda, Justin Tucker and Aaron Donald each appeared on every ballot. The team features 55 players and two coaches in Bill Belichick and Pete Carroll.

The NFL Draft later this month will be held in a virtual format due to the coronavirus pandemic. League Commissioner Roger Goodell sent a memo yesterday advising all 32 clubs to prepare to conduct the draft entirely outside of their facilities and in a fully virtual format. Club personnel will be in separate locations and able to communicate with one another and Draft headquarters by phone or Internet. The draft will be held April 23rd to 25th.
4/6/20 SPORTS
Cardinals' fans are getting a chance to relive the club's 2011 World Series Championship. FOX Sports Midwest will replay the Cards' four wins over the Rangers in the series this week. Game one airs tonight. Games three will air tomorrow, with Game six and seven on Wednesday and Thursday, respectively. You can also hear games each evening from that 2011 season on WOKZ 105.9. The broadcasts begin at 6:15 pm.
The University of Illinois is mourning the passing of former football great Bobby Mitchell. The two-sport star at Illinois died yesterday at the age of 84. Mitchell became the Redskins' first black player on the way to a Hall of Fame pro football career in the late 50s and 60s.
Late Lakers star Kobe Bryant highlights the 2020 Naismith Memorial Basketball Hall of Fame class. Bryant was announced as part of the star-studded class over the weekend, and will be joined by Tim Duncan, Kevin Garnett, and Tamika Catchings among others. The enshrinement ceremony is scheduled for August 29th in Springfield, Massachusetts.
NFL team executives are preparing to conduct the draft from their respective homes instead of team facilities. NFL commissioner Roger Goodell told teams not to go to team offices and to adhere to having a limited number of people in one room. The draft will go on as scheduled from April 23rd to the 25th.
William Byron easily won the iRacing event at virtual Bristol Motor Speedway. Byron started from the pole and was never challenged on his way to his first victory in NASCAR's virtual racing series after leading for the most laps in the first two races.
Former Patriots tight end Rob Gronkowski is now the WWE 24/7 champion. "Gronk" pinned friend Mojo Rawley to win the belt on the second night of WrestleMania 36 in Orlando. Gronkowski, who hosted the event, nearly won the belt on Saturday. WrestleMania was held on a closed set.
4/2/20 SPORTS
The Cubs and Cardinals series in London this summer is officially canceled because of the coronavirus pandemic. MLB announced yesterday that the series won't take place at any time this season. The two-game series was scheduled for June 13th and 14th at London Stadium. The series had been in jeopardy since concerns about international travel and the spread of COVID-19 in Europe began to take shape. The start of the MLB season remains up in the air. You can still hear Cardinals baseball. WOKZ 105.9 and the Cardinals Radio Network are broadcasting games from the Cardinals 2011 World Series championship season. The broadcasts begin at 6:15 each evening.
The NCAA is extending the recruiting dead period to May 31st due to the coronavirus crisis. College sports officials voted for the extension yesterday for both Division I and II. Institutional staff members are permitted to communicate with prospective student-athletes by phone or email during this time but cannot engage in in-person recruiting on or off campus.
The five finalists are out for this year's Wooden Award, given to the top player in college basketball. Vying for this year's honor is Dayton's Obi Toppin, Udoka Azubuike of Kansas, Seton Hall's Myles Powell, Iowa's Luka Garza and Markus Howard of Marquette.
For the first time since World War Two, there will be no Wimbledon. The All England Club announced that this year's major has been postponed due to COVID-19. It was to have started June 29th. Eight-time Wimbledon champ Roger Federer tweeted that he's devastated.
4/1/20 SPORTS
At least seven Frontier Community College athletes will get an additional year of eligibility due to the COVID-19 virus outbreak. FCC Athletic Director Jan Wiles said the National Junior College Athletic Association has ruled to add the additional year for sophomores in baseball and softball. That ruling will affect at least two softball players and five members of the Bobcat baseball team. The ruling is similar to one made by the NCAA allowing the additional year for athletes at senior institutions.
The NFL playoffs is expanding next season. League owners voted yesterday to expand the postseason from 12 to 14 teams. The new playoff format will add an extra game in each conference during wild card weekend and only the number-one seed in each conference will draw a bye. The expanded playoff format was part of the new collective bargaining agreement the NFL Players Association voted to ratify.
Nick Foles is an official member of the Bears. The team announced they have acquired the quarterback from the Jaguars in exchange for the compensatory fourth-round draft pick it was awarded by the NFL. The former Pro Bowler has compiled a 26-and-22 record in 48 starts over eight seasons with the Eagles, Rams, Chiefs and Jags. In 2017, the 31-year-old stepped in and helped Philadelphia win its first Super Bowl championship in franchise history. Foles is already familiar with Chicago coach Matt Nagy. Nagy worked with Foles as an offensive quality coach with the Eagles in 2012 and offensive coordinator with the Chiefs in 2016.

The Blackhawks' jersey is a favorite among NHL players. The Indian head sweater ranked number-one in the Players' Association annual Player Poll. The poll anonymously surveys responses to more than 20 hockey-related questions from nearly six-hundred players across each of the 31 NHL clubs. When asked which team has the best jersey, 28-percent of respondents said the Hawks. Toronto and Vegas were the next highest total at six-point-eight-three-percent each.
The NHL, meanwhile, is extending the self-quarantine mandate for players and staff until April 15. This adds an additional 11 days to the previous date of April 4, which had been pushed back once already. Deputy Commissioner Bill Daly said once the April 15th date gets closer, decisions will be made on the next steps to resuming play.
Major league baseball veterans will be paid $286,500 in advance pay for the first 60 days of the season during the stoppage caused by the coronavirus. Major League Baseball also announced that it would extend its financial support to minor league players but suspend their contracts due to the ongoing coronavirus pandemic. Minor leaguers will receive $400 per week at least through May 31, an extension of the original May 8 end-date. Some players are making more money on hiatus than they would during the season, with weekly minimum salaries on full-season minor league teams ranging from $290 at Class A to $502 at Triple-A.

Rob Gronkowski and WWE star Mojo Rawley are set to serve as the grand marshals for the NASCAR virtual racing event on Sunday. Rawley and Gronkowski will start Sunday's iRacing event on the virtual Bristol Motor Speedway track. The race is set for 12 pm and scheduled to air on Fox and FS1. Gronkowski, the retired New England Patriots tight end, is also scheduled to host WrestleMania this weekend.
3/31/20 SPORTS
A pair of Mules boys basketball players have been named All-South by the Southern Illinois Coaches Association.  Kane Hixenbaugh & Landon Zurliene of FCHS were 2-A All-South selections along with Kaleb Appleby of Mt Carmel, Reece Johnson of Benton, Carson Parker & Terry Pelcynski of Nashville, Dawson Yates & Devin Kitchen  of Pinckneyville, Zach Travis of Massac Co, Ian Reith of Chester and JaQuan Jackson & Calvon Clemons of Murphysboro.  Joe Melton of NCOE and Blake McKay of Woodflawn were named to the 1-A All-South Team.  Braden Flannagon of Olney-Richland Co, Jakcson Creel, Carson Prost & Quani Rudd of Mt Vernon and Brandon Anthony of Herrin were among the 3-A All-South selections.
ABC and ESPN are moving up the release of the ten-part documentary about Michael Jordan and the 90s Bulls. The New York Post reports the doc titled "The Last Dance" will begin airing April 19th. The miniseries was originally was set to be released in June before the coronavirus pandemic put the sports world on hold. The documentary follows the Bulls' final championship season in 1997 and 1998. A film crew had complete access to the team during the title run.

The NCAA Division One Council is granting an extra year of eligibility to student-athletes in spring sports whose seasons were cut short by the COVID-19 pandemic. It applies to all spring athletes, not just seniors, but does not include winter sports such as basketball and hockey.
A new date has been set for the Tokyo Olympics that were postponed over the coronavirus. An International Olympic Committee spokesman says the Summer Games will start on July 23rd, 2021. The closing ceremony is scheduled for August 8th. It's the first postponement of the games since the modern Olympics began in the 19th century.
3/30/20 SPORTS
Former Cardinals outfielder Jim Edmonds is waiting to hear whether he has coronavirus. The Cardinals broadcaster posted on Instagram that he underwent tests Saturday for COVID-19 after he felt "super sick." He posted a video saying that he had tested positive for pneumonia and is awaiting word on other exams. The eight-time Gold Glove Award-winner and four-time All-Star played 18 seasons in the majors with the Cards, Angels, Padres, Cubs, Brewers and Reds.
Meanwhile, the Cubs are revealing that two game-day employees have contracted coronavirus. Multiple reports say the workers tested positive after attending a training session at Wrigley Field on March 8th. One was hospitalized and the other is recovering at home.
MLB and the union have stipulations set for an eventual return to play. In an agreement reached late last week, ESPN reports the season won't start until there is no ban on mass gatherings, no travel restrictions and no health threat to players, staff and fans.
We've got the best of Cardinals baseball tonight on WOKZ 105.9 as the Cardinals Radio Network continues their re-broadcast of games from the Cardinals World Series Championship season of 2011.  The broadcast begins at 6:15 pm on WOKZ 105.9, your home for Cardinals baseball.
The Blues are confirming that play-by-play broadcaster John Kelly tested positive for coronavirus. The team says the FOX Sports Midwest announcer has been in self-quarantine since March 13th and is now feeling strong and symptom free. Kelly has been the Blues' play-by-play broadcaster since 2006.
The NCAA is voting today on whether or not to grant eligibility relief to student-athletes in spring sports. Those students are losing out on this season due to the coronavirus pandemic and are fighting for an additional year. The NCAA says the main concern is the financial burden it will have on smaller schools
Seven-time NASCAR champion Jimmie Johnson will participate in IndyCar's first ever virtual race as he contemplates his next move when he retires from full-time stock-car racing. Johnson is the 26th driver to register for IndyCar's inaugural iRace. IndyCar joins NASCAR, Formula One and other racing circuits in offering virtual races to keep fans entertained while the coronavirus pandemic has suspended almost the entire sporting world.
3/27/20 SPORTS
The Cubs and Cardinals won't be playing each other overseas this season because of the coronavirus pandemic. English newspaper The Sun reports organizers have canceled the London series between the teams. The two-game series was scheduled for June 13th and 14th at London Stadium. The MLB season is currently on hold due to the pandemic. Youn can still Cardinals baseball though. WOKZ 105.9 is replaying games from the Cardinals 2011 world championship season,. The broadcast begin at 6:15 each evening.
The Cardinals, meanwhile, are still making roster moves even as the season is on hold. The club has optioned Génesis Cabrera, Junior Fernandez, Alex Reyes and Andrew Knizner to Triple-A Memphis. The move was made yesterday, the same day the Redbirds had been scheduled to open the season in Cincinnati against the Reds.
Players and teams are set to agree on deal that would allow players to keep their service time should the 2020 season be called off because of the coronavirus pandemic. If there is a 2020 season, both sides are open to playing more doubleheaders and having the season run into November with the potential of playing neutral site playoff games in an effort to squeeze in as many games as possible.
Legendary Harlem Globetrotter Fred "Curly" Neal is dead at the age of 77. For over 20 years, the basketball legend displayed slick dribbling skills while sporting his signature shaved head and bright smile. Neal became the face of the team as he played in over six-thousand games across 97 countries. His number 22 is one of only five Globetrotters jerseys to be retired at Madison Square Garden. Team general manager Jeff Munn said Neal was "one of the most genuine human beings the world has ever known."
For the first time since 1945, the Indianapolis 500 will not take place on Memorial Day weekend. The storied race has been postponed until Aug. 23 over public health concerns related to the COVID-19 outbreak. The annual open-wheel event was originally scheduled for May 24. Roger Penske, who finalized his purchase of IndyCar and Indianapolis Motor Speedway earlier this year, said that the decision was a disappointing outcome, but was the responsible choice. Since its inception in 1911, the Indianapolis 500 has run every year except in 1917, 1918, and from 1941-45 because of World War I and II, with its traditional Memorial Day weekend date starting in 1946.
The NFL draft will still go on as scheduled. In a memo Thursday, league commissioner Roger Goodell said the draft will still proceed on April 23rd, but the event will have major changes due to the coronavirus. According to the memo, prospects and their families will not be brought to the draft. LSU quarterback Joe Burrow is the presumed Number One overall pick.

3/26/20 SPORTS
The Cardinals remain in a holding pattern with the MLB season delayed due to the coronavirus. The Cardinals were scheduled to open today in Cincinnati against the Reds. The league and the players association are hopeful the season can begin by early June. In the meantime, you can hear games from the Cardinals 2011 World Series season on WOKZ 105.9. The broadcasts begin at 6:15 pm, each evening.
Blue Jays GM Ross Atkins has a radical idea for cramming in as many games as possible into what will be a condensed season – seven-inning doubleheaders. With opening day being postponed because of the coronavirus pandemic, it's uncertain what the schedule will look like and how many games will be played. However, if teams were to average nine games a week, a full 162-game schedule could be played in 18 weeks, eight fewer than usual.
Another player is leaving the Illinois basketball program. Sophomore guard Tevian Jones announced he is transferring, the day after Alan Griffin did the same. Jones averaged less than a point per game this past season. He missed eight games as a freshman because of a violation of team rules.
The NHL is postponing a trio of June events. The Scouting Combine in Buffalo, the NHL Awards show in Las Vegas and the NHL Draft in Montreal have all been called off. The league says location, timing and format of the draft will be announced when details are finalized.
NFL teams may be wearing more than one helmet during the season starting as early as 2021. The league is considering changing its one-helmet rule that prohibits different logos to match throwback jerseys. A league spokesman tells ESPN no decisions have been made.
a
3/25/20 SCHEDULE
The 2020 Olympics are officially postponed. The Tokyo Games are being pushed back to no later than the summer of 2021 due to the COVID-19 pandemic. The International Olympic Committee made the decision on Tuesday with more and more athletes and countries requesting a postponement.
The NFL plans to go ahead with the draft next month as scheduled despite opposition from league GM's. ESPN reports the general manager subcommittee is recommending to commissioner Roger Goodell that the draft be pushed back. Some concern is over logistics for physicals and psychological testing.
NFL training facilities will close league wide tonight. Commissioner Roger Goodell sent a memo to all 32 clubs, saying they must close by 6 p.m. Eastern, with few exceptions. The closures will last until April 8th when the league will determine with the help of medical and health experts if it's safe to reopen.
The NHL is extending its recommendation for players and staff to self-isolate and remain away from team facilities during the ongoing coronavirus pandemic. Deputy commissioner Bill Daly confirmed the league has asked that players and staff extend their self-quarantine 10 days beyond the original March 27 timeline to April 6 – further pushing back the earliest team facilities can reopen. There is still no clarity on when the NHL might resume its season, though the CDC's recommendation of no gatherings of 50 or more people until mid-May is expected to factor into timing.

Alan Griffin is leaving the Illinois basketball program. The sophomore guard announced on Twitter yesterday that he is entering the transfer portal. Griffin led the Illini in three-point shooting at 41.6-percent and ranked fifth in scoring at 8.9 points per game this past season. He came off the bench in all but one of 28 games he played.
WOKZ 105.9 and the Cardinals Radio Network are teaming up to rebroadcast games from the Cardinals 2011 World Championship season. The broadcast is at 6:15 pm each evening on your hme for Cardinals baseball, WOKZ 105.9
3/24/20 SPORTS
Frontier Community College softball coach Marty Slover has released the finasl statistics for the 2020 Spring season. The Bobcats were 6-6 overall and 4-4 in Region 24 play. The leading hitters were freshman MacKenzie Talbert of Stew-Stras with a 515 avg, sophomore Kylar Slover of Fairfield with a .423 avg and freshman Brooklyn Edwards of Mattoon with a .400 avg. The leading pitcher was freshman Meghan Humphrey of Newburgh, IN, who finished 4-2 with a 5.40 ERA,
According to USA Today, a long-time member of the IOC has said that the Summer Games in Tokyo will be postponed, most likely to next year, over concerns about the spreading coronavirus pandemic. The news comes a day after Canada became the first nation to publicly declare it would not send athletes to Japan in 2020 and amid mounting pressure from various national committees, most recently Portugal and Germany's. Dick Pound, a Canadian and a member of the IOC for decades, said that the details of postponement have not been decided but that the Summer Games will definitely not begin on the originally scheduled July 24 start date. IOC President Thomas Bach has yet to confirm the decision, a day after saying that the committee would decide on the Games over the next four weeks.
The NBA wants to find a way to resume the suspended season, no matter what. ESPN's Ramona Shelburne reports that the general sense among owners and players is that they want to complete the season, even if it means stretching into the summer or fall. Shelburne added that no one wants to start a new season without finishing this one. The Milwaukee Bucks were first in the Eastern Conference at the time play was suspended, while the LA Lakers were first in the West. The Lakers were slight favorites over the Bucks and Clippers to win the NBA championship in betting circles.
3/23/20 SPORTS
The IOC is considering postponing the Tokyo Games and will make a decision in the next four weeks, but said cancellation is not on the agenda. Pressure has grown on the IOC to confirm the Games, due to start on July 24, will not go ahead as scheduled because of the coronavirus pandemic. The IOC outlined modifying existing operational plans and said changing the start date is being considered. Canada, meanwhile, became the first nation to publicly declare it will not send athletes to Tokyo unless the Olympics are postponed for a year
Major League Baseball is giving back to fans with the league shut down. Every game from the past two seasons can be streamed on MLB-dot-TV for free. The regular season isn't expected to begin until May at the earliest.
The NFL reportedly will not hold next month's draft in Las Vegas due to the coronavirus and instead will air a three-day studio show where clubs will make their picks from team headquarters. The league had already canceled all public events scheduled for the draft.
Denny Hamlin beat Dale Earnhardt Jr. off the final corner at virtual Homestead-Miami Speedway in the inaugural eNASCAR iRacing Pro Invitational Series. Hamlin played a big role in putting together the pretend race, which was broadcast live on Fox Sports 1 and called by its regular broadcast announcers.
3/20/20 SPORTS
President Trump says postponing the Tokyo Summer Olympics is "under discussion." In a White House briefing, Trump said Japan is in a very tough situation. He was pressed about recent talks with other G7 leaders and noted that Japan has not made a decision about whether to move forward with the Olympics. The Olympics are scheduled to start on July 24th in Tokyo.
The NBA is closing all team facilities and practice courts starting today to combat the coronavirus. The league had been allowing players to hold individual workouts in team facilities since play was suspended last week, but is now banning that too. The NBA is also recommending players stay in their market to avoid travel and remain close to their teams.
Saints coach and EIU alum Sean Payton has become the first notable figure from the NFL to be publicly diagnosed with the coronavirus. The 56-year-old took a test on Monday after feeling ill but says he does not have a cough or a fever. He is resting in self-quarantine at his home.
Major League Baseball has called off two series scheduled to be played outside of the US in the wake of the coronavirus epidemic. A two-game set between the Diamondbacks and Padres in Mexico City from April 18-19 has been canceled along with a three-game series between the Mets and Marlins in Puerto Rico from April 28-30. A two-game series between the Cubs and Cardinals in London slated for June remains on the schedule. MLB stated earlier in the week the start of the 2020 season will be delayed until at least mid-May after the league recently canceled all spring training games.
3/19/20 SPORTS
Several area players have been named to the 2019-2020 abaselineviet.com  All-South boys basketball team.  In Class 2-A, Kane Hixenbaugh of FCHS was named to the 1st team & Wyatt Gilbert of FCHS was an honorable mention selection.  Other Black Diamonf Conference players recieving honorable mention recognition include Ethan Mahon of Carmi-White County, Austin Brown of Johnston City, Gus Walden of Hamilton County & Ladayyea Shewmaker of Eldorado.  Here's the complete 2-A list:Coach Of The Year
Coach of the Year – Ron Schadegg – Breese Mater Dei
 1st Team: ABV First Team (In Alphabetical Order)
Player of the Year:  Caleb Zurliene – Breese Mater Dei
Calvon Clemens – Murphysboro
Carson Parker – Nashville
Daniel Tingley – Marshall
Dawson Yates – Pinckneyville
Jacob Schadegg – Breese Mater Dei
Kaleb Applebey – Mt. Carmel
Kane Hixenbaugh – Fairfield
Luke Ervie – Freeburg
Reece Johnson – Benton
 HonorableMention: ABV Honorable Mention (In Alphabetical Order)
Wyatt Gilbert – FCHS
Austin Brown – Johnston City
Beau Stipp – Mt. Carmel
Blake Pena – Anna-Jonesboro .
Blayne Winningham – Lawrenceville
Bradon Thomas – Breese Central
Braeden Purcell – DuQuoin
rayden Childress – Robinson
Brett Terry – Alton Marquette
Carlos Keen – Sparta
Carson Lewis – Benton
Carter Wiegard – Red Bud
Colin Brueggemann – Freeburg
Deondre Martin – Chester
Dre Scott – Pinckneyville
Eli Downen – Carterville
Ethan Booth – Staunton
Ethan Culley – West Frankfort
Ethan Mahon – Carmi-White Co
Garrett Austin – Vandalia
Gavin Huffman – Roxana
Grant Fridley – Wesclin
Gus Walden – Hamilton County
Haddon Lybarger – Salem
Hayden Hoffmann – Carlyle
Ian Reith – Chester
Jackson Holmes – Columbia
Jacob Golenor – Roxana
Jadon Wallace – Marshall
Jaquan Jackson – Murphysboro
Jonah Lauff – Pana
Julian Russell – Massac County
Kyle Schafer – Newton
Ladayyea Sheumaker – Eldorado .
Mason Hutchings – Paris
Michael Byots – Carlinville
Spencer Cox – Alton Marquette
Terry Pelcynski – Nashville
Will Gibbs – Harrisburg
Zach Travis – Massac Co
In Class 1-A, Kaiden Taylor & Travis Dickey of Wayne City, were honorable mention selections as well as Gavin Featherling of Cisne, Brayden Hatcher of Grayville & Tye Money & Joe Melton of NCOE>
Here's the complete 1-A list:
Coach of the Year:  Brian Gamber of Woodlawn
1st Team:Player Of The Year
Player of the Year: Blake McKay – Woodlawn First Team (In Alphabetical Order)
Aiden Jahraus – Altamont
Carter Sabol – Nokomis
Christian Trexler – Egyptian
Connor Heaton – Central A&M
Jaccob Dust – St. Anthony
Jackson Heckert – Okawville
Noah Franklin – Cobden
Sebastion Ivory-Greer – Marissa
Trent Glidewell – Goreville
 Honorable Mention:ABV Honorable Mention (In Alphabetical Order)
Alex Tosetti – Nokomis
Andy Goldsborough – SEB
Austin Hagel – Steeleville
Brayden Hatcher – Grayville
Bryce Pratt – Christopher
Cole Niebrugge – Dieterich
Dawson Hish – Gallatin County
Dawson White – Elverado
Derek Kuhl – Dieterich
Deurice Morse – Cairo
Garrett Gunter – Sesser-Valier
Gavin Fetherling – Cisne
Griffin Andricks – Central A&M
Hunter Throgmorton – Crab Orchard
Jack Hoene – Effingham St. Anthony
Jacksen Harre – Okawville
Jackson Eddington – Pope County
Jackson Hills – Casey-Westfield
Jake Vaughn – Hardin County
Joe Brumleve – Cobden
Joe Melton – NCOE
Joe Range – New Athens
Kaiden Eirhart – Altamont
Kaiden Taylor – Wayne City
Keenin Willshire – South Central
Kegan Peek – Crab Orchard
Landon Albright – Goreville
Logan Jones – Marissa
Lucas Shaffer – Odin
Luke Fleener – North Clay
Noah Livingston – Casey-Westfield
Peyton Bates – Sesser-Valier
Race Rynski – Woodlawn
Sam Britt – Christ Our Rock Lutheran
Travis Dickey – Wayne City
Trevor Roy – Neoga
Tye Money – NCOE –
Tyler Alexander – Patoka
Tyrone Huff – Egyptian
Tyson Jones – North Clay
Wyatt Criner – Mulberry Grove

FCC baseball finished its season with the first winning record in program history. The Bobcats were 13-9 overall & 2-1 in the conference before the year was cut short by the coronavirus pandemic. A number of other school records were set this year, including a team batting average of .318, on-base percentage of .431, and slugging at a .471 clip. On the bases, Frontier finished 5th in the nation during the 2019 season. They were on-pace to finish towards the top of NJCAA with well above 165 stolen bases as a team.  
Frontier pitching staff had their fair share of school records starting with an all-time low earned run average, and WHIP. As a team, they combined to have a 5.09 ERA with limited amount of innings, setting their WHIP (walks plus hits per inning) at 1.5. Multiple individuals that contributed in innings posted well below a 3.00 ERA to help achieve Frontier's winning season. The pitching staff as a whole also posted a 2 to 1 strikeout to walk ratio, which was a huge goal for the pitching staff this income season. 
Frontier's Offense.
With setting offensive records, the Bobcats were ecstatic with what they were accomplishing and what could have been if this season would have played out. Posting a team batting average at .318 and on-base percentage at .431, the bobcats were tough to stop. Projecting over a 56 game season the offense would have finish with 323 free bases, 128 team doubles, 478 runs scored, and 165 stolen bases. A lot of individuals contributed to this success, some individuals were having stellar seasons.
Braxton Gerek – SO. (League City, TX.): .446 AVG (School record), .493 OBP, .631 SLG, 24 RBI, 25 Runs, on 11 SB with 65 at-bats.
Jacob White – SO.  (Lewisport, KY.): .438 AVG, .486 OBP, .719 SLG, 7 Doubles, 4 Triples, 21 RBI, 20 Runs, and lead the team in stolen bases with 13.
Bradley Taylor– SO. (Russellville, KY.): .380 AVG, .750 OBP, .480 SLG, 9 RBI, scoring 15 Runs, collecting 19 Hits in 50 AB.
Cole Rasbury– SO. (Bellville, TX.): .361 AVG, .506 OBP, .525 SLG, 4 Doubles, 3 Triples, scoring 18 runs, and posting a 2 to 1 walk to strikeout rate.
Trent Rice– FR. (Bowling Green, KY.): .361 AVG, .479 OBP, .694 SLG, 4 Doubles, 2 Homeruns, had 5 at-bats where Rice had 2 strikes on him, and he saw more than 5 pitches.
Brody Tisdale– SO. (Greenwood, IN.): .333 AVG, .435 OBP, .556 SLG, 4 Doubles, 2 total Strikeouts, and leading the team in QAB's. Tisdale was the heart of this team bringing the juice with every at-bat.
Other Notable's:
Ben Scartz (Tarpoon Springs, FL.) .339 AVG.
Eli Tenzca (Lexington, KY.) .348 AVG.
Caleb Evans (Lincolnshire, IL.) 11 HBP. 
Frontier's Pitching Staff.
A lot of the tone was set on top of the hill, with setting a school record in ERA. The pitching staff was on-pace to do some special things this year. Averaging these numbers over a 56 game season, the staff would have collected 489 Strikeouts, and averaging a 2 to 1 strikeout to walk rate. Although it was a collective effort, some individuals that were having great season, they are the following.
Drew Janssen– FR. (Antwerp, BE.): 2.8 ERA, 1.01 WHIP, 39 Strikeouts, 8 BB, averaging 13.68 K/9 in 25.2 IP. Janssen also earned NJCAA Pitcher of the Week after his no-hitter against Southwestern Illinois College.
Andrew Shoultz– SO. (Scurry, TX.): 3.9 ERA, 1.4 WHIP, 26 Strikeouts, and 11 BB, averaging 12.76 K /9 in 18.1 IP.
Chaney Trout– RSFR. (Poplar Bluff, MO.): 0.00 ERA in 17 IP, 1.05 WHIP, striking out 21 and walking 9, posting an 11.12 K/9, Trout lead the team in Saves with 4.
Mac Grant– SO. (Tampa, FL.): Pitched in 13.2 Innings with a WHIP of 1.24, having 13 strikeouts and only giving up 4 walks, averaging 8.56 K/9.
Brendan Reid– SO. (Union, KY.): Pitched in 6.1 innings, posting a 0.00 ERA, 0.94 WHIP, 12 Strikeouts and only giving up 2 free bases.
Other Notable's:
Caleb Rush (Fortville, IN.) 10.80 K/9.
Alex Kerr (West Chester, OH.) 12.00 K/9.
Kansas will finish the abbreviated 2019-20 men's college basketball season atop the AP Top 25 after receiving 63 of 65 first-place votes in what will be the final poll of the campaign. No. 2 Gonzaga and No. 3 Dayton received one first-place vote, with the Flyers matching their highest national ranking to finish a season in program history. ACC champion Florida State placed fourth and Baylor fifth, with San Diego State, Creighton, Kentucky, Michigan State and Villanova completing the top 10. Illinois was 21st in the final poll.
Professional tennis is going on an even longer hiatus because of the coronavirus. The Association of Tennis Professionals and the Women's Tennis Association released a joint statement yesterday saying the season won't resume until at least June.
3/18/20 SPORTS
Organizers have announced that the Evening with Jay Shidler Event on Saturday, April 11th at the Edwards County High School Gym in Albion has been cancelled.  The cancellation is due to the coronavirus situation that is sweeping the country.  It was in the best interest to cancel and be in compliance with all other events cancelled for the safety of the general public.
Tom Brady is leaving the Patriots and ttaking his talents to south Florida. The six-time Super Bowl champion is heading to the Tampa Bay Buccaneers for a deal worth a reported 30-million-dollars per year according to the NFL Network's Ian Rapoport. Brady posted on social media early on Tuesday that he would not be returning to the New England Patriots for the 2020 season.
USA Basketball says it's preparing as if the Tokyo Olympics will still take place this summer. US men's assistant coach Steve Kerr of the Golden State Warriors said on a conference call that he's had recent contact with US head coach Gregg Popovich of the San Antonio Spurs. Kerr says everything is up in the air and there is no sense of whether things will be delayed or not. The Olympics are scheduled to start July 24th. The International Olympic Committee says it remains committed to the Games and it's too early for any drastic decisions.

The PGA Championship has announced it will be postponed, becoming the second major to reschedule after Augusta National announced the Masters would be postponed last Friday. The PGA Championship was scheduled for May 14-17 at Harding Park in San Francisco, and there is no word on when it will be made up, or even if it would remain in San Francisco.

Players from multiple teams across the NHL have sent a proposal to the league for potentially restarting the 2019-20 season. Details of the players' plan released Tuesday call for a short training camp in early July followed by the conclusion of the final 16-to-18 games that teams were unable to complete. The Stanley Cup Playoffs would start in August through September, followed by a free agency period in October, and the start of the 2020-21 season in November. The plan also calls for a condensed 2020-21 season of less than the regular 82-games.

3/17/20 SPORTS
Major League Baseball is delaying the start of its season even further. The league said Monday the season will be delayed for eight weeks. That goes along with guidance from the CDC on Sunday that said events with 50 or more people over that time should be postponed or canceled. The statement from the league went on to say, "The clubs remain committed to playing as many games as possible when the season begins." Meanwhile, the Cardinals are being sent home. The club's planned informal workouts have been nixed by Major League Baseball.
Add the Kentucky Derby to the list of major sporting events in North America that is being postponed. Churchill Downs will announce today it will push the traditional first leg of the Triple Crown from May 2 to September 5 in accordance with recommended guidelines pertaining to public gatherings. It will the first time the Derby will not be run on the first Saturday in May since 1945, when the US government temporarily banned horse racing due to World War II.
The NFL Draft will go on as scheduled next month, but changes are being made. The NFL said Monday the draft will take place on April 23rd through the 25th. However, the public events associated with the draft in Las Vegas have been canceled. The NFL says "innovative options for how the process will be conducted" will be announced at a later date.
The NFL is, however, delaying the start of offseason programs for all teams. Commissioner Roger Goodell made the decision Monday following discussions with the NFLPA, consultations between the medical teams for the NFL and NFLPA, and based on COVID-19 guidance from public health officials. Teams with returning head coaches would have been able to begin their offseason programs April 20th, while clubs with new head coaches could have started their programs April 6th.
NHL players have been told they can go home and must self-isolate there through March 27 while the season is on hold due to the coronavirus pandemic. The NHL also said it will be unable to provide guidance on the potential reopening of team practices for another 45 days, which could make May the earliest possible date that the league restarts.
The biggest wrestling show of the year will still take place, it just won't be as big. The WWE says Wrestlemania is being moved from Raymond James Stadium in Tampa to a training facility in Orlando. The event will still air live on April 5th. Fans will not be permitted to attend.
3/16/20 SPORTS
It will be a while before you see any pro sports teams back in action. The Center for Disease Control is now recommending no groups of 50 or more for the next eight weeks. That means the sports world will likely stay dormant at least two more months.
The Pro Football Hall of Fame announced over the weekend the public won't be able to visit starting today. The closure runs through March 27th. It comes as the Hockey Hall of Fame closed its doors Saturday. It's not scheduled to reopen until April 6th.
NFL players are moving forward with a new collective bargaining agreement. The Players Association approved the new deal with league's owners, ensuring NFL labor peace through at least 2030. The agreement clears the way for a 17-game regular season as early as 2021. It also expands the playoff field from 12 teams to 14 as soon as next season.
The Cardinals are trying to keep busy with the start of the season up in the air. MLB canceled Spring Training and delayed the start of the regular season by at least two weeks because of the coronavirus pandemic. A group of Cardinals players have remained at the club's facility in Jupiter, Florida for informal workouts. Plans are also in the works for players who leave camp to stay in baseball shape at home.
Rick Pitino is returning to college basketball. The two-time national champion has been hired to coach at Iona College. Athletic Director Matthew Glovaski praised Pitino's "passion and energy" in a statement announcing the hire. Pitino added, "My passion in basketball started in New York and will end there at Iona College." A pay-for-play scandal spelled the end of Pitino's time at Louisville in 2017.
3/12/20 SCORES
The NCAA is canceling its basketball tournaments because of the coronavirus pandemic. That means the end of March Madness. The governing body of collegiate sports said in addition to the men's and women's basketball tournaments, it is also canceling all remaining winter and spring championships.
There will be no NBA action for at least a month. Commissioner Adam Silver says he will reevaluate the league's suspension of play in 30 days. The NBA is advising players to self-quarantine for the next several days.
Major League Baseball is delaying the start of the regular season by at least two weeks. The league decided Thursday to cancel the rest of spring training games in Florida and Arizona. Opening Day was scheduled for Thursday, March 26th. Minor league baseball is also being postponed.
The NHL is suspending its season. The regular season is scheduled to end April 4th with the Stanley Cup Playoffs beginning four days later.
Closer to home, the IHSA announced Thursday evening that it has canceled its remaining winter State Series postseason tournaments, which include Boys Basketball, Scholastic Bowl, Drama & Group Interpretation, Music, Debate, and Journalism, over concerns related to the COVID-19 pandemic. The IHSA has not made any decisions related to spring sport tournaments at this time.
Frontier Community College has cancelled all remaining spring athletic events both on and off campus.
In other sports news, the Midland Trail Conference has released its All-Conference boys basketball team.  Blake McKay of Woodlawn was named Player of the Year. Team members include Travis Dickey & Kaiden Taylor of Wayne City, Gavin Featherling of Cisne, Dalton Adcock of Webber, Brayden Hatcher of Grayville,  Sam Britt of Centralia CORL, Dillon Barnach of Waltonville, Lucas Shaffer & Ethan Finckbone of Odin & Chase Hollenkamp & Race Rynski of Woodlawn.  Jesse Milner & Connor Brach of Cisne & Kent Miller of Wayne Cityn as well as Cole Neely of Grayville, Colin Ramsour of Centralia CORL, Reagan Newel of Waltonville, Kaleb Calhoun of Sandoval & Jackson Tiernann of Woodlawn.  Brian Gamber of Woodlawn was named Coash of the Year.
JH VOLLEYBALL
@ the Jasper-Geff Volleybash Tournament
Jasper-Geff over Wayne City in two sets
Center St over Opdyke in two sets
Center St over Jasper-Geff in two sets
Trinity over Cisne in two sets
New Hope over Cisne in two sets
MLB SPRING TRAINING
Adam Wainwright tossed five scoreless innings as the Cardinals blanked the Marlins 3-0 Thursday in their final spring training game. Wainwright allowed only two hits and struck out three for the win. The rest of the Cards' spring training games have been canceled due to the national emergency created by the coronavirus pandemic.
3/11/20 SCORES
The NCAA men's and women's basketball tournaments will be held without fans. NCAA President Mark Emmert cited the ongoing coronavirus outbreak Wednesday in a statement announcing the decision about March Madness. The Power Five conferences are also restricting their own tournament attendance to only essential and credentialed personnel.
The NBA has suspended its season until further notice due to the coronavirus outbreak. Multiple reports say Utah Jazz center Rudy Gobert has tested positive. The league says it will use the hiatus to determine its next steps. The NBA had been considering playing in empty arenas or moving games to cities less affected by the virus.
The NHL, meanwhile, is continuing its season for now. The league issued a statement Wednesday night saying that they are aware of the NBA's decision to suspend play due to the coronavirus. A further update is expected today following a consultation with medical experts and further evaluation of the league's options.
Frontier Community College baseball made history last weekend.  Freshman Drew Janssen of Antwerp, BE and Sophomore Mac Grant of Tampa, FL combined to throw the program's first ever no hitter in a 6-0 win over Southeastern IL. Janssen threw 8 amd a third innings of no hit ball with Grant coming on in relief for the final two outs.  The Bobcats baseball team is currently 13-9 on the season.
JH VOLLETBALL
Center St over Cisne 25-14; 25-11
JV: Center St defeats Cisne 25-13; 25-22
C: Center St over Cisne 25-13; 21-25; 15-12
HS BOYS BASKETBALL
 @ Mt Vernon 3-A Sectional
Chatham Glenwood 45, Centralia 39
COLLEGE SOFTBALL
Wabash Valley College 7, FCC 3
Wabash Valley College 6, FCC 3
MLB SPRING TRAINING
Mets 7, Cardinals 3
The Cardinals could be losing Brett Cecil to another injury. The reliever left yesterday's loss to the Mets with a right hamstring strain. He will undergo testing today to determine the severity of the injury. Cecil has been sidelined for most of the three years he's been with the Cards.
Cubs 3, Padres 2
White Sox vs Rockies cancelled
NHL
Alex Pietrangelo scored two goals as the Blues defeated the Ducks 4-2 to complete the game postponed last month after defenseman Jay Bouwmeester had a cardiac episode. Ivan Barbashev and Zach Sanford also lit the lamp and Jake Allen made 26 saves for the Blues, who are 10-2-and-0 in their past 12 games.
Blackhawks 6, Sharks 2
COLLEGE BASKETBALL
 @ Big 10 Tournament
Minnesota 74, Northwestern 57
Indiana 89, Nebraska 64
GOLF
Tiger Woods is headed to the World Golf Hall of Fame. The 44-year-old was elected Wednesday as part of the 2021 induction class. Woods says he is both honored and humbled. He currently shares the PGA Tour record with 82 career victories and his 15 major titles are second all-time behind only the legendary Jack Nicklaus.
3/10/20 SCORES
FCHS held its Winter Athletic Awards program Tuesday night for boys and girls basketball and wrestling.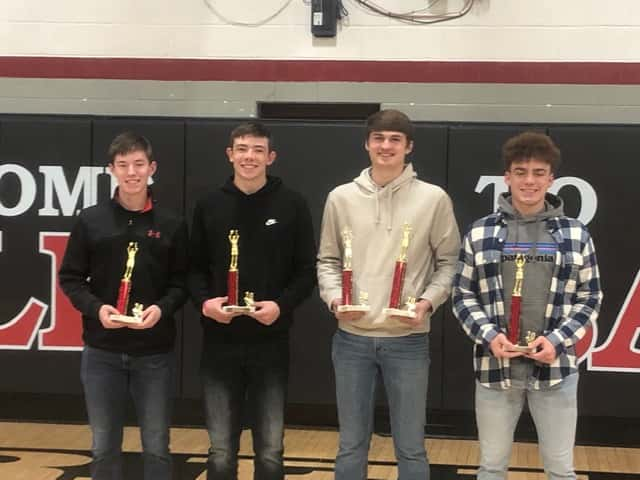 For boys basketball, Kane Hixenbaugh was named Offensive MVP & Wyatt Gilbert Defensive MVP. Hixenbaugh received the Rebounding Award, Noah McElravy the Free Throw Award & Dylan Best Most Improved.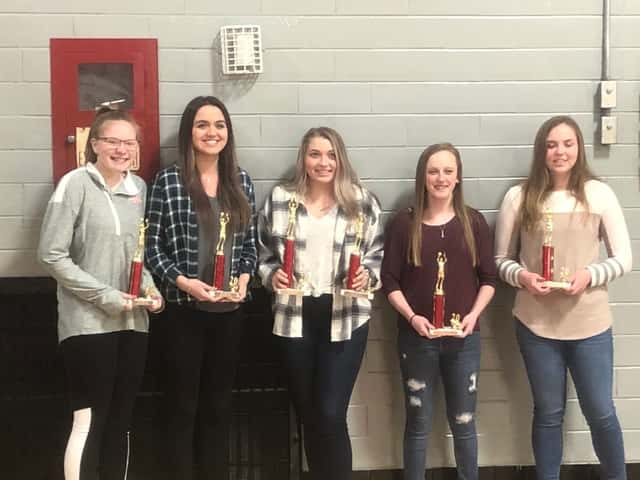 On the girls side, Kyllie Stewart was named MVP and Tough Girl Award winner. Leah Bowers received the Free Throw Award, Valerie Dagg the Rebounding Award & Brittany Titzer the Defensive Award. Kate Book was named JV Most Improved. Stewart & Bowers were named to the BDC All-Conference team.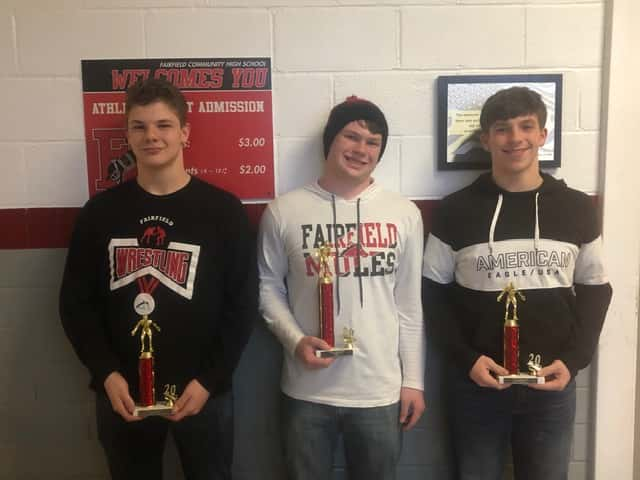 Ike Downen was named MVP & Konnor Dagg Most Improved in wrestling. Payton Allen received the Newcomer award.
JH VOLLEYBALL
Cisne over Flora 26-28; 25-22; 15-10
JV: Cisne over Flora 25-19; 25-18
C: Cisne & Flora split the C match
HS BOYS BASKETBALL
 @ Carbondale 2-A Super-Sectional
Breese Mater Dei 46, Murphysboro 26
 @ Springfield 2-A Super-Sectional
Springfield Sacred Heart Griffin 59, Bismarck-Hennings-Rossville-Alvin 56
 @ DeKalb 2-A Super-Sectional
Elmhurst Timothy Christian 59, Minook Fieldcrest 43
 @ Joliet 2-A Super-Sectoma;
Chicago Orr 49, Chicago Corliss 48
 @ Carbondale 1-A Super-Sectional
Goreville 71, Central A & M 64
 @ Normal 1-A Super-Sectional
Roanoke Benson 45, Chicago Fenger 43
 @ DeKalb 1-A Super-Sectional
Aurora Christian 49, Shabbona Indian Creek 43
 @ Jacksonville 1-A Super-Sectional
Madison 68, Athens 43
 @ Mt Vernon 3-A Sectional
East St Louis70, Marion 53
NBA
Bulls 108, Cavaliers 103
Celtics 114, Pacers 111
MLB SPRING TRAINING
Red Sox 3, Cardinals 2
Cubs 16, Giants 3
Rangers 9, White Sox 2
COLLEGE BASKETBALL
The coronavirus continues to effect college basketball. The Ivy League is canceling its men's and women's tournaments. The Yale men and Princeton women will get automatic berths into the NCAA Tournament. The Big West Tournament will play in Anaheim without fans and the Mid-American Conference Tournament in Cleveland is also closed to the general public.
Six more schools have secured automatic berths into the NCAA Tournament. Yale, Hofstra, Northern Kentucky, Gonzaga, Robert Morris and North Dakota State are the latest schools to punch tickets to the Big Dance. Tournaments that open today include the Big 12, Big Ten, Pac-12 and Big East. The NCAA Tournament bracket will be revealed on Sunday.
NFL
Old rivals will meet in the NFL Hall of Fame Game. The Dallas Cowboys will play the Pittsburgh Steelers in the annual preseason opener August 6th in Canton, Ohio. Former Steelers safety Troy Polamalu and head coach Bill Cowher, and former Cowboys head coach Jimmy Johnson, will be inducted that weekend as part of the Pro Football Hall of Fame's Class of 2020.
3/9/20 SCORES
JH VOLLEYBALL
 @ IESA 7-2A Sectional @ Findlay
Albion defeats Altamont 25-14; 25-18 – Albion, now 20-3, will play Champaign St Matthew @ 7 pm Friday in the IESA 7-2A State Tournament @ Pawnee
MLB
Cardinals 3, Twins 0
White Sox 3, Reds 3
NHL
The Florida Panthers scored in the 3rd period, and held on for a 2-1 win over the Blues Monday night. Colton Parayko scored St. Louis' lone goal. Jordan Binnington made 32 saves for the Blues, who have lost two-of-three following an eight-game winning streak.
The NHL is punishing Blues forward Oskar Sundqvist for his hit on Chicago's Adam Boqvist. Sundqvist was fined five-thousand-dollars for elbowing Boqvist in a 2-0 win over the Blackhawks on Sunday. The hit sent Boqvist into the league's concussion protocol and set off a series of on-ice fights between the teams.
NFL
The deadline for players to vote on the new NFL collective bargaining agreement is being move to this Saturday. The NFL Player's Association decided on Monday to change the deadline from Thursday to Saturday. The new CBA proposes adding a 17th regular season game for all teams as well as two additional roster spots. A simple majority would pass the agreement.
COLLEGE BASKETBALL
Number-22 Illinois is getting ready for the Big Ten Tournament this week in Indianapolis. The Illini earned a four-seed and a double-bye into the quarterfinals by finishing the regular season 21-and-10 overall and 13-and-7 in the conference. Illinois' opening game will be the second game on Friday against either Iowa, Minnesota or Northwestern.
A pair of Illinois basketball players are garnering high praise for their play this season. Sophomore guard Ayo Dosunmu was named First-Team All-Big Ten by the media after averaging 16.6 points, 4.3 rebounds and 3.3 assists. He becomes the first Illini player to earn first-team all-league honors since Demetri McCamey in 2010. Center Kofi Cockburn is the 2020 Big Ten Freshman of the Year by both the media and coaches after averaging 13.3 points, 8.8 rebounds and 1.4 blocks while shooting just over 53-percent. Cockburn was a Third-Team All-Big Ten pick by the media while garnering honorable mention accolades from the coaches.
GENERAL
Many of North America's major pro sports leagues are closing access to locker rooms and clubhouses to combat the coronavirus. The NBA, NHL, MLB and MLS say the decision comes after consulting infectious disease and public health experts about the outbreak. Media interviews will be restricted to areas outside the locker room. Meanwhile, organizers in Greece are shutting out the public for the Olympic Torch litghing ceremony Thursday because of the coronavirus. Only 100 officials will be allowed to attend the event. The flame will be there for eight days and then fly to Japan for a 121-day journey to Tokyo. The Summer Games begin July 24th.
3/8/20 SCORES
COLLEGE BASEBALL
FCC went 2-1 over the weekend, losing 14-12 to Southeastern IL on Saturday and winning 6-0 & 10-6 over SIC on Sunday.
COLLEGE SOFTBALL
FCC went 2-2 over the weekend. The Bobcats lost 13-1 & 16-7 Saturday @ Lake Lane College. MacKenzie Talbert had a 3 run homer in Game 2. On Sunday, Frontier swept a double header from Southwestern IL 4-3 & 11-8. Sam Helms & Meghan Humphrey were the winning pitchers.
XFL
On Saturday:
Houston Roughnecks 32, Seattle Dragons 23
New York Guardians 30, Dallas Renegades 12
On Sunday:
DC Defenders 13, St Louis Battehawks 6
LA Wildcats 41, Tampa Bay Vipers 34
COLLEGE BASKETBALL
Kofi Cockburn blocked Iowa center Luka Garza right before the final buzzer as the 23rd ranked Illini beat #18 Iowa 78-76 Sunday. Cockburn added 12-points and eight-rebounds and Ayo Dosunmu led the Illini with 17-points. Illinois finished the regular season @ 21-10 overall & 13-7 in the conference. The Illini clinched the fourth seed in the 2020 Big Ten Tournament and a double-bye.
MLB
On Saturday:
Cardinals 5, Astros 1
Cubs 8, Reds 5
Giants 12, White Sox 7
On Sunday:
Cardinals 7, Marlins 3
Diamondbacks 8, Cubs 1 (SS)
Reds 11, Cubs 9 (SS)
White Sox 5, Royals 4
The Cardinals are renewing Jack Flaherty's contract after the two sides were unable to agree to a deal for a second straight year. The Post Dispatch reports the rising ace will make just under $605,000 this season. The Cardinals paid the right-hander a $10,000 bonus for finishing fourth in National League Cy Young voting to offset a 10-thousand-dollar penalty for renewing his contract. Flaherty went 11-and-8 with a 2.75 ERA in 33 starts last season.
NBA
Nets 110, Bulls 107
Pacers 112, Mavericks 109
NHL
Jake Allen made 29 saves as the Blues blanked the Blackhawks 2-0 Sunday night. It was Allen's second shutout of the season, both of which have come against Chicago. Robert Bortuzzo and Alex Pietrangelo scored for the Blues, who lead Colorado by four-points for first place in the West.
NASCAR
Joey Logano earned his second NASCAR win of the season, holding off Kevin Harvick in overtime to win the FanShield 500 at Phoenix Raceway Sunday. Logano was able to create distance between himself and Harvick on the final restart. Harvick finished second. Kyle Busch third, Kyle Larson fourth & Clint Bowyer fifth.
GENERAL
The major American sports leagues are showing concern over the coronavirus. The NBA says all teams must have a plan for the virus in place by Tuesday. The Athletic reports MLB will hold a conference call with team owners today. And the NHL has banned international travel for league office employees.
3/6/20 SCORES
HS BOYS BASKETBALL
At the 2A Hamilton Co Sectional
Championship: Murphysboro 47, Nashville 37
Fairfield's Blake Pruitt has advanced to the 3 point shootout to be held in Peoria, as he made 9. Others that advanced include: JaQuan Jackson of Murphysboro with 10, Caden Hutchins of DuQuoin netted 10, and Nolan Heggemeier of Nashville made 9. 
At the 2A Shelbyville Sectional
Championship: Breese Mater Dei 42, Alton Marquette 27
At the 1A NCOE Sectional
Championship: Goreville 59, Woodlawn 57 
At the 1A Casey-Westfield Sectional
Championship: Central A&M 57, Effingham St. Anthony 43
At the 3A Marion Regional
Championship: Marion 61, Herrin 54
At the 3A Effingham Regional
Championship: Carbondale 58, Centralia 47
NBA
Indiana 108, Chicago 102 
NHL
New Jersey 4, St. Louis 2 
Detroit 2, Chicago 1 
MLB
Chicago White Sox 6, Chicago Cubs 3 
3/5/20 SCORES
JH VOLLEYBALL
@ IESA 7-2A Regional @ Albion
Albion defeats North Clay 25-10; 25-8 to win the IESA 7-2A Albion Regional – Albion is now 19-3, and will play Altamont @ 6:30 pm Monday @ the Okaw Valley Sectional in Findlay
COLLEGE SOFTBALL
Game 1: FCC 7, Shawnee CC 5 – Emma Staples had a 2 run homer in the win. Sam Helms was the winning pitcher
Game 2: FCC 9, Shawnee 8 – Kylar Slover & Aly Bowers had back to back triples in the win. Meghan Humphrey was the winning pitcher
MLB SPRING TRAINING
Cardinals 7, Mets 7 (SS)
Cardinals 11, Nationals 0 (SS)
Rangers 5, Cubs 0
White Sox 7, Rockies 6
COLLEGE BASKETBALL
# 23 Illinois fell at 19th ranked Ohio State 71-63 Thursday. With the loss, the Illini drop to 20-and-10 overall and 12-and-7 in the Big Ten. The Illini wrap up the regular season Sunday when # 18 Iowa comes to Champaign.
NHL
Blackhawks 4, Oilers 3
NFL
Front Office Sports is reporting that ESPN is offering Peyton Manning a position to be a sports analyst for Monday Night Football. Manning would make a record 18 to 20 million dollars a year.
OLYMPICS
Tokyo Olympics organizers are downsizing the arrival ceremony in Japan for the Olympic torch on March 20 because of the spreading coronavirus. Organizers also say that 140 children will not be sent to Greece to give the flame a send off on March 19. The Olympic torch will be lighted on March 12 in a ceremony in Greece and then be flown to Japan to arrive on March 20.
3/4/20 SCORES
FCHS has scheduled its Winter Athletics Award Program for six pm Tuesday, March 10.  Athletes in boys and girls basketball and wrestling will be recognized.  Cheerleaders will be honored at a later date.
HS BOYS BASKETBALL
@ 2-A Hamilton Co Sectional
Murphysboro 45, Mt Carmel 35
 @ 2-A Shelbyville Sectional
Breese Mater Dei 63, Teutopolis 46
 @ 1-A NCOE Sectional
Goreville 60, Okawville 55
 @ 1-A Casey-Westfield Sectional
Effingham St Anthony 48, Casey-Westfield 39
 @ 3-A Marion Regional
Marion 58, Mascoutah 39
 @ 3-A Effingham Regional
Centralia 61, Effingham 47
NBA
Timberwolves 115, Bulls 108
Bucks 119, Pacers 100
MLB
Mets 4, Cardinals 1
Cubs 6, Reds 6
White Sox 5, Brewers 1
NHL
A restaurant dedicated to the Blues is now open at Lambert Airport. The defending Stanley Cup champs partnered with global restaurateur HMSHost to open the Blue Note at the St. Louis airport. The eatery located near Gate E18 in Terminal 2 gives travelers and hockey fans a dining experience that celebrates the winning tradition of the Blues.
COLLEGE BASKETBALL
The coronavirus is now affecting college basketball. Chicago State has cancelled its mens and womens games against Seattle and Utah Valley this week due to concerns about the virus. The University of Missouri @ Kansas City also says it will not travel on Saturday for its game against Seattle.
GOLF
The season's first golf major is still scheduled to go on as normal at the Augusta National Golf Club. The eyes of the golf world are turning to events surrounding The Masters in less than a month, and club officials are weighing in on coronavirus concerns. Chairman Fred Ridley said yesterday they've been in contact with a variety of health officials to establish precautions to ensure everyone's safety. Masters' week begins with the Augusta National Women's Amateur on April 4th.
3/3/20 SCORES
JH BASKETBALL
The WEAA has released its boys and girls All-Conference basketball teams. For the girls, Rylee Edwards of Jasper-Geff was named MVP. 1st team members include Briley Easton of Jasperr-Geff, Lily Simpson of New Hope, Krysten Weiler of St Joe & Maddison Stevens & Nora Jones of St Mary's. 2nd team members are Haley Brown of New Hope, Jailyn Gonzalez of Jasper-Geff, Olivia Lemke of St Joe & Sarah McCorkle & Kali Walker of St Mary's.
On the boys side, Anden Atwood of Cisne was named MVP. 1st team members are Layne Tucker of Jasper, Landon Harrellson & Trent Bliss of New Hope, Landon Keck of Cisne & Tyzle Rowland of Grayville. The 2nd team includes Rylee Marshal & Jake Easton of Jasper, Cooper Bowen & Gavin Harrel, of Cisne & Trent Casburn iof Allendale.
HS BOYS BASKETBALL
 @ 2-A Hamilton Co Sectional
Nashville 49, Benton 22
 @ 2-A Shelbyville Sectional
Alton Marquette 48, Marshall 37
 @ 1-A NCOE Sectional
Woodlawn 57, Cobden 43
 @ 1-A Casey-Westfield Sectional
Central A & M 71, Altamont 56
 @ 3-A Effingham Regional
Carbondale 46, Olney-Richland Co 44
 @ 3-A Marion Regional
Herrin 62, Mt Vernon 61
JH VOLLEYBALL
Cisne over St Mary's 25-17; 27-25
JV: St Mary's over Cisne 25-11; 25-13
C: Cisne & St Mary's split the C match
COLLEGE BASEBALL
FCC 22, Greenville University JV 4 – 7 innings
MLB SPRING TRAINING
Cardinals 6, Astros 3
A's 6, White Sox 5
Rockies 11, Cubs 10
NHL
Jordan Binnington made 25 saves as the Blues won their eighth straight game with a 3-1 victory over the Rangers Tuesday. Colton Parayko, Brayden Schenn and Jaden Schwartz each scored for the Blues, who lead the Avalanche by three-points for first place in the West.
Blackhawks 6, Ducks 2
OLYMPICS
Japan's Olympic Minister suggested in Parliament this week that the Tokyo Games could be postponed by a few months from the planned July 24 opening and still meet a contract agreement with the International Olympic Committee. It's not that clear cut and seems unlikely. The IOC has said repeatedly the Olympics will open as planned in just under five months despite the Coronavirus outbreak that started in China and has spread to at least 70 countries.
3/2/20 SCHEDULE
Four Mules have been named to the Alll-Black Diamond Conference boys basketball team.  They include MVP Kane Hixenbaugh, Captain Wyatt Gilbert, Landon Zurliene & Noah McElravy.  Other members of the team include Kaden Cowling of Edwards Co, Ethan Mahon & Peyton Edwards of Carmi-White Co, Lydayyea Shewmaker & Aiden Whitlock of Eldorado, Gus Walden of Hamilton Co & Austin Brown of Johnston City.
HS BOYS BASKETBALL
 @ Marion 3-A Regional
Herrin 66, Waterloo 57 OT
MLB SPRING TRAINING
Cardinals 6, Twins 1
Cubs 9, Angels 4
Padres 3, White Sox 1
The Cardinals are being cautious with Andrew Miller. The veteran reliever was shut down yesterday after he couldn't get the feel for the baseball while warming up to throw. Miller will be evaluated over the next couple of days to find out what the problem is. The lefty is in the second year of a two-year, 25-million-dollar contract with the Cardinals. He posted a 4.45 ERA in 73 games last season.
Hall of Famer Chipper Jones has been added to the ESPN broadcast team as a game analyst, likely to work weeknight and holiday games this season. Jones appeared twice on the network last season as a guest analyst and is scheduled to make his season debut on opening day when the Giants plays at Dodger Stadium on March 26
NBA
Bulls 109, Mavericks 107
Pacers 116, Spurs 111
COLLEGE BASKETBALL
Illinois is rewarding basketball coach Brad Underwood with a three-year contract extension. The deal still needs to be approved by the U of I Board of Trustees next week. Under the new contract, Underwood's base salary jumps to 3.4-million-dollars, with annual increases that will boost it to four-million-dollars by the 2025-2026 season. The extension comes as the Illini are on the verge of their first NCAA Tournament appearance since 2013. Illinois is tied for second place in the Big Ten Conference behind Maryland.
Kansas is the unanimous number-one team in this week's Top-25 Coaches' Poll. The 26-and-3 Jayhawks received all 32 first-place votes after extending their winning streak to 14 straight with Saturday's victory at rival Kansas State. Gonzaga moved up two spots to second, followed by Dayton, Baylor and San Diego State.
3/1/20 SCORES
HS GIRLS BASKETBALL
@ 1-A State Championship Saturday
Lanard Eastland 62, Lewistown 57 (Championship)
Hume Shiloh 64, Aurora Christian 59 (3rd Place)
@ 2-A State Championship Saturday
Pleasant Plains 42, Chicago Marshall 37 (Championship)
Carterville 61, Port Byron Riverdale 38 (3rd Place)
COLLEGE BASKETBALL
Ayo Dosunmu scored a game-high 17 points to lead Illinois over Indiana 67-66 Sunday. Andres Feliz added 15 points and Kofi Cockburn posted 15 points and six blocked shots for the Illini, who improved to 20-and-9 overall and 12-and-6 in the Big Ten. Illinois is in a three-way tie for first place in the conference with two games left in the regular season.
COLLEGE BASEBALL
FCC baseball went 3-1 over the weekend. The Bobcats swept a double header from Kishwaukee College Saturday 15-1 & 9-5 and then split with Sauk Valley CC Sunday, winning 20-1 in Game one and losing 4-3 in Game two.
MLB SPRING TRAINING
Astros 5, Cardinals 4
Cubs 7, Mariners 3
White Sox 8, Angels 7
XFL
Houston Roughnecks 27, Dallas renegades 20 (Sunday)
Tampa Bay Vipers 25, DC Defenders 0 (Sunday)
St Louis Battlehawks 23, Seattle Dragons 16 (Saturday)
NY Guardians 17, LA Wildcats 14 (Saturday)
NASCAR
Alex Bowman held off brothers Kyle and Kurt Busch to earn his second career Cup Series victory at Auto Club Speedway in Fontana, California Sunday. Bowman led 110 of the race's 200 laps. Kyle Busch finished second with Kurt Busch, Chase Elliott and Brad Keselowski rounding out the top five.
2/28/20 SCORES
HS BOYS BASKETBALL
At Carmi-White County 2A Regional
Benton 58, Fairfield 45
At Red Bud 2A Regional
Nashville 52, Belleville Althoff 27
At Vienna 2A Regional
Mt Carmel 51, Massac Co 44
At Murphysboro 2A Regional
Murphysboro 50, Pinckneyville 48
Winners from those four regionals advance to the Hamilton County Sectional.
At Flora 2A Regional
Marshall 57, Salem 43
At Roxana 2A Regional
Alton Marquette 35, Roxana 25
At Paris 2A Regional
Teutopolis 59, Pana 58
At Gillespie 2A Regional
Breese Mater Dei 61, Breese Central 53
Winners from those four regionals advance to the Shelbyville Sectional.
At Edwards County 1A Regional
Woodlawn 52, Wayne City 32
At Cobden 1A Regional
Cobden 55, Cairo 43
At Crab Orchard 1A Regional
Goreville 66 Pope County 37
At Steeleville 1A Regional
Okawville 52, Marissa-Coulterville 33
Winners from those four regionals will advance to the NCOE Sectional.
At Bridgeport Red Hill 1A Regional
Effingham St Anthony 39, North Clay 22
At Okaw Valley 1A Regional
Casey-Westfield 57, Okaw Valley 37
At Altamont 1A Regional
Altamont 64, Dieterich 44
At Macon Meridian 1A Regional
Central A&M 58, Nokomis 43
Winners from those four regionals advance to the Casey-Westfield Sectional.
HS GIRLS BASKETBALL
At 1A State Tournament at Bloomington-Normal
Lanark-Eastland 70, Hume Shiloh 28
Lewistown 70, Aurora Christian 42
At 2A State Tournament at Bloomington-Normal
Pleasant Plains 42, Port Byron Riverdale 27
Chicago Marshall 63, Carterville 54
MLB
New York Mets 3, St. Louis Cardinals 2
Chicago White Sox 8, Cleveland Indians 3
Cubs vs Padres
2/27/20 SCORES
Congratulations to Jasper-Geff girls basketball coach Eric Basnett. He has been nominated for Coach of the Year by the Illinois Basketball Coaches' Association. Basnett led the Polecats to a 21-4 record this past yeaf and a fourth place finish at the SIJHSAA Class S State Tournament.
Rend Lake College will host the 3rd annual Southern Illinois Premier Junior High All-Star Classic this weekend. Games get underway tonight & continue all day Saturday. A number of area 7th & 8th graders will be In uniform for the classic.
JH VOLLEYBALL
@ the WEAA Tournament @ Clay City
Jasper-Geff over Cisne 25-11; 24-26; 15-8
HS GIRLS BASKETBALL
Isabel Shepherd of Edwards Co finished just outside the top four in the Queen of the Hill Three Point Showdown Thursday at the 1-A & 2-A state finals. Shepherd hit 8 of 15 shots in the initial round to finish in a three way tie, and then hit two in the shoot-off.
 @ Effingham 3-A Sectional
Highland 48, Bethalto Civic Memorial 34 (Championship)
COLLEGE BASKETBALL
Alan Griffin scored a career-high 24 points, including six 3-pointers, to propel Illinois to a 74-66 victory at Northwestern Thursday. Ayo Dosunmu added 21 for the Illini, who improved to 19-and-9 overall and 11-and-6 in the Big Ten. Illinois moved into a four-way tie for second place in the conference behind Maryland.
NBA
Pacers 106, Trail  Blazers 100
NHL
Colton Parayko scored with 1:37 remaining in overtime to give the Blues their sixth straight win with a 3-2 victory over the Islanders Thursday. Vince Dunn scored with 1:44 left in regulation to tie the game. Brayden Schenn also added a goal for the Blues, who lead the Colorado Avalanche by five points for first place in the West.
Blackhawks 5, Lightning 2
MLB SPRING TRAINING
Braves 3, Cardinals 1
Rangers 13, Cubs 1
White Sox 6, Mariners 5
NFL
The NFL's union leader is optimistic a new collective bargaining agreement will get done. Executive director DeMaurice Smith says he's confident players will approve the CBA, but says he understands why some are upset. No timetable for a vote has yet been set.
On-field workouts continue today at the NFL Combine in Indianapolis. Quarterbacks, wide receivers and tight ends all ran drills for scouts across the league yesterday. Running backs, place kicker, offensive linemen and special teams players work out today.
2/26/20 SCORES
HS BOYS BASKETBALL
 @ Carmi-White Co 2-A Regional
FCHS 63, Carmi-White Co 44 – Noah McElravy had 15 points, Kane Hixenbaugh 13, Wyatt Gilbert 12 & Luke Dagg 11 to lead the Mules, who advance to the regional championship game Friday
Benton 54, Harrisburg 53
 @ Flora 2-A Regional
Salem 61, Shelbyville 45
 @ Murphysboro 2-A Regional
Murphysboro 58, Du Quoin 38
 @ Paris 2-A Regional
Pana 67, Newton 38
 @ Red Bud 2-A Regional
Belleville Althoff 42, Freeburg  37
 @ Vienna 2-A Regional
Mt Carmel 60, Carterville 40
 @ Edwards Co 1-A Regional
Woodlawn 32, NCOE 30
Wayne City 42, Sesser-Valier 34
The Indians and Woodlawn play for the regional title Friday night
 @ Altamont 1-A Regional
Altamont 66, St Elmo/Brownstown 38
Dieterich 52, South Central 28
 @ Bridgeport Red Hill 1-A Regional
Effingham St Anthony 73, Red Hill 42
North Clay 69, Odin 61
 @ Cobden 1-A Regional
Cobden 66, Century 47
Cairo 86, Egyptian 74
 @ Crab Orchard 1-A Regional
Goreville 82, Mounds Meridian 50
Pope Co 50, Crab Orchard 49
 @ Steeleville 1-A Regional
Okawville 43, Steeleville 38
Marissa-Coulterville 57, Christopher 53
MLB SPRING TRAINING
Cardinals 7, Astros 5 (SS)
Marlins 8, Cardinals 7 (SS)
Cubs 8, vs Royals 0 (SS)
Royals 7, White Sox 6 (SS)
NHL
Jay Bouwmeester won't be returning to the Blues this season. The defenseman has been recovering since suffering a cardiac episode in the first period of the February 11th game against the Ducks. He said he hasn't made a decision on whether he will continue to play hockey. Bouwmeester had one goal and eight assists in 56 games this season before the incident. The postponed game between the Blues and Ducks has been rescheduled for March 11th in Anaheim.
NFL
The NFL Combine kicks into high gear today in Indianapolis. Reps for all 32 teams have been on hand this week scouting top college talent ahead of the April draft. On-field workouts get underway this afternoon, starting with quarterbacks, wide receivers and tight ends.
2/25/20 SCORES
HS BOYS BASKETBALL
@ Edwards Co 1-A Regional
Sesser-Valier 62, Thompsonville 33
Wayne City 67, Webber 42
 @ Altamont 1-A Regional
Dieterich 56, Mulberry Grove 45
South Central 53, Centralia CORL 40
 @ Bridgeport Red Hill 1-A Regional
North Clay 84, Oblong 60
Odin 62, Palestine-Hutsonville 49
 @ Cobden 1-A Regional
Cairo 69, Shawnee 38
Egyptian 106, Joppa-Maple Grove 61
 @ Crab Orchard 1-A Regional
Crab Orchard 74, Carrier Mills-Stonefort 42
Pope Co 47, Hardin Co 46
 @ Steeleville 1-A Regional
Marissa-Coulterville 53, Elverado 32
Christopher 41, Waltonville 37
@ Carmi-White Co 2-A Regional
Benton 49, Hamilton County 35
Harrisburg 81, Eldorado 80
 @ Murphysboro 2-A Regional
Pinckneyville 66, Sparta 46
 @ Red Bud 2-A Regional
Nashville 49, Trenton Wesclin 25
 @ Paris 2-A Regional
Teutopolis 63 Robinson 58
 @ Vienna 2-A Regional
Massac County 70, Anna-Jonesboro 55
JH VOLLEYBALL
Mt Carmel St Mary's over New Hope 25-17; 15-25; 15-17
JV: St Mary's over New Hope 25-20; 25-16
C: New Hope & St Mary's split
Clay City over Cisne 25-13; 25-7
JV: Clay City over Cisne 25-22; 25-13; 15-11
C: Cisne & Clay City split
MLB PRE-SEASON
Nationals 9, Cardinals 6
Rockies 12, Cubs 6
Indians 10, White Sox 2
NBA
Bulls 122, Niggets 115
Pacers 119, Hornets 80
NHL
Zach Sanford scored twice in a four-goal third period as the Blues rallied to beat the Blackhawks 6-5 Tuesday night. Robert Thomas had a goal and two assists, and Brayden Schenn and Ryan O'Reilly each had a goal and an assist for the Blues,