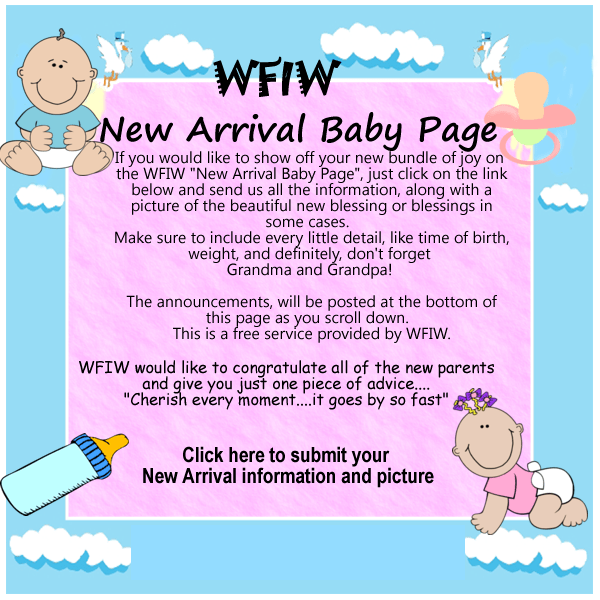 Wesley & Samantha Legg joyfully announce the birth of their daughter, Mercy Jhean Legg.   
Mercy was born on February 8, 2016 at 8:27 P.M. at St. Mary's Good Samaritan Hospital in Mt. Vernon, IL. The healthy baby girl weighed 8lbs 1oz and was 20 inches long.
She was welcomed home by a big brother, Henry Allen Legg, age 3.
Mercy's paternal grandparents are John & Linda Legg. Her maternal grandparents are Neil(Lora) Clevenger, and Becky(Leonard) Weber.
Jim and Baylee (Xanders) Miles of Fairfield announce the birth of a son, Xander James, born January 12, 2016 at 7:54 a.m. in the Good Samaritan Hospital, Mt. Vernon, IL.
The little guy weighed 7 pounds, 7 ounces and measured 19 1/4 inches.  He is welcomed home by a sister, Kenzi and a brother, Tristen.
Grandparents are Gary and Kayla Xanders, Fairfield and Deon and Ann Harrelson, Carmi.
Great-grandparents are Lowell and Barb Sarles, Fairfield.
Charli Kate Simpson was born on November 17th, 2016 at Good Samaritan Hospital in Mt. Vernon at 3:06 pm.
She weighed 8lbs 11oz  and was 21.5 inches long.
Charli was born to Parents, Derrick and Meredith Simpson of Cisne
and was welcomed home by her big brother Bryson age 3.
Charli's Grandparents are JC and DeLanna McDuffee of Fairfield & Donnie and Erica Simpson of Cisne.
Her Great grandparents are Curt and Sue Kincart of Fairfield, Leroy McDuffee of Fairfield Dale and Mary Edith Simpson of Cisne and Donna Moran of Effingham.
Johnny and Jill Williams of Sims are proud parents of twins born Thursday November 5, 2015 at Good Samaritan Hospital in Mt. Vernon.
Lennon Marie was born at 7:37 a.m.She tipped the scales at 5 pounds 13 ounces and measured 18.5 inches long. Her brother, Max Dallas, was born at 7:38 a.m. and weighed 5 pounds 10 ounces and measured in at 19.5 inches.
Grandparents are Stuart Dickey of Sims, Shari and Mike Flanigan of Mt. Vernon, Joyce Brooks of Wayne City and Rodney Williams of Wayne City.
Damien Michael Shock was born October 28th, 2015 at 2:08 pm.  He came into the world weighing a whopping  6 lbs 14 oz and was welcomed by his  mother December Weatherford and his Father Jerry Shock of Albion, Illinois.
Ellie Kay Koker was welcomed to the world on June 24,2015 at 12:46 pm by her parents Collin Koker and Vanessa Esquivel. Her paternal grandparents are David and Rhonda Koker and oscar Esquivel and Lora Esquivel. Her great grand parents are frank and Joyce Buchanan and Gary and Susie workman.