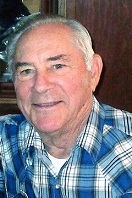 82-year-old McLeansboro native, Edward R. Hart, 82, passed away at home January 14.  He was a McLeansboro High School graduate from the class of 1953.  He worked for Union Texas Petroleum, Pine Unit, Montana for 19 years. Ed was transferred to Bronte, TX October 1977, where they enjoyed the same activities with many new-found friends. Ed called for Happy Hart's Square Dance Club Bronte, Winter's Squares, Abilene Key City & San Angelo Squares. Ed retired from UTP March 1990.  He belonged to First Baptist Churches in IL, Glendive, MT, Baker, MT, Bronte, TX and Worland, WY.
Ed is survived by his wife, Mary (Jones) Hart, Worland, WY; son, Dan (Pam) Hart, Worland, WY; daughter, Becky Hendren, Gillette, WY; grandchildren: Teri (James) Hannan, Mascoutah, IL; Danny (Kayla) Hart, Buffalo, WY; Greg (Mindy) Yates, MT; Kevin (Ksenia) Yates, CO; Justin Hendren, Gillette, WY; great-granddaughters: Kylee Hart & Madison Hart, Buffalo, WY; Sasha Hannan, Mascoutah, IL, Sasha Yates,  MT; great-grandsons: Sean & Lukas Hannan, Mascoutah, IL, Ethan Edward Hart, Buffalo, WY; Evan Yates, CO, Tanner Yates, MT; brothers: Gene Hart, Anna, IL, Richard (Phyllis) Hart, Fulton, KY, Larry (Dixie) Hart, Livingston, MT;  sisters: Marcella (Dale) Lance, McLeansboro, IL, Dee Moore, Carrollton, GA, Donna (John) Naas, McLeansboro, IL, Joyce (Kent) Ewing, Granite Canon, WY; Linda Trommer, Lincoln, IL.  There are also many special nieces & nephews.
Visitation for family and friends will be held 5:00 p.m., Tuesday, January 15 at Bryant Funeral Home Chapel.
Funeral services will be held 11:00 a.m., Saturday, January 20 at the Gholson Funeral Home in Dahlgren, Illinois, with visitation one hour prior to services.   Burial will follow in IOOF Cemetery in Dahlgren.
Memorial donations may be made to the Worland Senior Center c/o Bryant Funeral Home, PO Box 524, Worland, WY 82401.  The Bryant Funeral Home and Gholson Funeral Home are assisting the family with the arrangements.