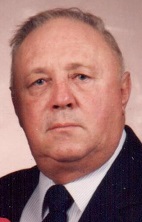 84-year-old Fairfield resident. Robert S. "Bob" Redfern died at 1:15 p.m. Saturday, March 3 at his home.  He had been a businessman and operated Redfern Wholesale for many years. He was a member of the American Legion and VFW; was president of the Illinois Forum, former State Committeeman of the Republican Party Congressional District 22; and was a former vice-chairman of the Republican Party for the State of Illinois. He was Presbyterian by faith.
Survivors include his wife, Joyce Redfern of Fairfield; a son, Robert S. and wife Gail Redfern, Jr. of Columbia, SC; a daughter, Pam and husband David Bell of Lake Mary, Fla and Sharps Chapel, TN; a sister, Patty Ewing of Fairfield; three grandchildren and one great-grandchild.
Funeral services for Bob Redfern will be 1 p.m. Wednesday, March 7 at Nale's Funeral Home in Fairfield with burial at Maple Hill Cemetery.
Visitation will be 11 a.m. Wednesday, March 7 until the time of service at Nale's Funeral Home in Fairfield.