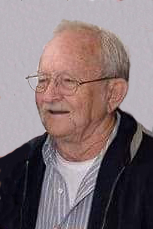 James "Billy" Fry, 83, of Clay City, passed away on Friday, April 13, at his residence.
Billy is survived by his wife of 36 years, Linda Fry of Clay City; Son, James W. Fry and fiancce Sherry York of Hatfield, AR; Son, Donald E. Fry and friend Sheery Evilsizer of Flora, IL; Daughter, Caralyn Riley and husband John of Clay City, IL; Daughter, Sandy Rodgers and husband Carrol of Cisne, IL; Step-daughter, Angela Ash and husband Dave of Plainfield, IN; 9 Grandchildren, 9 Great grandchildren and 3 Step-grandchildren; Sisters, Joyce Sue Winters and husband Frank of Caryville, TN, and Dorothy Smith of Springfield, IL; and several nieces and nephews.
Memorials can be made to Shriner's Children's Hospital or St. Jude's or Bethlehem Christian Church.
A visitation for James "Billy" Fry will be held from 5:00 PM to 7:00 PM on Tuesday, April 17, at the Kistler-Patterson Funeral Home in Clay City.  A funeral service will be held at 11:00 AM on Wednesday, April 18, at the Bethlehem Christian Church in Clay City with burial following in the Clay City Cemetery.  Full Military Rites will be performed at the graveside.