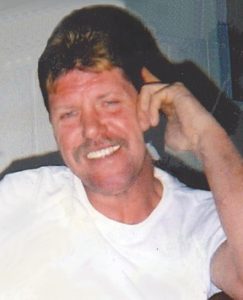 James Allen Payne, 55, Grayville native, passed away in Baton Rouge, Louisiana, with his wife, Janet, at his side on July 30, 2018. He was born March 17, 1963, to James and Janette (Cookie) Erwin Payne.
Jim worked the oil fields and coal mines around Grayville for most of his life.
He was met at Heaven's Gate by his parents, his grandparents Jess and Georgia K Payne and his uncles, Donnie and Sammy Payne.
Jim is survived by his sons, James Wesley Payne and Cody Payne, daughters Jamie Cain, Janelle Payne and Haley Payne, fifteen grandchildren, sister Belinda Sherman, niece Jessica Williams, great niece Morgan Paige Amos, nephew Kyle Jones, close friends Terry Sherman, Donnie Gross, Robbie Marlow, Brad Wampler, Steve Schmittler.
A visitation will be 10 am to noon, Saturday, August 18th at Cook Funeral Chapel in Grayville.