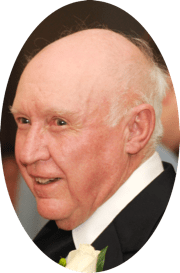 85-year-old John Haas, of McLeansboro, died suddenly on Wednesday, February 20.
John was born the 8th of 10 children of Conrad and Theresia Marie Haas in Hamilton County on October 29, 1933.  John is a veteran of the United States Army, which he served from 1954 to 1956, and the Army Reserves from 1956 till 1962.  Thereafter, he began a 30 year career as a Park Ranger for the State of Illinois Department of Conservation at Hamilton County State Fish and Wildlife Area, a.k.a Dolan Lake.  On April 16, 1960 he married Mary Sue Severs and together they brought up four children in McLeansboro.  John loved beagles, horses and spending time with his grandchildren, great-grandchild, and all his family and friends.
John was preceded in death by his parents, Conrad and Theresia Marie (nee Wuebbels) Haas; his loving wife, Mary Sue (nee Severs) Haas; and siblings: Anne Ott, John C. Haas, Joseph Haas, George Haas, Elizabeth Rubenacker, Helen Miller, Anthony Haas, and Louisa Simon.
He is survived by his four children: Brenda Haas of Fairfield, IL; John Randal Haas and Bradley Haas both of Hopkinsville, KY; and Rodney (Jennifer) Haas of Springfield, IL; three grandsons: Levi (Danielle) Moore of Rogersville, AL; Jarrett Johnson of Pontiac, IL and Conrad Haas of Springfield, IL; and one great-granddaughter, Sierra Moore; sister Frances Downs of Granite City, IL; sister-in-law Norma Jeanne Eaton of Lebanon, TN; and numerous nieces, nephews and cousins.
Visitation will be held Sunday, February 24 from 10:00 a.m. to 11:30 a.m. at the Gholson Funeral Home in McLeansboro.  At 11:30 a.m., a short service will be held before proceeding to Blooming Grove Cemetery, near McLeansboro, IL, where an additional graveside service will be held with Graveside Military Honors performed by the McLeansboro American Legion Post 106 and an Army Honors Team.
The Gholson Funeral Home of McLeansboro is in charge of arrangements.